Section Branding
Header Content
Record Turnout Among Black Voters Could Help Georgia Reshape The Nation
Primary Content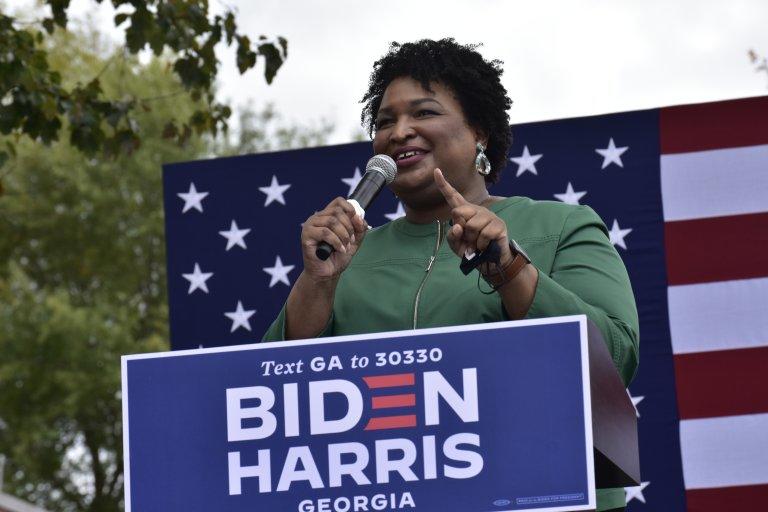 Georgia is poised to help reshape the course of the nation over the next two years with the election of the state's first Black and first Jewish U.S. senators.
Democrats are set to maintain control of the U.S. House, and with Warnock and Ossoff in the Senate there will be a 50-50 split between the parties in the Senate, with tie-breaking votes going to Vice President-elect Kamala Harris, a Democrat.
Warnock's opponent, Sen. Kelly Loeffler, was appointed to her seat in December 2019 after Sen. Johnny Isakson stepped down citing his health, setting the stage for a rare double Senate election, as Ossoff's opponent, Sen. David Perdue was up for re-election for a six-year term.
The difference should be profound as President-elect Joe Biden will likely have support in the Senate for his priorities to expand access to health care, pursue environmental policies and increased federal aid to spur the economy. The Republicans were likely to resist that agenda if they'd been able to retain a Senate majority. Loeffler and Perdue campaigned as a team ahead of the runoffs and argued they should be kept in office as a firewall against the Democrats' agenda.
The races were the most expensive in congressional history, with the candidates and outside groups spending more than $830 million, according to the Center for Responsive Politics. In just the last two months, more than one-third of a billion dollars flowed into the campaign coffers of the four candidates, fueling an onslaught of attack ads that played out on TVs across the state.
The political shift is all the more monumental because Georgia has not elected a Democratic senator since Zell Miller in 2000. But conditions were ripe for a Democratic win after years of changing voter demographics and grassroots organization, and a recalcitrant lame duck president sowing doubts about election security did not help Republicans' chances.
Black And Youth Turnout
Elections come down to turnout, and majority counties that went for Biden in November generally saw higher turnout than those that went for Trump. Many of those Biden counties are rural and largely Black.
In November's election, white Georgians made up 56.6% of the vote according to data from Georgia Votes, but they only accounted for 55.6% in January. Black voters grew from 27.8% of the electorate in November to 30.9% in January, and early exit polls showed high support for the Democratic candidates among Black voters.
That high turnout is thanks in large part to Black-led voter groups that drummed up support across the state, said Andra Gillespie, political science professor at Emory University.
"Groups like the New Georgia Project, Black Voters Matter and a whole host of other groups are kind of standing in the breach and making sure that they're reaching out to voters who usually get ignored," she said. "And what we're seeing is that they're helping to reshape the electorate."
The effort spanned the entire state, said the Rev. James Woodall, president of the Georgia NAACP.
"We went where the people were," he said. "I mean, from southwest Georgia, southeast Georgia, the rural Black vote was tremendous. For instance, in Cuthbert, Georgia, where they just lost a hospital, one of 10 that has closed in the last several years, we organized along with Black Voters Matter and many other amazing partners."
Cuthbert is located in Randolph County, which is majority Black. Voters there led the state in turnout as a percentage of the November election's turnout, with just under 90% of voters returning.
Other majority Black rural counties including Warren, Calhoun and Hancock had return rates of more than 85%. Though major metropolitan areas were the source of most Democratic votes, Warnock and Ossoff could not have pulled off their wins without support outside of cities, Woodall said.
"I don't underestimate the necessity of getting the suburbs, but this win would not have been possible without the record turnout in these rural communities. I can't stress that enough," Woodall said. "Without the Black rural vote, no victory in Georgia is possible."
Voters under 40 may have played an outsize role in electing the two Democrats as well. While the numbers of voters under 40 fell between November and January, from 27.6% to 23.6%, that is less of a dip than in a typical runoff election, and polling suggests Black youths had less of a dropoff than their white peers.
At 33, Ossoff will be the youngest serving U.S. senator, and his campaign events sometimes looked like Beatlemania, with young Georgians — some too young to vote for him — swarming him for selfies. Ossoff took to TikTok, a social media video platform beloved by members of Generation Z, to convince young voters to get out the vote. His most popular post, a short series of clips of him and Warnock on the campaign trail set to music, has more than 3 million views.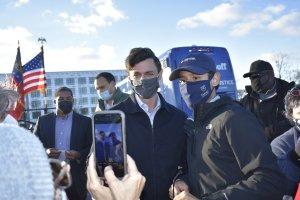 Ossoff's win is historic for Jews in Atlanta and the South, said Jeremy Katz, senior director of archives at the Bremen Museum in Atlanta, which does not endorse candidates.
"The Jewish community in Georgia has experienced some of the most infamous cases of anti-Semitism in the country's history," he said. "We're talking about the lynching of Leo Frank, the bombing of the Temple, the expulsion of Jewish students from Emory's dental school, so to be able to write another chapter in Georgia's Jewish history, I think, shows the direction that Georgia is heading. It's a really monumental occasion for the Jewish community in Georgia."
It's impossible to talk about voter mobilization in Georgia without talking about Stacey Abrams. After her narrow loss to Gov. Brian Kemp in 2018, she announced the launch of Fair Fight, an organization dedicated to registering and protecting voters.
"Undoubtedly, there are people who voted Monday who had never voted before, and once you vote, then it's easier to get you to go back and vote again in the future," said University of Georgia political science professor Charles Bullock. "The efforts she and others made to expand the electorate, get people registered, played a role, because the people getting registered are more likely to be Democratic."
"She deserves a lot of credit for just the changes in political infrastructure that we've seen," said Cobb County Democratic Party Chair Jaqueline Bettadapur. "That's largely due to her efforts leading up to her race in 2018 and then afterwards, so we have quite an extensive network and infrastructure with regards to voter protection, and then the voter mobilization engagement and field work."
A huge number of organizers and volunteers also deserve credit for the win, Woodall said.
"She deserves every flower and every crown she's received," he said. "And we need to include not just Leader Abrams, but so many others, because this was truly a communal effort. Without Leader Abrams, without Black Voters Matter without the (Georgia Association of Latino Elected Officials), without Mijente, without Asian Americans Advancing Justice, without the New Georgia Project or the NAACP, we can go down the list, but we all played a pivotal role in working together in coalition to make this thing happen."
Fair Fight Senior Advisor Lauren Groh-Wargo paid tribute to some of those groups in a statement after the election.
"In particular, we are proud to have funded Georgia-based organizations that played an indispensable role in mobilizing a multiracial, multiethnic, and multigenerational electorate," she said. "Following an arduous decade-long team effort, Georgians have made undeniably clear that we are a blue state, and voters — particularly Black voters and voters of color writ large — will not be silenced."
The Trump Effect
Trump and surrogates including Vice President Mike Pence traveled to the state to stump for Perdue and Loeffler. Trump continued to insist he won the election Wednesday as Congress prepared to cast a winning number of electoral votes for Biden. It was only after Trump loyalists rioted inside the U.S. Capitol at the president's urging that he acknowledged he'd lost the election and would commit to a peaceful transfer of power.
The night before the election, Trump came to Georgia and gave a speech which was ostensibly intended to promote Perdue and Loeffler but included more time listing grievances with the state's election integrity.
"Hello, Georgia. By the way, there is no way we lost Georgia. There's no way," Trump said immediately after taking the stage.
"If they win, I'll get no credit. If they lose, they're going to blame Trump," he said later in his remarks.
The president's prediction came true as members of both parties pointed their fingers at Trump and Rudy Giuliani, who came to Atlanta to present a bizarre legal argument in favor of overturning the results.
"It was an impressive feat by whoever did it to get 100,000 people who did not show up in a November election to show up in a January election," said Gabriel Sterling, a top elections official under Secretary of State Brad Raffensperger. Both Sterling and Raffensperger are Republicans, which didn't stop Trump from attacking them or demanding that the state's top election official overturn the will of millions of Georgia voters. "My assumption is that those are probably Democrat voters, given the demographics we've seen of that, and that is a testament to hard work that was done while Republicans were a bit busy attacking the governor and my boss."
At the close of 2020, Trump called for Gov. Brian Kemp to resign because he wouldn't illegally block the certification of Biden's 12,000-vote win.
The counties with the lowest rates of returning voters included majority white counties like Walker, Atkinson and Cherokee that heavily favored President Trump in November. Those counties saw return rates of between 65% and 66%.
"Cherokee is the county which now gives Republicans their biggest margin," Bullock said. "Trump carried it by about 57,000, Perdue by about 45,000. Forsyth, the second biggest, Trump carried by 43,000, Perdue by 39,000. So there probably was some component of the Republican electorate that believes Trump's criticism of the electoral system, and maybe some of them heeded (Trump-supporting attorney) Lin Woods' admonition about 'don't go and vote in this corrupt system.' It may have cost the Republicans a few tens of thousands of votes."
Republican turnout was higher than in a typical runoff, but Democrats were simply able to turn out more voters, said Kennesaw State University's Director of the School of Government and International Affairs Kerwin Swint.
"Donald Trump was the main problem here," he said. "The things he said, the battles he chose, the accusations he made really harmed the get-out-the-vote efforts by Loeffler and Perdue. They did have decent turnout, but it wasn't enough to overcome the Democratic Party's turnout efforts in the early voting. I've never seen the Republican Party this divided in Georgia. It was strange, to put it mildly. You have to lay most of that on President Trump for creating that atmosphere instead of trying to unify the party and get everyone to go vote and elect these two senators."
This story comes to GPB through a reporting partnership with Georgia Recorder.
Secondary Content
Bottom Content