Section Branding
Header Content
Annual Legislative Suppers, Breakfasts Go Digital As The Legislative Session Gets Underway
Primary Content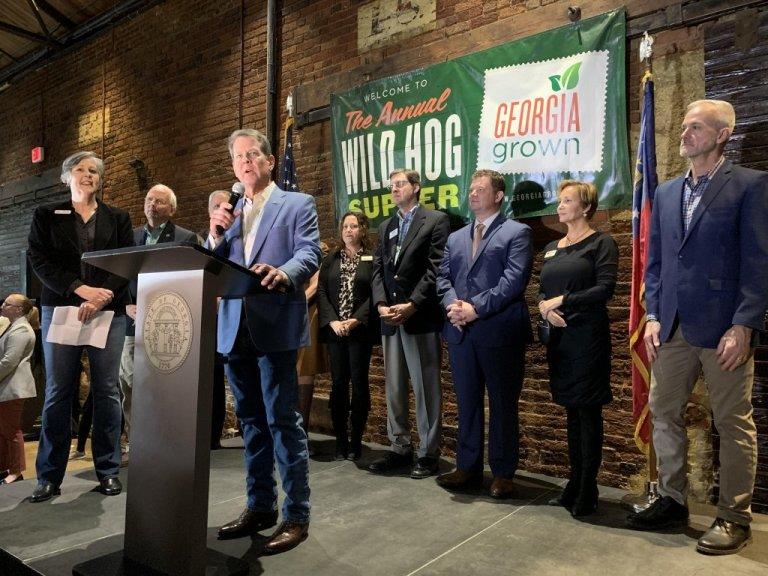 The COVID-19 pandemic means changes to some of the signature annual events that typically mark the start of a new legislative session as lawmakers return to the state Capitol this week.
Often the governor and other top state leaders kick off their legislative agenda at the Georgia Chamber of Commerce's breakfast at the Georgia World Congress Center. The nonprofit group Georgians for a Healthy Future annually makes its case for expanded access to health at venues near the Capitol. These two are among several groups that advocate for state policies moving their signature events to virtual settings from brick and mortar out of COVID safety concerns. 
The public health crisis has put a further strain on Georgia's food banks, and now their largest fundraising event won't be taking place as well.
The Georgia Food Bank Association canceled its Wild Hog Supper last month, a pig picking event held at the Freight Depot in downtown Atlanta where state lawmakers mingle with agricultural leaders, lobbyists, and others on the eve of the new legislative session.
People are still encouraged to donate online to help support the state's regional food banks, which continue seeing a higher number of families that lack adequate access to food since the pandemic spurred a spike in joblessness in the spring of 2020.
"During these unprecedented times, the partnership between farmers and food banks has proven to be an invaluable and impactful force for good," the Georgia Food Bank Association said in a statement. "While we may not be able to celebrate this work at the Wild Hog Supper come January – you can continue to support the food banks' mission to end hunger in Georgia by volunteering your time, educating your peers about food insecurity, or making a donation to your local food bank."
The Georgia Chamber's Eggs N Issues breakfast is set to take place virtually on Wednesday. 
Typically, about 2,500 and numerous other elected officials are among the lobbyists and VIPs who pack tables at the chamber's breakfast. This year's virtual event will feature the chamber unveiling its priorities and remarks from Gov. Brian Kemp, Lt. Gov. Geoff Duncan and House Speaker David Ralston.
State Rep. Terry England said it's unfortunate that such an essential fundraiser for food banks won't be occurring and those other traditional networking events will be held under unusual circumstances.
"These are events that are normally in person that you have a chance to network and see folks that sometimes you don't see but once a year or maybe twice a year, but it's always a chance to catch up," said the Auburn Republican and one of the state's chief budget writers. 
Another event that's moved online is the signature event for Georgians for a Healthy Future, Health Care Unscrambled, where experts, advocates and policymakers get together to talk about public health policy, which often includes a case for the state to expand Medicaid. 
The event wraps up on Thursday with a panel discussion on the impact of COVID-19 on racial and mental health disparities.
Meanwhile, the Georgia First Amendment Foundation hosts a free legislative breakfast online on Jan. 28 as an expert panel of lawyers, government officials and journalists discusses government transparency and other First Amendment topics expected to come up during the legislative session.
House Minority Leader James Beverly said many politicians are social people who enjoy being around people in person but now are adapting to a world where meetings and important events occur through Zoom calls and other virtual means. 
"We all know it's tough," said the Macon Democrat. "You just gotta know that you can't wish this thing away. Let the science and math play itself out, and when it does, we'll come back to a new normal."
Secondary Content
Bottom Content