Section Branding
Header Content
'A Great Day For Science': Emory Doctors Celebrate, Mark Role In COVID-19 Vaccine
Primary Content
Doctors at Emory University on Monday celebrated the news from biotech company Moderna that its COVID-19 vaccine is 94.5% effective, saying the breakthrough is a historic day for science and that the next frontier will be to convince Americans to take it.
"This is a great day for science and a great day for hope that we will see the end of the COVID pandemic," said Dr. Colleen Kelley, a principal investigator of the vaccine at one of Emory's three participating study sites.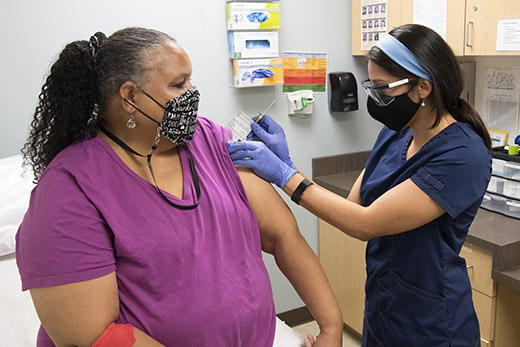 Moderna early Monday said preliminary results from its large, ongoing trial showed the vaccine was 94.5% effective, far better than anticipated. Moderna is the second company to announce results from early trial data in the race to develop a vaccine against the novel coronavirus that has infected more than 54 million people worldwide and killed more than 1.3 million people.
Pfizer last week announced its vaccine was more than 90% effective.
Emory enrolled more than 700 participants in the Moderna trial at three sites: Emory Children's Clinic, the Hope Clinic of Emory Vaccine Center and Grady Health's Ponce de Leon Center.
Kelley said she was overcome with relief, excitement and hope when she learned about the early data results.
"This is really, really sweet — and it's sweet for science overall," Kelley told reporters during a Zoom briefing. "This was just a fantastic day for all of us. ... We contributed greatly to the diversity of the trial."
Dr. Nadine Rouphael, the interim director of the Hope Clinic of Emory Vaccine Center, said she woke up early Monday, anxiously checking for any results when her boss texted her that the news would soon be released.
"It's an extremely exciting day for science," Rouphael said. "It's a very hopeful day for vaccines."
The Moderna trial has enrolled more than 30,000 participants at over 100 different sites around the nation. Of those, 15,000 people were given a placebo, a shot of saline that has no effect. According to the company, 90 of the participants who received the placebo developed COVID-19, including 11 who developed severe forms of the disease.
Another 15,000 participants were given the vaccine, with just five of them developing COVID-19, the company said. None became severely ill.
Another differentiating factor: The Pfizer vaccine must be stored at minus 75 degrees Celsius, temperatures so cold that they can't be kept at most pharmacies and doctor's offices because of a lack of extremely cold storage freezers.
By comparison, the Moderna vaccine can remain stable for up to six months at minus 20 degrees Celsius. The company also said it has a shelf life of 30 days in a standard refrigerator — and can last up to 12 hours at room temperature.
"This is good news for places that may not have access to that ultra-cold storage," Kelley said.
Kelley and Rouphael described Emory's role with the vaccine as gratifying.
"This is a very hopeful message," said Rouphael, who recently conducted hospital rounds on COVID-19 patients and saw the ravages of the disease up close.
She added, "This is astonishing speed for vaccine — not only is it fast, but we know now that it is working."
Although the data released Monday is preliminary, Kelley said she was confident in the way the trial was conducted and that the results will hold up under peer review.
"I am confident that these results will bear out with respect to efficacy," she said. "Time will tell."
About 390,000 Georgians have been infected by coronavirus and nearly 8,500 people have died from the disease, according to the Georgia Department of Public Health.
It was not immediately known when Georgians might be able to receive the vaccine. Moderna, as well as Pfizer, is expected to apply for emergency use authorization in coming weeks from the Food and Drug Administration.
Even if approved, the vaccines won't become widely available to the public until the spring, officials have said.
"We have a lot of work to do to convince people that the vaccine is safe," Kelley said. "That's the next frontier."
Until then, both doctors said people need to continue to follow guidelines: wear masks, social distance and avoid crowds.
"That is the only thing we can do at this point in time to protect ourselves, our family members, our communities, our hospitals and our health care workers from this horrible pandemic that has really changed the course of history," Kelley said.
Secondary Content
Bottom Content