Section Branding
Header Content
"One Westlake" Honors Its Late Principal In An Emotional Football Game
Primary Content
Jamar Robinson attended every sporting event he could that was attached to the school where he was principal. He was always dressed in a suit and trading in dress shoes for high-tops was his only nod toward something business casual.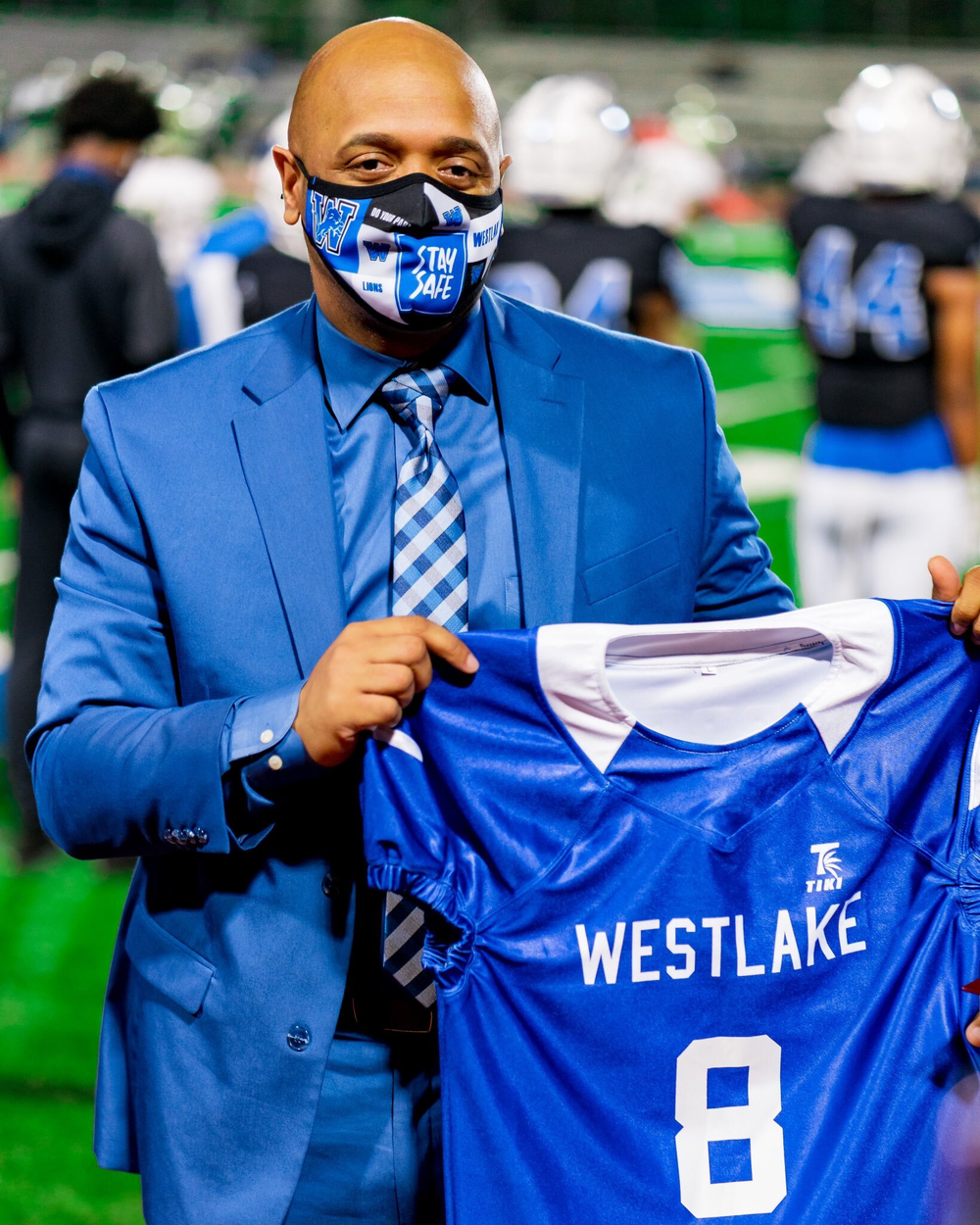 He would have wanted Friday night's game for his Westlake High School Lions to go on as scheduled. After he and his wife, AnnMari, both died as he tried to save her from drowning last week in Puerto Rico, the Lions community faced a difficult week as they prepared for a game to get one win closer to winning a 7th-straight region title.
In between tributes that involved both Westlake and their opponent Lovejoy, the Lions put on a dominant and inspiring display in a 51-0 win.
"They're playing for him tonight," Westlake Athletic Director Carl Green said. "It's been a very tough week. I have moments where I cry, moments where I'm happy. … He'd be proud. They put up 51 points for him. It's been a trying week — day by day, hour by hour, minute by minute…"
A pregame ceremony featured a procession involving the Mighty Lions Band and wreaths laid next to the Lion statue in the south end zone. Robinson was always one to make sure that Westlake was a school and a student body that never felt as if they were on an island. He even made sure that the school celebrated its past senior classes with billboards along the nearby interstate to show anyone driving by the successes of his environment.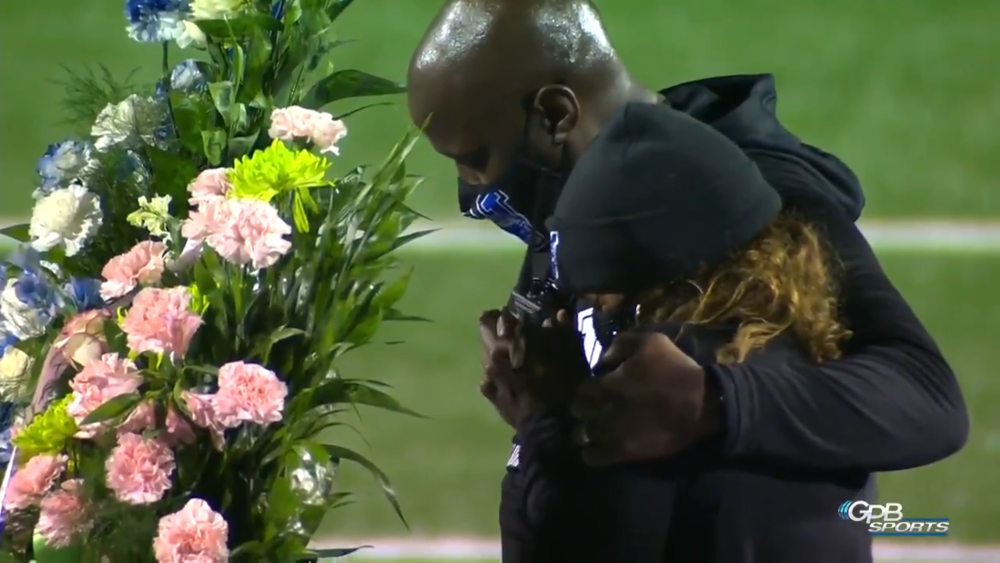 Robinson wanted his students to "dare greatly." He was one to show his passion for his school and had a larger than life presence. His self-professed title as "Lead Learner" at Westlake gave him the chance to connect with his students and staff on a daily basis.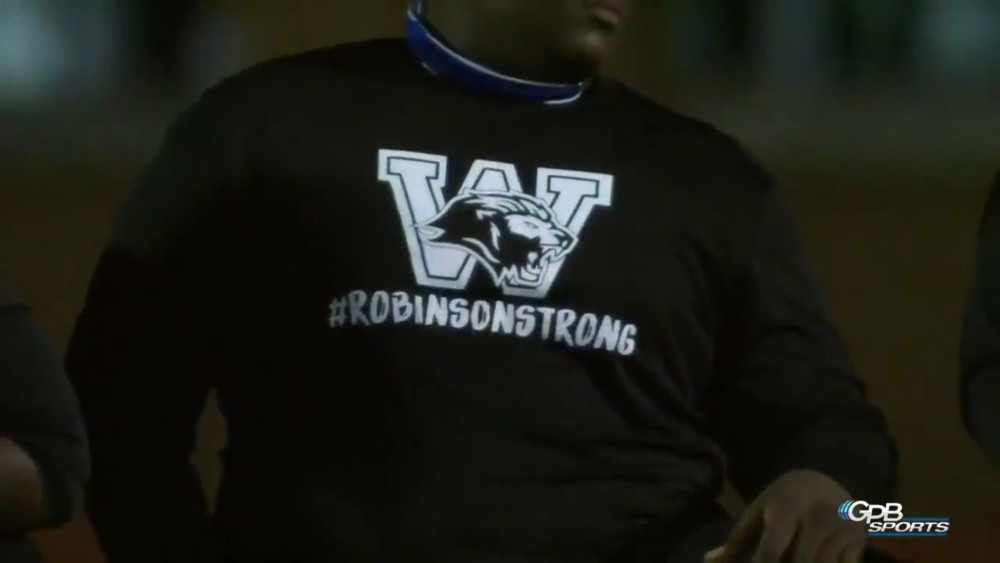 "He was loving, committed, and you saw the 'Robinson Strong' shirts out here tonight?" Green said. "It's always been about the kids. They definitely wanted to make a statement out here tonight and that's what this was about.
"He always wanted to strive to be the best. He wanted the kids to strive to be the best. He wanted to show them that you could be whatever you wanted to be. He could motivate anybody."
Robinson came up with the phrase "One Westlake" to describe the community. The idea was always to be strong together, to be your best together, and have a community around him working to be its best — acting as one — every single day.
Across Fulton County, the support for the Westlake community came quickly and in many forms. County Athletic Director Steven Craft was blown away by all the reactions — even something as unifying as all the schools themselves turning their logos into Lions colors on social media.
"It's been very difficult for this community," Craft said. "But it's also been a good week from the standpoint of how this entire county and community has rallied to support them. We have a motto — 'One Fulton' — and I think that's been demonstrated through things like the schools all changing their logos to the Westlake Blue. I think that's what separates Fulton County from a lot of other districts. We do cherish each other. We do support each other and we come together when someone's in need.
Craft just loved seeing Robinson's smile and his favorite moment goes to a brief lapse in attire. In Macon, when Westlake's girls basketball team won its third straight state title, Robinson tore open his dress shirt Superman-style to flash a '3-Peat' T-shirt as time ticked away. 
"He was such a proud man and you could see that as he tore his shirt open," Craft said. "That moment showed just how much he cared for his kids, this school, and this community. He was such an inspirational person and a great leader for this school."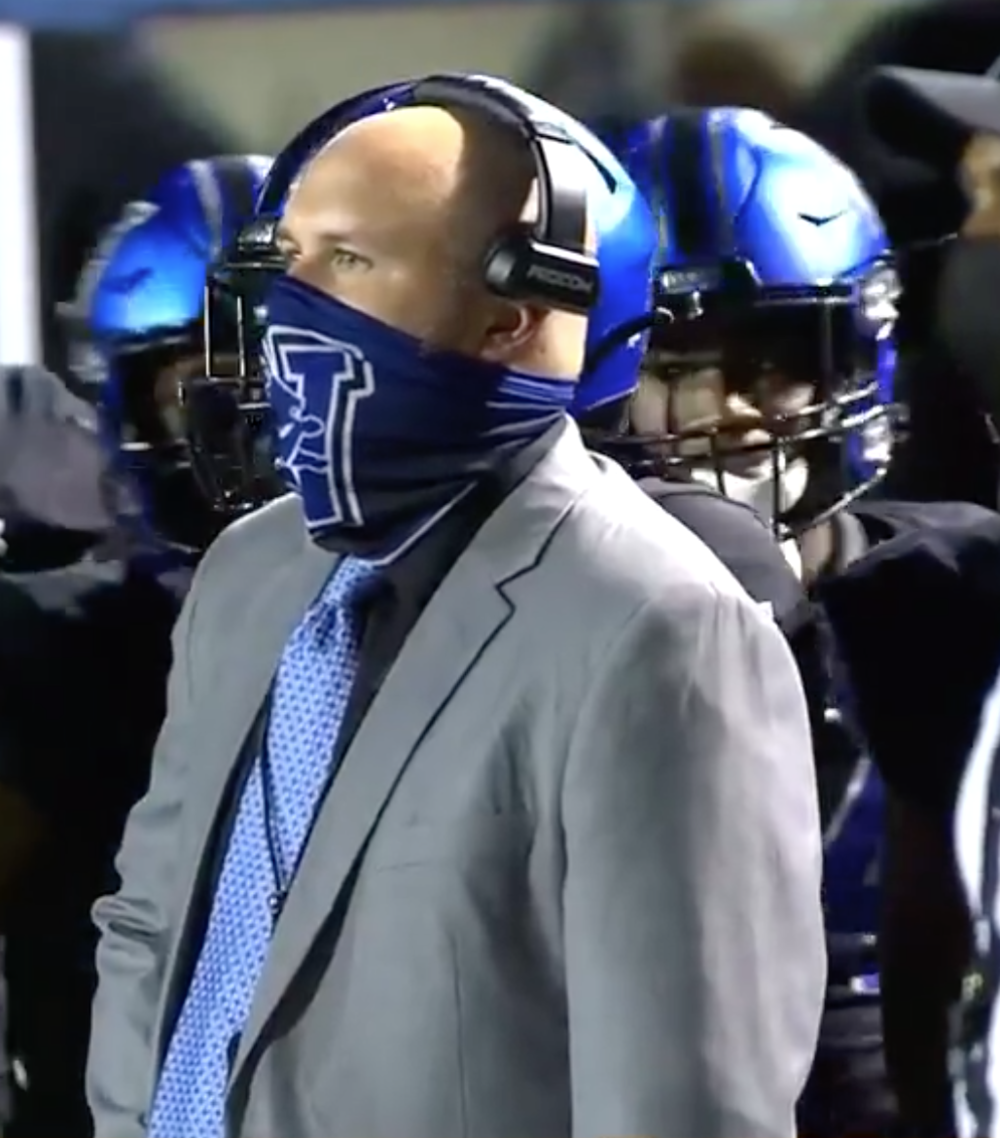 Westlake Head Coach Bobby May showed his own way to remember his principal — coming to work in a suit to work the sidelines. In a week that felt like many more days than just the five since the Robinsons' passing, May was overwhelmed by all who reached out.
"It's just been crazy," May said. "I think this week has been a whirlwind. Even thinking about not playing this game on Tuesday — our kids have been so great. I'm just really proud of them. It's been amazing. Langston Hughes, who is supposed to be our biggest rival, they're showing that it's bigger than football. Lovejoy wore blue wristbands for us today. Coach Boone at Langston Hughes called me every single night. Coach Carson from Lovejoy called to check on us, too.
"It's been really special."
As are the Robinsons to their One Westlake.
Secondary Content
Bottom Content