Section Branding
Header Content
Early End To Census Count Could Cost Georgia Lots Of Power, Money
Primary Content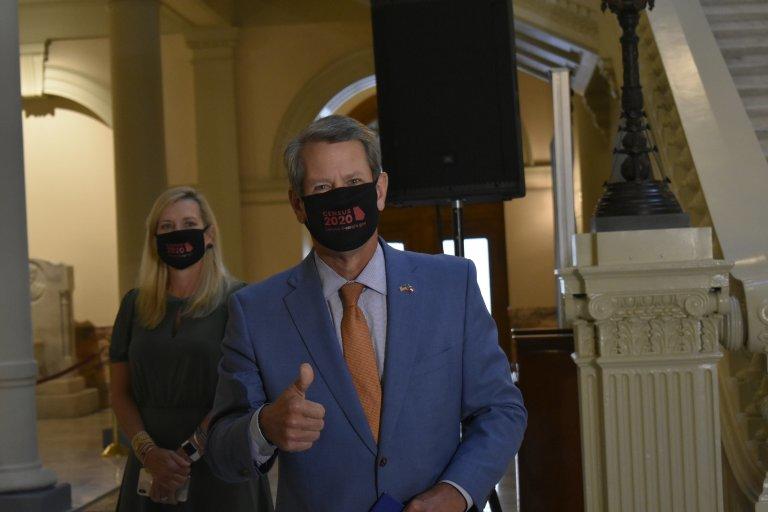 The U.S. Supreme Court this week sided with the Trump administration in its effort to shut the U.S. Census count down early, putting an end to a contentious census season marred by the COVID-19 pandemic and other obstacles.
Data collection is now set to stop Thursday at midnight rather than Oct. 31 as planned before Tuesday's ruling.
And despite Georgia reaching 99.9% of households counted, the loss of those extra weeks could mean residents miss out on hundreds of millions of dollars in federal spending over the next 10 years.
"And those resources are going to come at a time when Georgians need them more than ever," said Rebecca DeHart, CEO of census nonprofit Fair Count. "These are going to be recovery dollars from the pandemic, they're going to be recovery dollars for any sort of disaster relief that we have from hurricanes or other issues."
Census data is often used for research, marketing, and planning. For example, population and housing data might determine where schools are built or where new bus routes are mapped.
Census data also factors into funding for rural hospitals and education, as well as apportioning elected representation for the state, DeHart said.
"It is really probably the most important step to our recovery, taking the census, so these undercounts are going to leave a lot of communities behind," she said.
In April, the Census Bureau extended the deadline for census response from July 31 to Oct. 31 and pushed back its own deadline for reporting results to the president, from Dec. 31 to April 30, 2021.
"It is ludicrous to think we can complete 100% of the nation's data collection earlier than 10/31 and any thinking person who would believe we can deliver apportionment by 12/31 has either a mental deficiency or a political motivation," U.S. Census Bureau Associate Director Timothy Olson wrote in an email in July.
President Donald Trump initially supported the extension, and the U.S. House and Senate both introduced legislation to move the deadline to Halloween, though only the House passed a bill to do so.
But in August, U.S. Commerce Secretary Wilbur Ross announced a plan to end data collection Sept. 30, and the administration stopped supporting a deadline extension.
Unless Congress takes action to change the deadline, the census data will be due on President Trump's desk by Dec. 31, meaning Trump may be able to wield control over reapportionment even if he loses the Nov. 3 election. The president wants to exclude undocumented immigrants from the reapportionment totals, which would take power away from some large, immigrant-rich Democratic communities.
Georgia officials of all political stripes united to push the census in its last weeks, including Trump allies like Gov. Brian Kemp, who urged Georgians to fill out their forms in a Capitol press conference in September and the state's two U.S. Senators, David Perdue, who cosponsored the Senate bill to extend the deadline to Oct. 31, and Kelly Loeffler.
A number of advocacy groups and local governments challenged Ross' move in court, saying his plan violates the government's legal obligation to secure an accurate count.
"The challenged decision cannot be justified by any legitimate interest in conducting an accurate census, and in fact will introduce several inaccuracies in the count, chief among them major undercounts of communities of color," the lawsuit says.
A California U.S. District Court judge recently ordered the bureau to keep working through Oct. 31, and the U.S. Court of Appeals rejected the Trump administration's request to stay the order and end the count.
The administration turned to the Supreme Court, arguing the federal judges overstepped their role in blocking the executive branch's oversight of the census.
The court did not list reasons for its decision, which is typical in emergency applications, but Justice Sonia Sotomayor issued a dissent, arguing that an extension would not harm the government, but an early deadline will injure the plaintiffs.
"In contrast to the Government's unsupported claims of irreparable harm, respondents will suffer substantial injury if the Bureau is permitted to sacrifice accuracy for expediency," Sotomayor wrote.
The administration argued 49 states have already achieved more than 99% of households counted, Sotomayor said, but when large numbers are at play, even small percentages can add up, and undercounts are more likely among marginalized populations in rural areas or tribal lands.
"When governments allocate resources using census data, those populations will disproportionately bear the burden of any inaccuracies," she wrote. "It is thus unsurprising that, for the 2010 census, the Bureau continued its field operations for a full month after reaching the 99 percent threshold that the Government now deems good enough."
The Census Bureau reports 99.9% of Georgia households are now counted, far better than late September, when it was in the low 90s, but it does not mean the count is nearly complete, DeHart said.
In mostly rural south Georgia, the enumeration rate is 99.2%
"It's really important to know that the 99.9% threshold has nothing to do with accuracy, that's actually a fallacy," she said. "The number reflects a little more than a number of households checked off the list, and that's by any means necessary."
The 99.9% likely include households with uncertain counts, such as where census-takers had to talk with neighbors or look through records because they did not receive a response when they knocked, DeHart said.
"These household omissions really do account for quite a significant portion of the census undercounts," DeHart said.
Each uncounted Georgian could cost the state about $3,850 each year for 10 years in federal funds, according to the Georgia Municipal Association. The latest population estimate for Georgia was 10.6 million people. If just .1% of those people went uncounted, it could cost the state more than $400 million in federal money over a decade.
Much of that money will come from rural and minority communities that are already struggling with a lack of resources, DeHart said. A report from August showed that census tracts home to a majority of African American trailing majority white census tracts by about 11%, while majority Hispanic tracts were 14% behind.
The big count is the most visible piece of the census, but officials will be working to crunch all the numbers in time to be delivered to the president, ostensibly by Dec. 31. Fair Count and other census-watchers will continue to monitor that portion of the count, DeHart said.
"We're going to be continuing to advocate and to make some noise around the data integrity, and then the data validation piece that's coming up over the — hopefully more than the next two months," she said. "But this was just step one. Step two is just as important."
This story comes to GPB through a reporting partnership with Georgia Recorder.
Secondary Content
Bottom Content