Section Branding
Header Content
McBath And Handel Trade Blows In 6th Congressional District Debate
Primary Content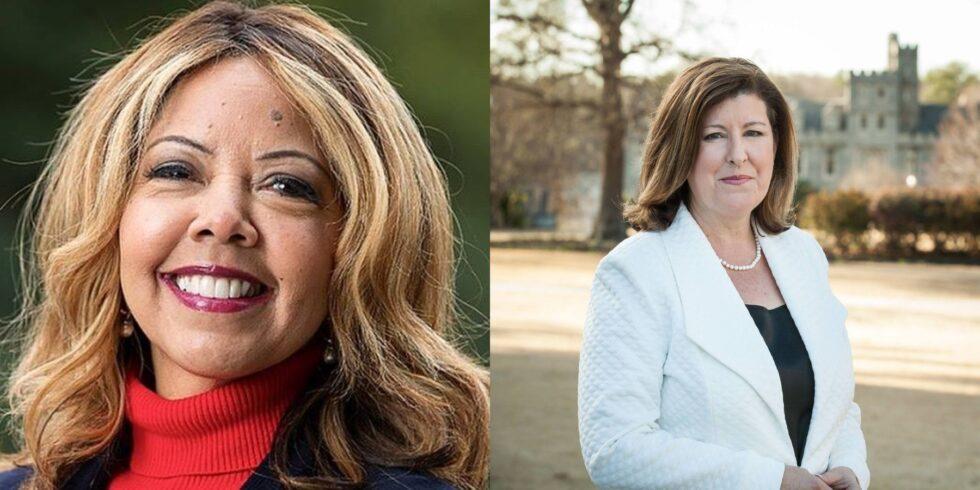 It was a dogfight from the start in a debate Tuesday between U.S. Rep. Lucy McBath, a Democrat, and Republican challenger Karen Handel ahead of the Nov. 3 general election.
McBath, who beat Handel in 2018 to win the once-heavily conservative district in the suburbs north of Atlanta, led off with a quick jab at Handel for moving to cut funding for cancer screenings to the pro-life group Planned Parenthood.
Handel later jabbed back, arguing she is a supporter of standalone legislation to protect health care for people with pre-existing conditions and has made no secret of her staunch opposition to abortion.
The back-and-forth between McBath and Handel highlighted abortion as a wedge issue in the race for the 6th Congressional District, which has trended blue in recent years following a long history as a Republican stronghold.
"Voters cannot trust you to stand up for a woman's right to choose, Ms. Handel," McBath said during the debate Tuesday hosted by the Atlanta Press Club.
Handel, who served one term as Georgia's secretary of state and one term in Congress before being ousted by McBath, sought to tie McBath to U.S. House Democratic leaders like Nancy Pelosi who figure as routine punching bags for Republican candidates.
In particular, she pressed McBath on why congressional Democrats have balked at working with U.S. Senate Republicans on passing a second round of COVID-19 relief, arguing the higher-price package favored by Democrats includes unnecessary spending items compared to the Republican proposal.
"It is just an absolute shame that Democrats like Lucy McBath are playing political games with the package," Handel said.
Both campaigns have poured millions into television ads and mailers in recent months to gain an edge in what could be a close race similar to 2018, when McBath won by a roughly 1% margin – about 4,000 votes – over Handel.
Handel has eyed a rematch ever since, routinely pouncing on McBath in social-media messaging and in public speeches. She also fended off Republican competitors in the June 9 primary who cast Handel as a damaged candidate incapable of beating McBath after losing once already.
Meanwhile, the tight race appeared to force the incumbent McBath to go on the offensive during Tuesday's debate, which saw her accusing Handel of obstructing voter rights while secretary of state and trying to hide income from the Georgia Life Alliance on her federal campaign disclosure forms.
In response, Handel sought to draw McBath into revealing whether she would support moves to "pack" the U.S. Supreme Court, or add additional seats to the bench, if Democratic presidential nominee Joe Biden is elected next month. McBath, like Biden, did not answer in the affirmative or negative.
"The only ones who are trying to pack the court are Mitch McConnell and President Trump," McBath said.
"She is a one-issue activist who will not speak up or stand up for you," Handel said of her opponent.
Early voting in the Nov. 3 general election began on Monday and runs through Oct. 30.
Secondary Content
Bottom Content