Section Branding
Header Content
Surge Of New Voters Likely Energized By Georgia's New Battleground Status
Primary Content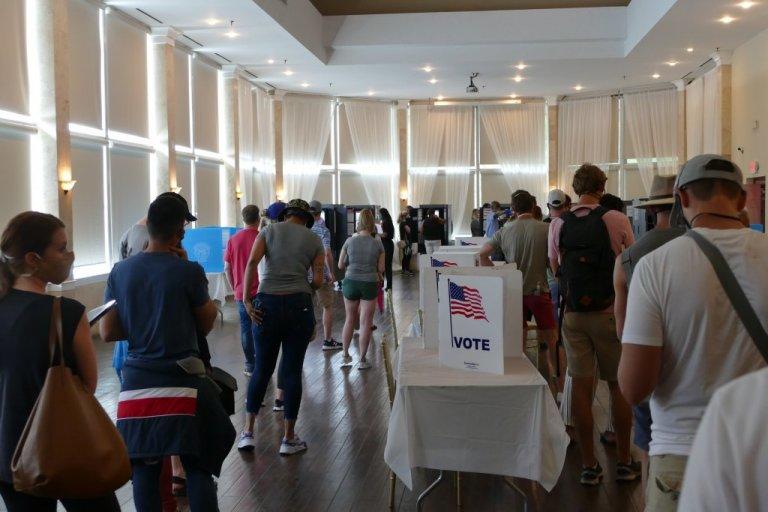 A record 7.6 million Georgians are registered to vote in the Nov. 3 general election.
On Tuesday, Secretary of State Brad Raffensperger released preliminary voter registration numbers that show about 600,000 more people have signed up to vote in Georgia since 2018. The announcement comes a day after the voter registration deadline expired for the upcoming election and less than a week before early voting begins in November's presidential election.
A reason for the jump in registered voters is the heightened interest in this competitive round of elections up and down the ballot, said Charles Bullock, a political science professor at the University of Georgia.
More people appear motivated to vote since Georgia is considered an emerging battleground state that could sway the presidential election. Georgia is the only state with two high-stakes races for U.S. Senate. Competitive down ballot contests include congressional candidates, state legislators and local officials.
"Many people who in the past, just didn't care or maybe didn't sign up to vote because they were afraid to get called for jury duty," Bullock said. "This year, they're interested, and they have an opinion they want to be able to express at the ballot box."
Early voting for the general election starts Monday and wraps up the Friday before Election Day.
Georgia's secretary of state said his office's efforts to make signing up to vote easier help explain the growth in the voting rolls. 
"The continued growth of Georgia's registered voting population is a testament to the simple and easy registration options the secretary of state's office provides to Georgia voters, including automated registration through (the Department of Driver Services)," Raffensperger said. "As Georgia's strong economy continues to attract the best and brightest from around the country, even during the pandemic, my office has the infrastructure in place for anyone who wants to register and participate in the democratic process."
The number of Georgians voting by absentee ballot appears poised to set a general election record. Georgia voters are voting absentee like never before as people look for a safe way to vote during the COVID-19 pandemic to avoid interactions at the polls. 
The 2.3 million Georgians who voted for the June 9 primary included a record 1.1 million who submitted absentee ballots.
So far, more than 262,000 voters have turned in absentee ballots to their county elections offices with hundreds of thousands more ballots in the process of getting mailed to voters. 
Bullock said the pandemic caused many organizations to sign up many new voters through means other than the face-to-face interactions common with typical voter registration drives.
In the unprecedented 2020 election season, many groups used social media, text messages and phone calls as their primary ways to reach new voters.
This story comes to GPB through a reporting partnership with Georgia Recorder.
Secondary Content
Bottom Content