Section Branding
Header Content
Emory Doctor: I Would Want Treatment Given To Trump Because It Offers 'A Lot Of Hope'
Primary Content
The experimental antibody treatment given to President Donald Trump has shown such promise during the trial phase that one of Emory's top doctors says it is the treatment he would want if he became sick with COVID-19.
President Trump is currently being treated at Walter Reed National Military Medical Center where his physician said he was "doing well" early Saturday after it was announced Friday the president had tested positive for coronavirus.
The president's physician, Dr. Sean P. Conley, said in a memo Friday that Trump had been treated with an injection of lab-engineered antibodies, called "monoclonal antibodies," developed by the biotech company Regeneron. The treatment is currently in clinical trials around the country, including in Atlanta, to see if the antibodies can fight off the disease in already-sick patients or prevent infection in people exposed to coronavirus.
Emory's Dr. Carlos del Rio, one of the top infectious disease doctors in Georgia, said the treatment is showing promising results in patients, especially when given to those with mild COVID-19 symptoms shortly after they get sick.
"Monoclonal antibodies offer a lot of hope," del Rio said. "In my mind, I'm just as excited about monoclonal antibodies as I am vaccines. They really are going to be a way forward in addressing this disease and preventing the spread and getting people back to work."
The antibodies target the coronavirus spike protein, latch onto it and work to prevent the virus from entering host cells in one's body, keeping the virus from spreading.
Emory is a testing site for two monoclonal antibody clinical trials, one by Regeneron and another conducted by pharmaceutical giant Eli Lilly. Emory physicians have successfully used monoclonal antibodies in the past to treat patients with Ebola and the H1N1 flu.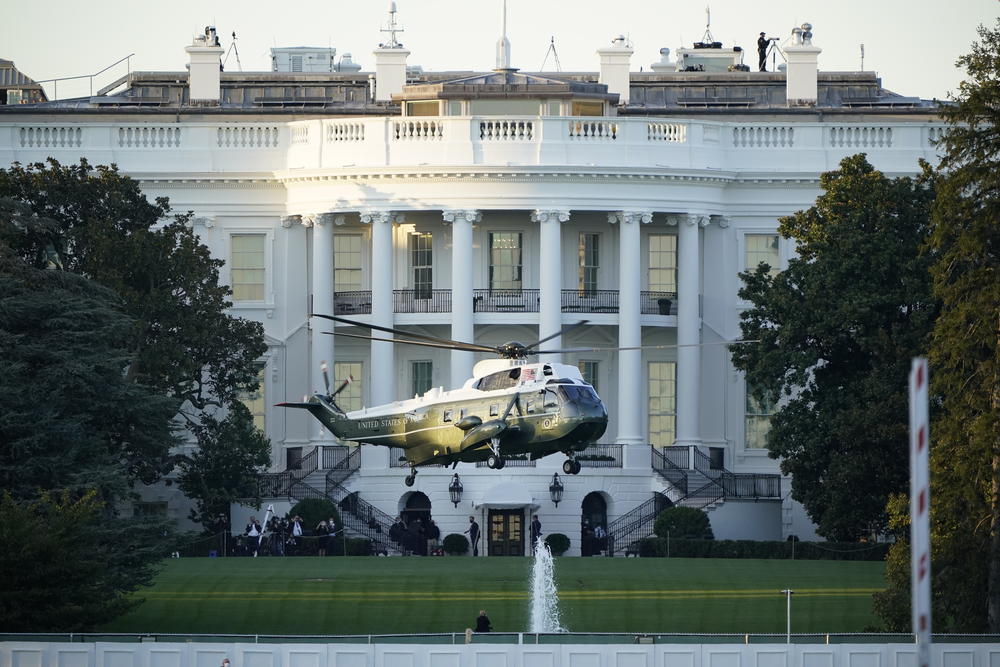 Del Rio made his comments during Friday's Political Rewind on GPB before it was announced the president had been given the treatment. Preliminary results, del Rio said, show that "you can potentially prevent the progression of the disease" and that medical professionals are currently working to "prove it."
"If I was found to be infected today, I would like to be enrolled in that study because the monoclonal antibody is the most promising therapy for people who have mild COVID disease," del Rio said.
The trials remain ongoing. The treatment has not been approved by the Food and Drug Administration.
Trump was given the antibody cocktail drug, called REGN-COV2, through compassionate use — reportedly something the company has only done for about 10 people. The president received the high dose, 8 grams, being tested by Regeneron.
The physicians treating the president at Walter Reed on Saturday also said he has also been given a five-day course of the antiviral drug remdesivir.
Flanked by a team of nurses and doctors on Saturday, Dr. Conley said the president is "doing well," has been fever free for more than 24 hours and that Trump, 74, is not currently on oxygen.
Conley said Trump told his doctors that "I feel like I could walk out of here today." But Conley said the president would continue to remain at Walter Reed for further evaluation, adding that it can take a week or longer before the inflammatory stage of the disease appears in patients.
"At this time, the team and I are extremely happy with the progress the president has made," Conley told reporters.
Conley also said the president was "just 72 hours into the diagnosis now," which would've meant the president was sick earlier than the White House previously acknowledge. The physician later issued a statement of clarification, saying he incorrectly used the term "72 hours" and that he meant to say Trump was on "day three." He said Trump's diagnosis was first confirmed late Thursday and that Trump "received Regeneron's antibody cocktail on Friday." 
Emory has served as the recruiting site for a few monoclonal antibody therapies, including the Regeneron-sponsored trial.
"These are antibodies produced by laboratories that have very, very high levels of neutralizing activity against the virus," del Rio said.
The Regeneron trial at Emory has sought patients in the hospital with COVID-19, including those on ventilation. Another part of the trial studies outpatients with the disease. Investigators are to follow trial participants for up to 60 days.
Emory researchers have also been studying a monoclonal antibody candidate for treating hospitalized but non-critical patients in a trial sponsored by Eli Lilly.
In another trial, jointly funded by Lilly and the federal government, Emory investigators are evaluating the Lilly antibody cocktail to see whether it can prevent moderate to severe COVID-19 infections in residents of nursing homes and assisted living facilities around Georgia.
Lilly announced last month its "proof of concept data" from an interim analysis of its clinical trial, showing a reduced rate of hospitalization for patients treated with its antibody cocktail. The trial remains ongoing.
Secondary Content
Bottom Content