Section Branding
Header Content
Governor Green Lights Senior Care Visits But Safety Guidelines A Tall Order
Primary Content
Gail Reid regularly joined her mother at her Dunwoody assisted living facility's dining room before COVID-19 and shelter-in-place orders abruptly ended Reid's access to the campus and kept her 89-year-old mom confined to her apartment.
For the next three months, the phone line was the Decatur resident's only connection to her mom, Irene Margolies.
After those first grueling months, Gail and her sister were relieved when they could at least start driving their mother to her medical appointments. But there is no touching and certainly no hugs. Gail takes care to crack the car windows as her mom rides in the backseat; both wear a mask. The phone remains a critical link, with multiple check-ins every day and a nightly call after final Jeopardy.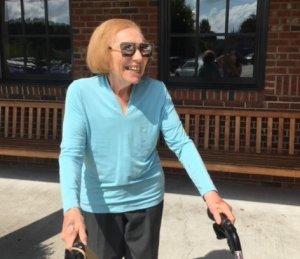 The family has passed on opportunities at Margolies' facility, Berman Commons, to meet up for a supervised outdoors visit because they worry about possible run-ins with someone flaunting the campus' mask rules.
"She went through the Great Depression, World War II, the polio epidemic. She just was very brave and very stoic," Reid said. "She has been more worried about getting us sick than us getting her sick."
Some residents at long-term care facilities may soon see more visitors under the state's newly announced three-phase "reopening" guidelines for long term care facilities. But for facilities in counties with high rates of infection, the state's criteria for increased flexibility may prove tough to achieve.
Berman Commons, for example, is in Dekalb County, where the two-week average for new cases Sunday was 115 per 100,000 people – well above the less than 50 cases per 100,000 threshold set for laxer in-person visitation under the state's guidelines.
But that infection rate at least brings Berman nearer to the next phase envisioned in the state's guidelines, which the facility is excitedly – and cautiously – eyeing, said Shari Bayer, chief marketing and communications officer for the Jewish HomeLife network, which includes Berman Commons.
Already, the campus has checked off two other key milestones in the guidelines: It has surpassed the required 28 days without a new COVID-19 case, and the county's positivity rate has fallen below 5%.
'Prisoners of their physical weakness'
What happens next, though, with the county's transmission rates is anyone's guess. And this is where Reid's frustration begins.
The way Reid sees it, state officials are comfortable ordering residents of long-term care facilities and people with health conditions to shelter in place for months – essentially making them "prisoners of their physical weakness," she said.
But those same decision makers have been uneasy leaning into the power of their position to require people to follow public health guidelines that could help reduce the viral spread outside the walls of these long-term care facilities. Kemp recently relented and allowed local governments to require face masks in some limited settings, but business owners would have to agree to any edict ordering customers to mask up.
"It's OK to lock these people away as if they are secondary, second-class citizens but it's not OK to say to people, 'If you want to come outside your house while we're living in a pandemic, you've got to put on a mask,'" said Reid, who is an accountant.
"I don't argue with the numbers," she said, referring to the criteria laid out in the state's guidelines. "What I argue with is there doesn't seem to be enough of an effort to restrict other people."
'A chance for reopening'
The guidelines – ordered last Tuesday by Gov. Brian Kemp and outlined by the state Department of Public Health – represent the first official guidance from the state on how and when the public should engage with some of the state's most vulnerable residents.
Nearly 40% of Georgia's 6,537 deaths from the novel coronavirus as of Friday were lives claimed at long-term care facilities, according to the state Department of Community Health. These residents have been under stay-home orders since early spring.
In the more than six months that have passed, a patchwork of policies emerged at these facilities. That has caused confusion among family members desperate to embrace their loved ones who are kept at a distance at one facility while they hear of others who have been able to hold the hand of an aged parent somewhere else.
Devon Barill, director of communications for the Georgia Health Care Association and the Georgia Center for Assisted Living, which represents long-term care providers under the Gold Dome, said the new state guidelines will help centers as they assess their ability to resume visitation.
"However, while our centers are eager to reunite residents with their families, there are certain criteria that centers may be unable to meet due to circumstances beyond their control," Barill said, noting the thresholds for county positivity rates.
The state's blueprint still nudges even facilities granted more leeway toward holding visits outside during the pandemic, such as in parking lots. It outlines basic rules, like requiring appointments, providing supervision to ensure safe practices are observed and limiting access to those who pass a screening and adhere to infection control practices – like wearing a face mask.
Under the guidelines, facilities in counties with high infection rates should limit visitation to end-of-life circumstances or compassionate care situations.
"This is giving some hope to the families that there has been a priority on this now and it's no longer just 'shelter in place, shelter in place,' over and over again and locking people down," said MaryLea Boatwright Quinn, who is the director of government affairs for the Georgia chapter of the Alzheimer's Association. "At least this shows that there is a chance for reopening."
Nearly half of all nursing home residents are living with dementia, according to the association. About 42% of residents in residential care facilities like assisted living communities have been diagnosed with Alzheimer's or another form of dementia.
Quinn said she had hoped for a stronger directive on testing for those who are coming and going from long-term care facilities. She points to Arizona, which requires visitors to prove they recently tested negative for COVID-19. The state guidelines only require baseline testing for staff and residents.
"We as an association want to make sure that this is implemented safely and the only way we think that can be done is if we increase that testing requirement," Quinn said. "The ability to test on site and to test frequently, I think, is really critical as we move forward."
Bayer, the spokeswoman for Berman, said they are contemplating whether to require testing anyway for visitors.
Advocates for Georgians who have been the most affected by the governor's shelter-in-place orders say more restrictions are also needed for those who could soon venture into a long-term care facility.
"It's hard to make residents in facilities as safe as they can be without more requirements on the general population," said Kathy Floyd, executive director of the Georgia Council on Aging, who did not specify what restrictions are needed.
This story comes to GPB through a reporting partnership with Georgia Recorder.
Secondary Content
Bottom Content