Section Branding
Header Content
New Unemployment Benefit Arrives, But Some Film Workers Left Out
Primary Content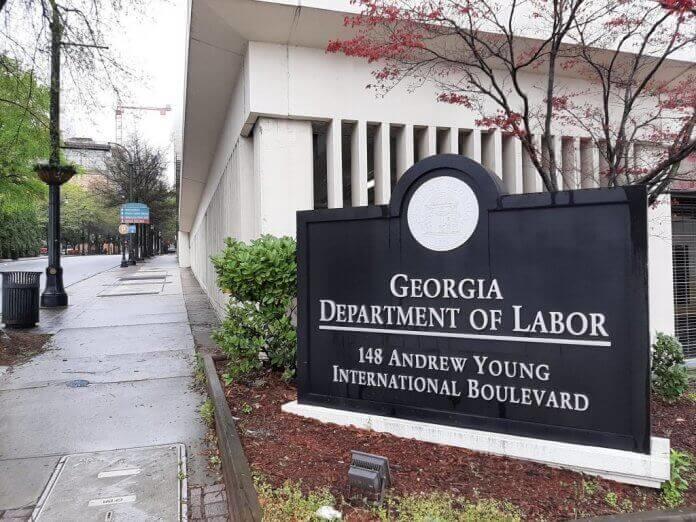 Over a half million Georgians have received their first federal unemployment insurance supplement in more than a month this week as the state Department of Labor disburses $463 million under the Lost Wages Assistance program.
The program's up-to $300 weekly payments replace the now-defunct enhanced unemployment payment through the CARES Act, which offered an extra $600 until it expired at the end of July. When congressional leaders could not come to an agreement on extending unemployment benefits, the White House announced it would tap into federal disaster relief funds to provide a smaller payment. 
Recipients can expect their second and final payment under the program by today. All told, they will be eligible for as much as $1,800.
But not everyone who received the now-expired enhanced unemployment will receive the new funds. 
Unlike the CARES Act, which provided funds for any recipient of state unemployment benefits regardless of the amount, the new program only applies to those who make at least $100 per week in unemployment benefits. Nearly 79,000 Georgians receive less than $100 as their weekly benefit amount.
The minimum weekly benefit available to jobless Georgians is $55, which is what actor Nathan Morton of Cherokee County has been receiving since the CARES Act funding ended, making him ineligible for the $300 supplement.
He's been selling off his possessions while looking for work and appealing his claim.
"It's pretty much impossible," he said. "I've been getting by basically on eBay sales, but it's been roughly $100 a week, if that. Clothing, sporting goods, that sort of thing. I'm just trying to get this sorted out to make sure my claim is accounted for."
Morton worked with several casting companies before gigs ground to a halt in March. He applied for unemployment soon after that and started receiving benefits a few weeks later. But when he looked at his benefits statement, he noticed that not all of his employers filed on his behalf.
The amount of benefits a person receives is based on the amount of wages they earned. If Morton got credit for all the work he did, he would have been eligible for hundreds of additional dollars, he said. 
The film and TV industry has boomed in Georgia in recent years, thanks to a generous tax incentive the state offers to companies who shoot in the Peach State. But some workers in Georgia's entertainment industry report similar issues to Morton's – working with a variety of casting companies, talent agencies and payroll services means a lot of employers need to fill out unemployment forms.
"It's not just me, there's a whole bunch of us fighting right now, because they said we only made $50, $55, $30, $40 (per day)," said actress Letecia Reeder of Atlanta, who is also receiving $55 per week in unemployment benefits. "It's like, how? That would be insane, when we would be on set for 16, 18, sometimes 20 hours in a day."
Reeder also does not qualify for the $300 payment because her weekly amount is too low. She said the payroll company that filed on her behalf did not include the various jobs she worked from acting to production to stand-ins and photo doubling.
She is one of a group of about 100 people in the film industry who have reached out to Labor Commissioner Mark Butler about this issue. She said the group has heard back from Butler and she's hopeful the situation will be resolved, but it has not been easy getting by.
Reeder used the $600 enhanced unemployment payment she previously received for rent. But when that ran out, she and her daughter had to move.
"Unfortunately, when it went down to $55, I had to move in with my family," she said. "I have a 10-year-old daughter, and I haven't been telling her anything about the situation, because I don't want her freaking out."
The Georgia Department of Labor has paid more than $13.5 billion in state and federal benefits since the beginning of the pandemic, more money than it paid out in the last eight years combined. Many unemployed Georgians have reported frustration with long delays before payments began, unanswered emails and hours spent on hold as the agency's workers struggled to deal with the historic numbers of Georgians in need.
The Trump administration imposed the $100 minimum to prevent people from claiming benefits based on side gigs, but some labor experts worry the threshold could leave out those who earn lower wages or who work seasonal or non-traditional work.
Others say the funds are not enough for Georgia workers who have no other income source.
"Any relief is relief, and we're glad to see it," said Alex Camardelle, senior analyst with the Georgia Budget and Policy Institute. "We wish that Georgia would have been able to get the dollars out to individuals sooner, but the Department of Labor had to build another new system in order to deliver this, so they acted as fast as they could to get this out. 
"At the end of the day, though, it is very inadequate to help folks meet their basic needs and stay sheltered during this time when we're seeing evictions and utility shut-offs."
The new program's rollout has been relatively smooth, said labor department spokeswoman Kersha Cartwright.
"Knock on wood, it has gone relatively well," she said Thursday afternoon. "Our IT Department has moved mountains over the past six months. Programming entirely new programs is always challenging, but we are taking it on one system at a time. If we could have handled all of these programs within our regular UI system under regular UI rules, this would have been much easier. 
"It seems every time we turn around, a new program requires new rules and can't use the old programming to release payments. We will release the rest of the payments tonight and tomorrow. We are hoping for smooth sailing."
This story comes to GPB through a reporting partnership with Georgia Recorder.
Secondary Content
Bottom Content