Section Branding
Header Content
Facing Backlash, UGA Reverses Course, Announces Basketball Arena As New Voting Site
Primary Content
Facing an uproar from students, professors and alum, the University of Georgia on Thursday reversed course and announced it would allow in-person early voting on campus for the upcoming election.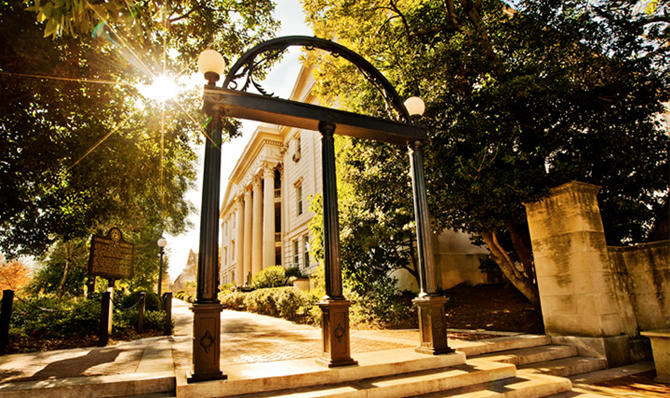 The university had said Wednesday that it had been determined that "there would be no on-campus voting" at the Tate student center "due to concerns about long voting lines and insufficient indoor space required to maintain social distancing necessitated by the COVID-19 pandemic."
The statement went on to say the university would provide a shuttle service for students to vote on at other locations in Athens — a point that drew widespread criticism for the hypocrisy of not being able to easily socially distance on a shuttle bus.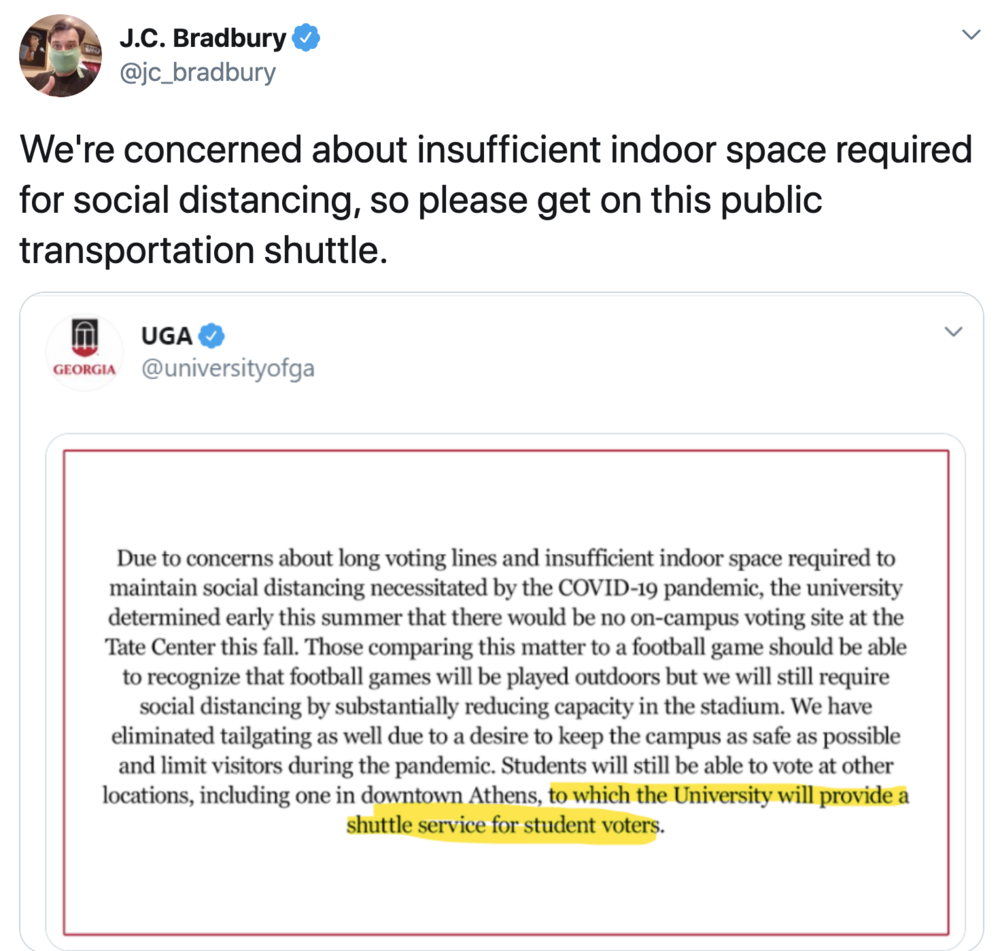 Amid the backlash, the university Thursday announced it had changed its earlier decision and had notified the secretary of state's office about using Stegeman Coliseum, the on-campus basketball arena with a seating capacity of 10,500, as a voting venue.
"We look forward to working with state and local election officials to facilitate on-campus voting in this indoor venue, which is large enough to support safe social distancing," the university said early Thursday.
Shortly after 2:30 p.m., the university announced the coliseum had been approved as the new official on-campus voting site.
While the news certainly alleviated a lot of concerns, not everyone was pleased with all that transpired in the past 24 hours.
Dr. Janet Frick, a psychology professor at the university, tweeted to her nearly 5,000 followers: "When you have a global PR disaster on your hands, the first words of your statement the next day need to be: 'We're sorry.'"
Stacey Abrams, the former Democratic gubernatorial candidate and voting rights activist, was among those who blasted her alma mater for its decision to not hold on-campus voting. She told her 850,000 Twitter followers that "#COVID19 must never be used as an excuse to limit voting access, including on college campuses."
The student group UGA Votes had told its followers on Wednesday that it was "deeply saddened to announce that there will be no on-campus early voting location for the 2020 Presidential Election."
It was clear the university was paying attention to the uproar, tweeting late Wednesday that the institution "remains more than willing to make a safer site, such as the Coliseum, available as approved by the Secretary of State and the local election office."
By mid-Thursday, the secretary of state's office had signed off on the coliseum – to the university's delight. "Social distancing protocols will be followed in this large, indoor venue," the university said.
Secondary Content
Bottom Content