Section Branding
Header Content
Georgia Signs On Nearly 15,000 Poll Workers In Runup To November Election
Primary Content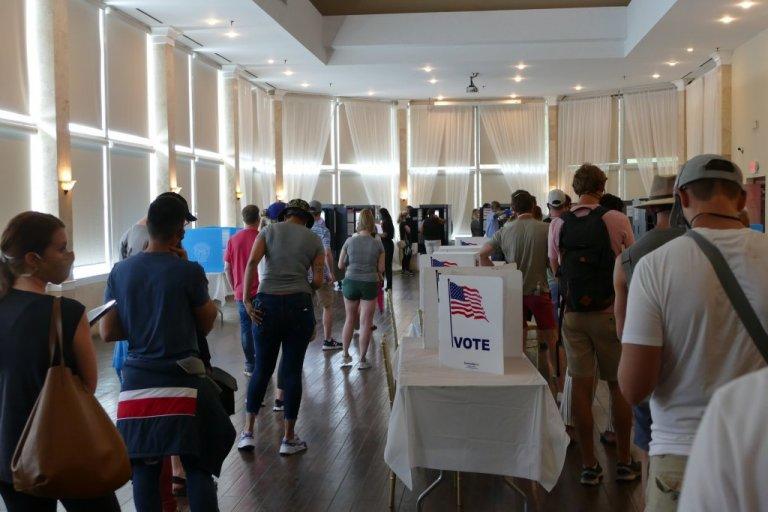 James Hammond is more than answering Georgia's call to join a new army of poll workers ahead of November's big election. He's also turned into a one-man recruiting force.
Georgia's Secretary of State Brad Raffensperger's office is scrambling to recruit people like Hammond to assist voters for a Nov. 3 presidential election when more than 5 million Georgians are expected to cast ballots either by mail or in-person. The aim is to avoid the hours-long waits that frustrated Georgia voters in the June 9 primary as a poll worker shortage combined with a new system for casting ballots caused headaches at precincts across the state.
So far, about 14,600 Georgians have signed up as poll workers this summer, seeming to put the state's goal to recruit 20,000 new precinct staffers by November's election within reach.  
The COVID-19 pandemic started shutting down daily routines in Georgia soon before this spring's scheduled elections, delayed once from March 24 and then again from May 19. When the primary was finally held June 9, it turned into a perfect storm of what could go wrong. Poll workers were lost to coronavirus fears, schools and other common precinct locations shut down and a new $104 million voting system proved too difficult for some replacement poll workers who had little time to train.
After hearing nightmare stories of long lines in Fulton County for the June 9 primary, Hammond contacted the American Civil Liberties Union of Georgia to ask how he might become a poll worker. This is the same Georgia chapter of the ACLU that frequently battles the secretary of state in court, including a recent victory that extends the deadline for absentee ballots to count in this November's election.
Hammond also got a dozen of his Alpha Phi Alpha fraternity brothers to sign up, and in the August runoff, they got their first experience as they brace for a November election that figures to pose a greater test of the state's election system.  
"We gave all the manpower that we could for August and the bulk of the brothers are planning to work this upcoming Sept. 29 (special) election, as well as the November election," said Hammond, managing partner with Ikon Filmworks. "We noticed we'll need all hands on deck for that election to ensure that people have the resources there that they need."
"I was discouraged by seeing the way that people had to wait for two, three, sometimes four hours to vote," he said. "I heard horror stories of people that had to spend all day to vote. I volunteered because when I went to my polling precinct, I realized that it was much like the previous precinct that I voted at in that the average age of the people that worked at the polling (precinct) was roughly mid-70s, and with these new devices, it's not how it used to be."
Poll workers tend to be retirement age and 80% of COVID-19 deaths in the United States have been among people 65 or older. Many Georgians who signed up to work the polls in elections this year backed out due to coronavirus worries.
The ACLU is not the only organization critical of the voting process in June that Raffensperger's office is now teaming up with to get more poll workers ready for November. The Metro Atlanta Chamber is working to deliver 2,000 volunteers in Fulton alone while working to recruit online across many more counties. After the messy election in June, a chamber official called for the problems to be fixed.
"We are clear: Voting is a critical way to engage in the future of our region and nation – and every vote should be cast and counted," said Katie Kirkpatrick, then the chamber's chief policy officer who was promoted to president after the primary. "The issues we're seeing reported in metro ATL and across the state are unacceptable and should be addressed swiftly by officials in our state."
The Georgia Hispanic Chamber of Commerce is now enlisted to help recruit Spanish-speaking poll workers. And the Georgia Department of Transportation has signed on with Raffensperger's office to help bring in younger poll workers.  
To give Georgia voters an alternative to in-person voting in June, Raffensperger's office sent out absentee ballot applications to 6.9 million voters, which resulted in a record 1.1 million people voting by mail. That record participation is expected to be broken for the presidential election as the state's secretary promotes a new online portal to request absentee ballots. However, a repeat of the unsolicited mailing of absentee ballot applications is not in the plans for the November election.
Hundreds of thousands of Georgia voters are expected to cast ballots through the postal service in November, far more than in past elections. Several weeks of early voting at precincts will offer Georgians a chance to avoid the Nov. 3 crowds.
Still, voters are expected to pack precincts on a high-stakes Election Day as Georgia voters can check a digital box for the country's president, two U.S. senators, their U.S. House member, state lawmakers and contests closer to home.
More than 800,000 people voted at the polls June 9 while another 300,000 or so turned out during early voting.
"When COVID-19 swept through Georgia, Georgia's elderly poll workers stayed home to minimize their exposure to the pandemic," Raffensperger said. "Through these partnerships, like the one with the Georgia Department of Transportation, we will be able to recruit younger poll workers and help provide a safe and easy experience for Georgia's voters in November."
In the end, county election officials decide which poll worker candidates to hire. The workers agree to stick around for a long day that might pay $100 or less, depending on the county.
Poll workers need to be a resident of the county where they apply and must be willing to stay until the voting line clears on Election Day. They'll help with traditional tasks, like checking voters' IDs and help them navigate the ballot-marking machines. But this year they'll also be charged with sanitizing surfaces and other coronavirus precautions.
Georgia's coronavirus-related election woes were similar to problems in other states, including Wisconsin where voters are suing the elections commission claiming they were deprived of their right to vote.
The ACLU of Georgia is on track to surpass its goal to bring in 1,000 new poll workers for November, said political director Christopher Bruce. The ACLU is especially interested in recruiting lawyers who understand election law, tech savvy people who can help navigate new voting machines and getting young, healthy people to volunteer. 
"We're trying to work things out to be better for everyone," Bruce said. "And as we all know, democracy works, but its citizens work. So we are trying to engage, empower and equip all citizens to say there can't be voter suppression if you're the ones working the poll, right."
In Fulton, the county home to some of the longest lines in the June primary, getting more people ready for November helps election officials fix problems at about 40 voting sites to reduce overcrowding.
Rural Georgia counties can use extra help too. In south Georgia's Early County, adding eight more poll workers for November can make casting a ballot easier for its 7,663 registered voters. 
It will add support to dedicate a poll worker to the task of canceling absentee ballots when people who hold them show up in person on Nov. 3, Early Election Supervisor Claire Moseley said. She empathizes with her big city counterparts.
"I don't see how they can recruit enough, so what the secretary of state's office is trying to do would be very helpful for them," Moseley said.
This story comes to GPB through a reporting partnership with Georgia Recorder.
Secondary Content
Bottom Content