Section Branding
Header Content
In Responding To Coronavirus, Some Georgia Colleges Don't Make The Grade
Primary Content
As college students return to campus amid a global pandemic, the true spread of the coronavirus at schools across Georgia is not fully known, thanks to a disparity in university's testing and reporting of COVID-19 cases.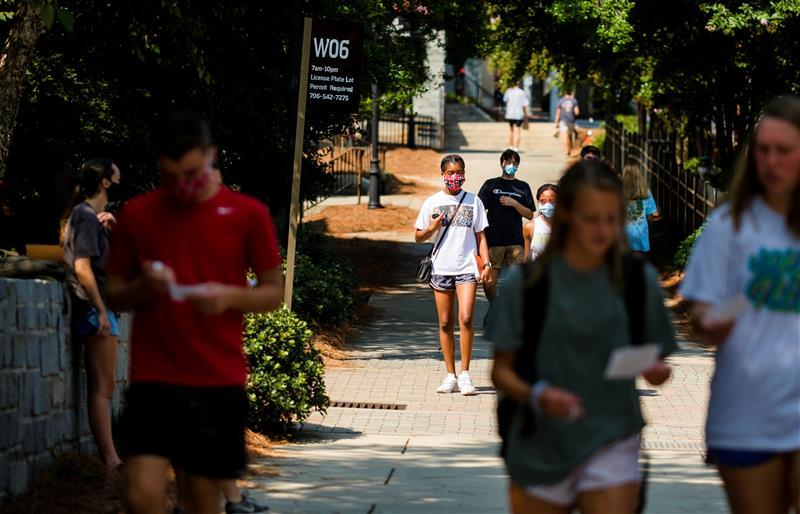 While some schools do extensive testing of students and publish detailed information about rates of infection, others do not conduct tests and share little or no information about self-reported coronavirus cases.
Schools with limited testing programs have difficulty recognizing and combating outbreaks, while students, staff and faculty are left without a clear picture of how the coronavirus is impacting their community. 
"It's important to get ahead of outbreaks and clusters and the only way to do that is more testing, more often," said Emory University Director of Student Health Services Sharon Rabinovitz. "The data we're seeing coming out of different schools and the data that's come out of recent articles in the Journal of the American Medical Association says that testing more often is the most useful tool we have to respond and pivot faster when the numbers go up."
Despite limitations, the numbers coming from some campuses this fall are drawing attention.
The University of Georgia, which reported 821 new cases of COVID-19 after the first week of classes, has established a voluntary "surveillance" testing program that provides free tests for students, faculty and staff who do not have symptoms. The university, which has 38,000 students and 10,000 faculty and staff, plans to conduct 24,000 tests by Thanksgiving, at a rate of up to 300 tests per day.  
Students with symptoms of COVID-19 can get tested through the university's health center.
Students and employees are required to report positive test results through UGA's online "DawgCheck" system.  
Although a recent White House Task Force advisory to Georgia recommended that college students with COVID-19 not to go home to quarantine to avoid spreading the virus, UGA encourages students who test positive for the virus to return to their primary residence "whenever possible," according to the school's website. 
For those who cannot go home, the university has set aside nearly 300 rooms on-campus where students who are sick or have been in close contact with someone who has tested positive for COVID-19 can quarantine. It has also arranged for hundreds of rooms off campus.
UGA provides a detailed breakdown of test results each week on its website.
The reported spike in cases at the school between Aug. 24-30 drew national headlines and prompted widespread concern within the university community.  
Public health professors at the university called on the school to take all classes online ahead of the Labor Day weekend, when they feared cases would multiply. 
Students also expressed discomfort with continuing in-person classes, with some calling for instruction to be entirely virtual. Arianna Mbunwe, a junior at UGA, said she doubts the university will listen.
"I don't think that university is going to shut down until the last possible second, even though they're getting backlash right now," Mbunwe said. "I just think it's about money … last semester, because we were sent home and we couldn't live on campus, they had to issue refunds for dining and housing, and that's a lot of money."
Expert: Universities need more testing
The outbreak at the University of Georgia that caught the public's attention was only identified because of the school's ability to conduct widespread testing. But even within the University System of Georgia, many schools do not have that capacity. As a result, experts fear that a surge in cases could go undetected. 
Of the 26 schools in the USG, 11 indicate on their websites that they provide testing for students. Of those, only seven say they offer testing to students who aren't displaying symptoms.   
Dr. Isaac Fung, a professor of epidemiology at Georgia Southern University, says the USG's four research institutions –  UGA, the Georgia Institute of Technology, Georgia State University and Augusta University – are best equipped to conduct testing and report new infections. 
These universities, Fung said, have laboratories and faculty members who can assist with reporting and data analysis. All of these schools provide testing for individuals who do not have symptoms. Georgia State releases very little information about results.
While testing alone cannot prevent outbreaks, Fung said, it provides school administrators with the information they need to make informed decisions.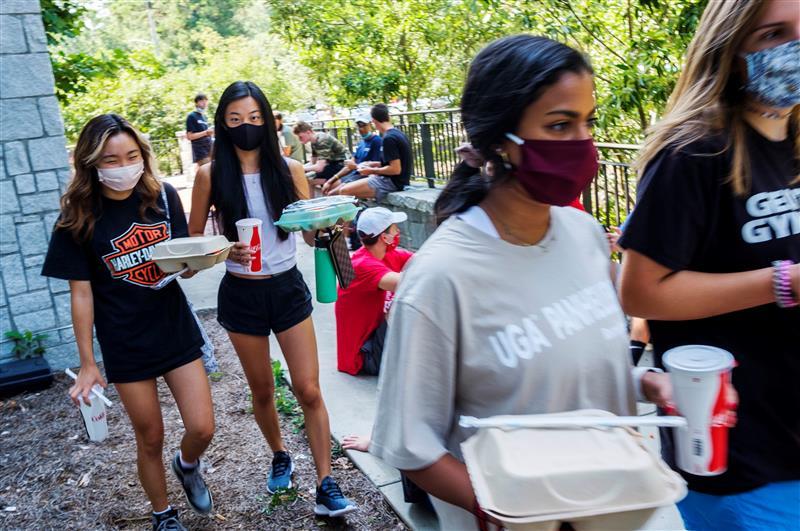 At schools that only test students with symptoms, or only disclose self-reported cases, the results won't reflect the actual number of cases in the community, Fung said. If students who have contracted the virus but don't show symptoms go untested, they can accelerate spread of the disease without the increase in cases showing up in reported numbers. 
"If the Board of Regents is serious about the prevention of transmission of coronavirus on campuses across all 26 (USG) institutions, they need to give these universities additional resources so that they can do more extensive testing," Fung said. 
Georgia Southern, which has 26,000 students, only provides testing for those who exhibit symptoms of COVID-19. It has reported 126 positive tests and 237 self-reported cases from Aug. 31 to Sept. 6. 
Fung believes the actual number of cases is likely much higher and may be comparable to the numbers reported by schools with more testing. 
Georgia College & State University in Milledgeville also experienced a spike in coronavirus cases during reopening. The school, which has 7,000 students, had 576 self-reported cases of COVID-19 in August. The University of North Carolina at Chapel Hill, a school of 30,000, reversed its decision to hold in-person classes after 177 students tested positive.
A need for consensus
As with testing, there are also substantial differences in how schools report cases of the virus. Ten of the USG schools do not regularly report the number of cases in their community on their websites. Of the schools that do publish data, the amount of information provided – and even how they define positive cases – vary significantly.
Dalton State College's COVID-19 report, for example, only includes cases in which an individual has been on campus within two days of exhibiting symptoms or testing positive for the virus. Other schools, such as East Georgia State College, include infected individuals in their case counts who have not been on campus. 
Georgia State provides testing for students exhibiting symptoms of COVID-19. It requires testing of students participating in university-sponsored activities such as athletics and ROTC. And it conducts random tests of students in on-campus housing.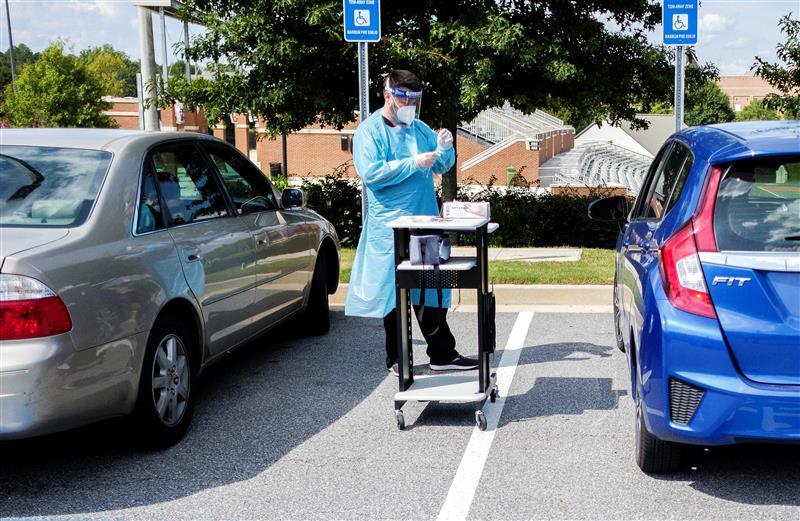 The school, which has 53,000 students, publishes very little data about test results. For the period Aug. 15 to Sept. 4, its website lists five positive cases out of 637 tests.
In response to an Open Records Act request from the Georgia News Lab, on Aug. 28, the university indicated that since mid-March it had "received reports of 132 positive cases" among students and employees. The university said it did not have records showing a breakdown of the number of cases by week or the distribution between students and employees. 
Georgia Tech has created an aggressive testing strategy that seeks to test up to 1,500 asymptomatic students, faculty and staff daily, as well as providing diagnostic testing for those with symptoms. 
The university is also developing a contact tracing and notification system in conjunction with the Georgia Department of Public Health. 
The university, which has an enrollment of 36,000 students, provides detailed daily case counts on its website. It lists reports of more than 800 cases since March. 
Emory University, a private school, also does extensive testing and reporting of cases. After limiting on-campus housing for fall to first-year students and moving nearly all classes online, the university mandated testing for all returning students. It has also expanded its mandatory surveillance testing of students not showing symptoms to 2,500 tests per week. 
Emory has built a comprehensive COVID-19 dashboard, which reports daily individual cases since June 1 and provides weekly updates on the number of tests it has administered and the test positivity rates. Since June 1, Emory has reported 55 cases among students and 63 cases among faculty and staff. There are about 1,900 students living in university housing this semester.  
Shanta Dube, an Associate Professor of Epidemiology at Georgia State, said it is important to have standardized public health data in order to make accurate comparisons and proper analysis. 
"When we get harmonized data across different settings or different institutes, we are able to do more direct comparisons," Dube said. "So when that is not in place, it makes it much more difficult for us as public health practitioners to really interpret the data."
Prof. Fung of Georgia Southern emphasized the need to standardize reporting on college campuses, suggesting that the USG Board of Regents could take the lead and aid with idea sharing across schools in the state.
"What has not happened is reaching a consensus among the 26 institutions," Fung said. "I believe that if there would be a mechanism or conference that will help facilitate consensus … that would be positive, but I'm not sure I'm seeing that right now."
Georgia News Lab reporter Brooklyn Valera contributed reporting for this story.
Secondary Content
Bottom Content