Section Branding
Header Content
Inequality Gap Among Atlanta Students May Grow Due To COVID-19 Pandemic, Experts Say
Primary Content
Educational experts in metro Atlanta are concerned about the long-term effects the extended absence from classrooms will have on students.
The Atlanta Public School system opted to start digitally on Monday for the first nine weeks of the school year due to safety concerns over the coronavirus pandemic, meaning more than seven months will have passed by the time students return to classrooms this October.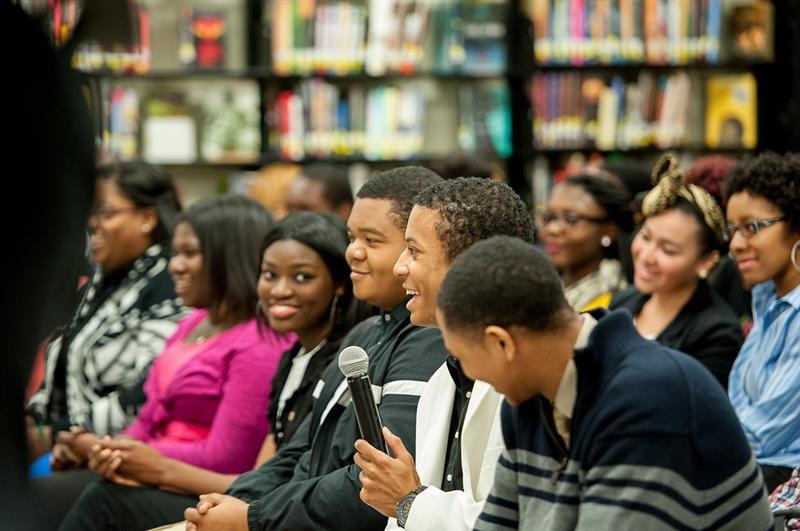 That long of a break, educational experts told GPB News, may further exacerbate the inequality gap between Black and Latino students and their white peers. The experts said they understand the need for safety precautions for students, teachers and staff, but they said the impact of being away is of extreme concern.
"The longer it goes, the less you will remember," said Ed Chang, the executive director of redefinED atlanta, a nonprofit dedicated to improving the lives of all students through high-quality education.
Chang's organization and another group called Learn4Life released a study over the summer examining the data of students in metro Atlanta after schools shut down in March.
Two specific proficiency measures that are highly correlated to long-term student success, 3rd-grade reading, and 8th-grade math, show an expected decline of 3.5% and 4.8%, respectively, the study found.  
Achievement projections are more concerning for Black, Latino, and economically disadvantaged students in the metro Atlanta region. The study projected that only three out of 10 historically underserved students will now be on track to grade-level proficiency.
The pandemic also wiped out student achievement gains made in recent years in Atlanta. "School closures caused by the pandemic may have largely eliminated those gains for thousands of underserved students," said Learn4Life executive director Ken Zeff.
APS superintendent Lisa Herring recently said she followed the science in guiding her decision for schools to start the first nine weeks virtually – that she didn't want to see COVID-19 outbreaks like the state has witnessed in Cherokee and Paulding counties. 
"The science of that data has been clear," Herring told The Atlanta Voice. "We are in high spread, or what we call substantial spread — meaning that we should not only be sheltering in place, but our practices should be tied to intentional and extreme social distancing."
She added: "That's how we landed on virtual."
Also, Black and Hispanic children account for 76% of COVID-19 cases in children, further highlighting disparities in society, according to a recent study by the Centers for Disease Control and Prevention.
The Interstate-20 Dividing Line
The disadvantages that systemic or social-economic hardships cause students who live in Atlanta's more southern clusters, Zeff said, are made worse by learning loss that occurs typically during the summer. The return to in-person learning will be almost three times longer than the summer break.
The so-called "summer slide" suggests that students typically experience a month of learning loss over summer break, with low-income students generally more affected, Zeff said. Students have a lot more exposure to opportunities outside the classroom in higher-income areas, like camps and tutors.
"A lot of people call it the achievement gap," Zeff said. "It's really an opportunity gap. Achievement gap makes it sound like it's the student; it's not the student that is not achieving. It's the student who's denied the opportunity."
Zeff and Chang worry about students in Atlanta schools who experience a regression brought on by the pandemic and magnified by the loss of in-person learning. 
Chang said the city is split by a diagonal line that roughly goes down Interstate-20, which divides the two most northern clusters North Atlanta, and Grady from the other seven in the southern part of the city.
He pointed out the areas north of the I-20 line tend to be whiter and have a better social-economic status. The areas below the line are predominantly Black and have a lower social-economic status.
"As a result of many of these systemic policies, we're also one of the most unequal cities in the country," Chang said. "If you are born poor in this city, then you're more likely to stay poor in this city than almost anywhere else in the country."
Those working to close the education gap, Zeff said, must now double down to try to provide the best opportunities to students impacted the most by these hardships. He also said he knows progress will not come easy during the middle of the pandemic, especially when lawmakers slashed nearly $1 billion in education funding. 
"We're asking schools to catch students up -- and at the same time, we're taking money out of the state school budgets for the coming years," Zeff said. "So, it's really a very difficult situation that our schools are in to support our students."
Chang said he still sees an uphill battle for educators and their supporters to keep closing the inequality gap while getting students comfortable learning in classrooms once they finally do return.  
"Let's just first be real and acknowledge that every child, regardless of class and race, will be affected by this," he added. "Nobody could have predicted a global pandemic, so this is universally affecting everyone."
In addition to the trauma that many students may have from experiencing the COVID-19 pandemic, Chang said, they will eventually return to schools that will be very different because of safety and social distancing guidelines.
"School, as they used to know it, will probably look different."
Secondary Content
Bottom Content