Section Branding
Header Content
College Football Financial Losses In Georgia Could Be Staggering
Primary Content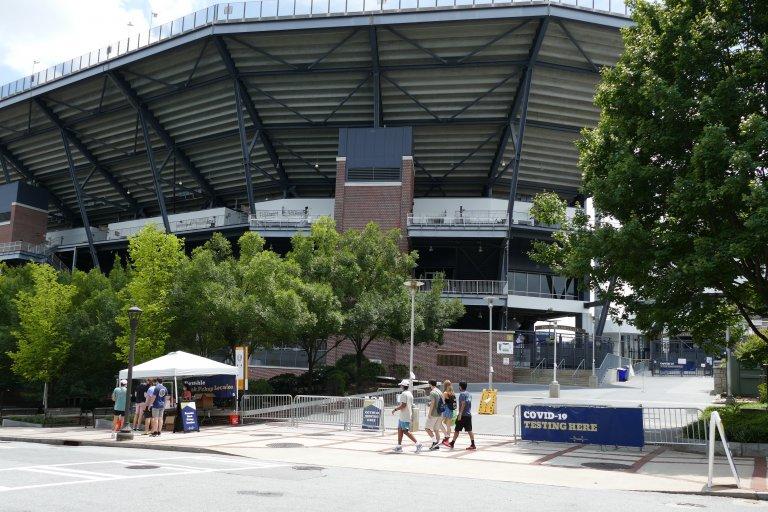 Gov. Brian Kemp, while refusing to require face masks in Georgia's public areas, for months instead dangled the incentive of preserving a 2020 college football season as reason enough for anti-mask sports fans to cover their faces anyway.
"If people, especially our young people, don't start wearing a mask when they're going out in public – and our numbers keep rising – that's going to be a tall task," Kemp said, referring to college football at the start of a statewide tour to promote masks last month. The University of Georgia graduate often sprinkles his remarks with references to Bulldogs football.
The scheduled start of the season is fast approaching, and the warnings that the season is at risk are flashing red. Tuesday marked the first triple-digit death toll in the state when 135 COVID-19 deaths were reported, and then state health officials counted 109 more on Wednesday. Georgia surpassed Florida last week as the highest-risk state with 32 cases per 100,000 people, according to NPR.
College football in Georgia means more than tailgating, bragging rights and three hours watching athletes knock heads – the sport brings tens of millions of dollars to universities, and a canceled or shortened season could deliver a big financial hit for those institutions.
University of Georgia football generated more than $176 million in 2018, while the Georgia Tech Yellow Jackets brought in more than $91 million that season. The universities don't see much of that money, but restaurants and other businesses in Georgia's college towns are big fans of the idea students will be back on campus this fall.
Some health experts are warning against fall football because of the state's heavy spread. And a new report by President Donald Trump's coronavirus task force strongly recommends the state require people to wear masks in public.
"Unfortunately the same high level of COVID-19 in communities across our state that makes it unsafe to reopen schools and universities to in-person instruction also makes it unsafe to bring athletes together for college football," said Georgia State University public health professor Dr. Harry J. Heiman. "With the continued high level of cases, especially in Georgia and across the South, we can strongly predict that athletes will both contract the virus and transmit it to teammates and others."
A chronic condition called myocarditis, or inflammation of the heart could remain with COVID-19 survivors after their symptoms have improved, doctors warn.
Playing college football during a pandemic would be a bad decision, said Carlos Del Rio, Emory University executive associate dean and a member of the NCAA's COVID-19 advisory panel.
"I feel like the Titanic. We have hit the iceberg, and we're trying to make decisions of what time should we have the band play," Del Rio said during a webinar hosted by the Infectious Diseases Society of America. "We need to focus on what's important. What's important right now is we need to control this virus. Not having fall sports this year, in controlling this virus, would be to me the No. 1 priority."
Two of the Power Five conferences, the Big Ten and the Pac-12, both announced last week they will postpone their seasons until spring.
Others that still plan to play include the Southeastern Conference, which is scheduling the Georgia Bulldogs and its 13 other members for a conference-only slate.
"I remain comfortable with the thorough and deliberate approach that the SEC and our 14 members are taking to support a healthy environment for our student-athletes," SEC Commissioner Greg Sankey said in a statement. "We will continue to further refine our policies and protocols for a safe return to sports as we monitor developments around COVID-19 in a continued effort to support, educate and care for our student-athletes every day."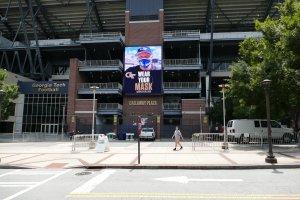 Georgia Tech Yellow Jackets and the rest of the Atlantic Coast Conference is also planning to move forward playing within its conference, as is the Big 12 Conference.
Decision-makers in those conferences will have more than health concerns to consider – college football is big business, especially for Georgia's two Power 5 teams.
Smaller football programs rake in money for their universities as well. Georgia State University's Panthers generated nearly $40 million in 2018, Georgia Southern University's Eagles brought in nearly $32 million and Kennesaw State University's Owls added nearly $26 million.
The Sun Belt Conference, home to Georgia State and Georgia Southern, still plans to start its season Labor Day weekend, but Kennesaw's Big South Conference postponed its games.
It's still too early to know how much money could disappear with a canceled or cut-back season, said Steve Salaga, assistant professor of sport management and policy at the University of Georgia. The chances of playing games this season itself is still up in the air, as are the rules governing how many seats the teams can fill within social distancing guidelines. The Bulldogs in recent years typically fill all 92,746 seats at their Sanford Stadium home.
"How much revenue is actually lost is going to depend on how many games are played this year and whether or not there are fans in attendance," Salaga said. "A total loss of the season is obviously the worst-case scenario, assuming there is a season in 2021. Programs like UGA and Georgia Tech are best-prepared financially to handle this. FBS programs such as Georgia Southern and Georgia State rely more heavily on institutional support."
Nearly 40% of UGA's revenue comes from donor contributions, and another 30% comes from the NCAA or SEC, media rights or post-season football. About 15% of the Bulldogs' revenue comes from ticket sales, and only 2% comes from student fees. The team paid just over $1 million back to the university in 2018.
At Georgia State, where the football program is only 10 years old, almost half of the revenue comes from student fees and another 16% comes from institutional and government support. Donors supply another 16%, and tickets bring in less than 2% of revenue The Panthers play home games at the newly renamed Center Parc Stadium where most of its 24,000 seats are often empty on game days.
"Programs such as Kennesaw State and Georgia State do rely more heavily on student fees to fund athletics relative to larger programs in the state," Salaga said. "At the end of the day, all programs are going to be faced with tough decisions if there is no season this year. But it is important to remember that these universities have decided to invest in athletics partially because of the potential returns it generates in other areas."
Winning teams often translate to more donations to the general university fund, more quality applicants and favorable treatment by legislatures, he said.
Ripple effects
The unpaid student athletes who generate the millions of dollars for their schools could also suffer if they do not play, Salaga said.
"Players can lose their scholarship for a number of reasons," he said. "Hypothetically, if a player opts-out this season because of COVID-19, I could definitely see it happening, though that would never be publicly admitted."
Football programs are often the biggest moneymakers on college campuses and help fund athletic programs that do not generate enough to sustain themselves. Athletes in less-popular sports such as tennis, rowing, swimming and wrestling have already seen their programs eliminated at schools around the country, Salaga said.
"Generally, these are universities that were offering a larger number of sports than what was required by the NCAA," he said. "So many of these moves were to get down closer to the number of sports offered by the other institutions in their respective conferences."
Business owners in college towns are also keeping a nervous eye on the sports section, said Peter Dale, who owns several Athens restaurants.
Some Athens restaurants are planning to offer take-out or delivery specials for fans watching the games from home, but most are expecting the normal summer slump to last through the fall, football or not, Dale said.
"A lot of times, football is the panacea that comes after a quiet summer, but I don't think anyone's counting on a big fall," he said. "We're all thinking the football season is probably mostly going to be a big disappointment, so we're trying to move on to the next thing and figure out how can we sort of salvage winter and what is that going to look like?"
Dale is trying to find ways to keep local customers ordering take-out meals or dining outside once the weather turns cold.
He's also hoping locals will take the money they would have spent on weekend game days and spend some of it with him during the week.
"If there's a reduced emphasis on the big weekends, then maybe our weekday business will be a little more consistent, there won't be such peaks and valleys in the fall because people aren't having these blowout weekends all the time," he said.
Research shows that optimism might be justified, Salaga said.
"You have people that come to town and spend money at bars and restaurants, but then much of the local population that would have been doing the same thing on a normal weekend is now not doing so because they want to avoid the out-of-town visitors. To be fair, there is some limited work by non-partisan economists that shows modest increases in taxable sales revenues tied to college football," he said. "Overall, a lost season may hurt local businesses, but any negative impacts are not as large as one may think."
This story comes to GPB through a reporting partnership with Georgia Recorder.
Secondary Content
Bottom Content