Section Branding
Header Content
State Asks For $1.1B Federal Loan To Cover Shrinking Unemployment Fund
Primary Content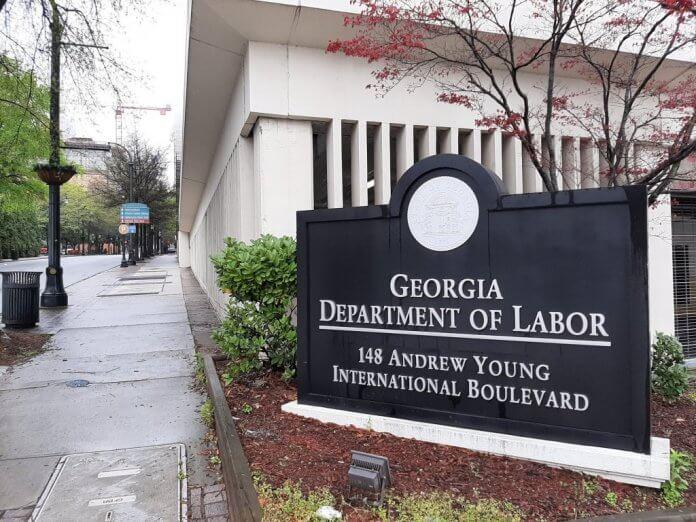 Georgia is asking for a $1.1 billion loan from the federal government to help refill the state's depleted Unemployment Trust Fund, which pays unemployment benefits to displaced workers.
The fund contracted by about 80% since March, when Georgia businesses began laying off workers in historic numbers as fear of COVID-19 spurred the governor to issue stay-home orders. As of Aug. 6, the balance was just over $504 million, down from over $2 billion in March.
A July 24 letter to U.S. Labor Secretary Eugene Scalia signed by Gov. Brian Kemp calls for the federal government to transfer $85 million in August, $585 million in September and $430 in October.
As of July, Georgia Department of Labor employees have processed more than 3.3 million regular unemployment claims, more than in the past three years combined. Some out of work Georgians have complained of long waits and difficulty getting their questions answered during the sky-high demand.
Unemployment benefits are funded by a payroll tax levied on employers. The loan will allow unemployed Georgians to continue to receive state benefits uninterrupted if the trust fund is emptied.
Georgia borrowed more than $950 million from the federal government in 2009 during the Great Recession and paid it back in 2014, along with over $56 million in interest.
"I don't have any concern about being able to pay the money back," Labor Commissioner Mark Butler said Tuesday. "When I first became commissioner, we inherited almost a billion dollars in debt and we got that paid back. The state was able to handle the interest payments as well."
Before the pandemic, Georgia's unemployment trust fund was at its highest level ever and was one of the healthiest in the nation, Butler said, adding that Congress may provide states relief on interest and principal, if they can come to an agreement.
The final payment of the previous debt came two years earlier than projected, but unemployed Georgians saw their benefits shrink as a result, said Georgia Budget and Policy Institute Senior Analyst Alex Camardelle.
"Rather than lifting the payroll tax to help fund recovery, Georgia cut into the state general fund and reduced the duration of benefits to 14 weeks to pay back the loan," he said. "Before COVID-19, our trust fund was back to where it was about 20 years ago, but over that time, our population has grown significantly."
The loan letter came before President Donald Trump's executive action extending unemployment benefits and calling on states to chip in a portion of the costs.
State officials in Georgia and across the country are trying to understand the details. It is not clear whether Georgia would need to seek a larger federal loan to meet increased spending caused by that action, said Auburn Republican Rep. Terry England, who chairs the House Appropriations Committee.
"We have already applied for a loan just for the normal benefits, so I don't know if the governor were to decide to do this, if that would be something they would do, to ask for a larger loan, or if it works out that CARES Act funds can be expended for it, that may not be necessary," he said. "I just don't have a clue what the amount would wind up being, but it would be fairly substantial." 
Trump announced his plan after talks between congressional Republicans and Democrats fell apart last week. Both sides continue to struggle to find common ground on key issues, said Georgia U.S. Sen. David Perdue during a Georgia Chamber of Commerce virtual luncheon held Tuesday.
Perdue, who said he received an update from the White House earlier in the day, said consensus remained elusive on two major issues: additional funding for what he called a "state bailout" and the $600 enhanced unemployment payments.
"One side wants to extend that through December," Perdue said, referring to the extra unemployment payments. "We want to do something different to help incent people to want to get back to work."
Georgia Congressman Drew Ferguson, a West Point Republican, likewise said it is "important that we don't incentivize people to sit on the sidelines."
"I don't think that most Americans would agree that paying people more to stay at home than they were actually making on their paycheck is an incentive to go to work," Ferguson said.
But it's not a lack of will that is keeping most people away from a job, said U.S. Rep. Sanford Bishop. A Yale University study published in late July found expanded jobless benefits did not reduce employment.
"No one really wants to stay at home and not go back to work unless they have to and, yes, there are certain instances where people may be benefiting by the enhanced unemployment," the Albany Democrat said.
"However, there are millions of people who want to go back to work but are afraid to go back to work because they don't want to contract the virus," he said.
(Georgia Recorder Deputy Editor Jill Nolin contributed to this report)
This story comes to GPB through a reporting partnership with Georgia Recorder.
Secondary Content
Bottom Content