Section Branding
Header Content
Savannah Unveils Race Equity Task Force
Primary Content
Savannah has announced details of its new task force studying race equity.
Emily Jones
The city of Savannah Thursday announced details of the Race Equity and Leadership (REAL) Task Force, which will be led by former Mayor Otis Johnson.
The group, made up of leaders from the local public sector, private sector and the community, will study disparities in the city and the ways race, class and gender factor into those disparities. It will present findings to the city council in a year, current Mayor Van Johnson said.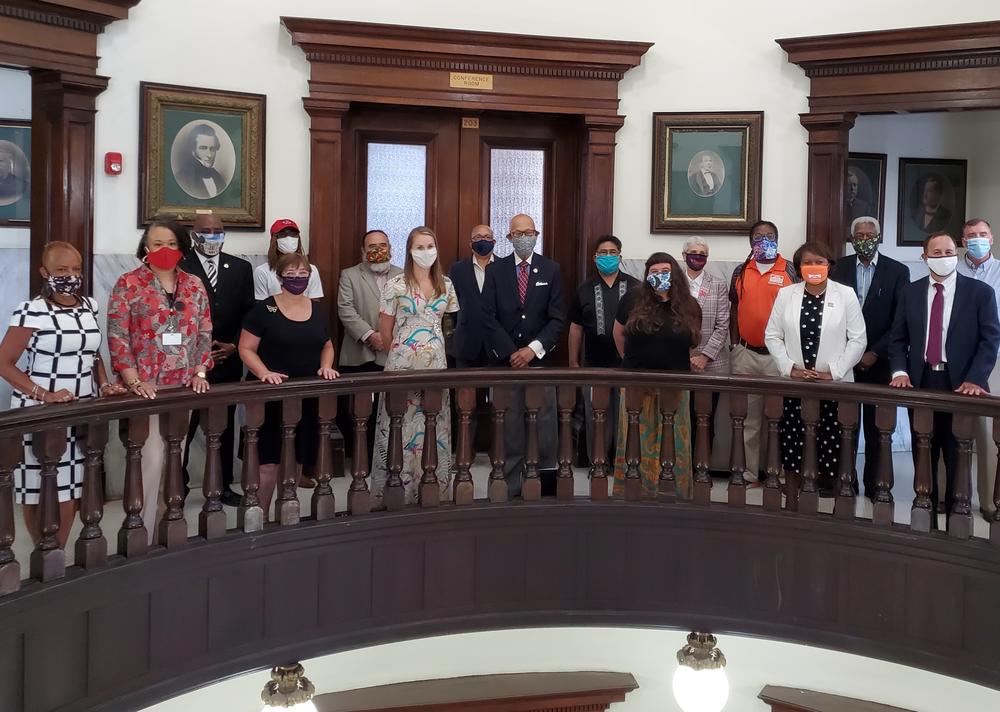 "This will be a deep dive into Savannah, connecting Savannah's past with Savannah's present and providing recommendations for Savannah's future," he said.
The mayor first announced this initiative at a protest march May 31 inspired by the killings of George Floyd in Minneapolis, Breonna Taylor in Louisville and Ahmaud Arbery outside Brunswick and amid a national outcry over systemic racism. At the time, Johnson called the march a "moment" and said "what happens tomorrow is the movement."
It's become a refrain for Savannah's mayor and his supporters in the weeks since, and can be seen on t-shirts and bumper stickers around town.
Former Mayor Otis Johnson outlined the steps ahead for the task force: deciding what to study, collecting data and recommending action to the city. The goal, he said, is a community where everyone is treated fairly and "has maximum opportunity to reach their potential."
"Now all of us know that we're not going to get there, but if we can move the ball forward. That's what we've been doing since 1619," he said, referring to the first arrival of enslaved people in America. "Trying to move this ball forward to a place where people have equal opportunity."
The task force includes representatives of the school district, housing authority, court-appointed special advocates, local universities, private sector and non-profit organizations, as well as many community leaders. The latter group is the largest.
"We wanted to heavily weigh the community sector, because if you are talking about citizens, you want the people who are most impacted to be involved in whatever decision making is going to occur," former Mayor Johnson said.
He also acknowledged that discussions of race are often uncomfortable, and that some steps in the task force's work will be "stormy."
"The discussion of race is probably the most contentious discussion that can happen in the United States of America because it is the foundation of so much that has ended up in these disparities," Johnson said. "And if we are going to really discuss disparities, then you have to talk about race and class."
Current Mayor Van Johnson echoed that sentiment but said addressing racial inequity is essential.
"It requires thinking, it requires courageous conversations, it requires hurt feelings, and nobody really wants to go there," he said. "So in Savannah, we're not gonna do it because it's easy, we're gonna do it because it's hard."
The race equity task force is the latest in a string of task forces and initiatives the City of Savannah has announced in recent weeks, on issues including LGBTQ inclusion, use of force by the police department and re-entry into the community after incarceration.
Mayor Van Johnson said those groups will be working together to tackle various challenges and disparities in the city, and that he plans to announce more in the future, including one focused on disability.
Secondary Content
Bottom Content