Section Branding
Header Content
'Blame Game' Escalates: Atlanta Mayor Responds To Kemp's Lawsuit
Primary Content
Atlanta Mayor Keisha Lance Bottoms took to the court of public opinion on Sunday to challenge Gov. Brian Kemp over his lawsuit against her and the city's mask mandate, saying his actions of late have been "bizarre."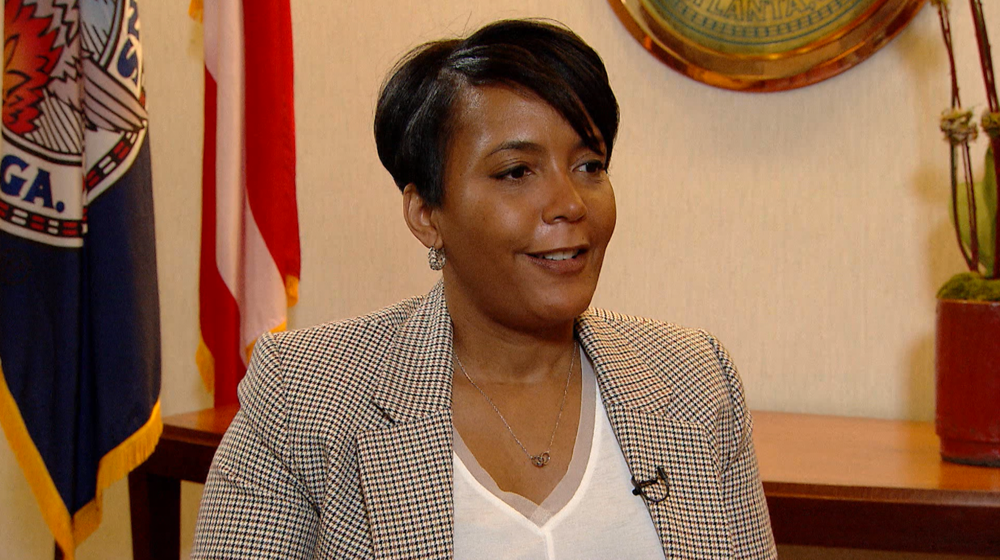 "If the governor of this state had his way, I would not be allowed to speak with you today," Bottoms told CBS Face The Nation. "And so this blame game is most unusual."
Bottoms also tweeted a snapshot of the state's 124-page lawsuit, saying, "In addition to being sued over a mask mandate and voluntary advisory guidelines on COVID-19, @GovKemp has asked for an emergency injunction to "restrain" me from issuing press statements and speaking to the press. Far more have sacrificed too much more for me to be silent." 
Kemp and Georgia Attorney General Chris Carr filed the suit Thursday, arguing Bottoms does not have the legal authority to mandate masks within city limits.
That's because Kemp's statewide order prevents local officials from issuing stricter coronavirus-prevention guidelines than his. Bottoms maintains that the mask mandate is actually voluntary.
In her interview with CBS, the mayor fired back at Kemp: "The governor has done many things as of late and said many things as of late that, quite frankly, are simply bizarre."
She said her city is a COVID-19 hot spot and that her mandate for residents to wear masks is aimed at saving as many lives as possible. "This is not about politics. This is about people," said Bottoms, who contracted coronavirus along with her husband and one of her children.
Bottoms also took a shot at the Republican Party: "The party that speaks of local control has taken away local control in attempting to silence our voices in this state."
During a Friday news conference, Kemp defended the suit, saying, "We shouldn't need a mask mandate for people to do the right thing." Kemp suggested that requiring people to wear masks harms businesses.
The Democrat pointed to an unpublished White House report that lists Georgia in the so-called "red zone" where COVID-19 cases were surging dangerously.
As of Sunday, 10.4% of people tested for coronavirus in Georgia got a positive test result. That's more than 143,000 people, including nearly 3,200 deaths.
Secondary Content
Bottom Content