Section Branding
Header Content
3 Indicted On Murder Charges In Ahmaud Arbery Death
Primary Content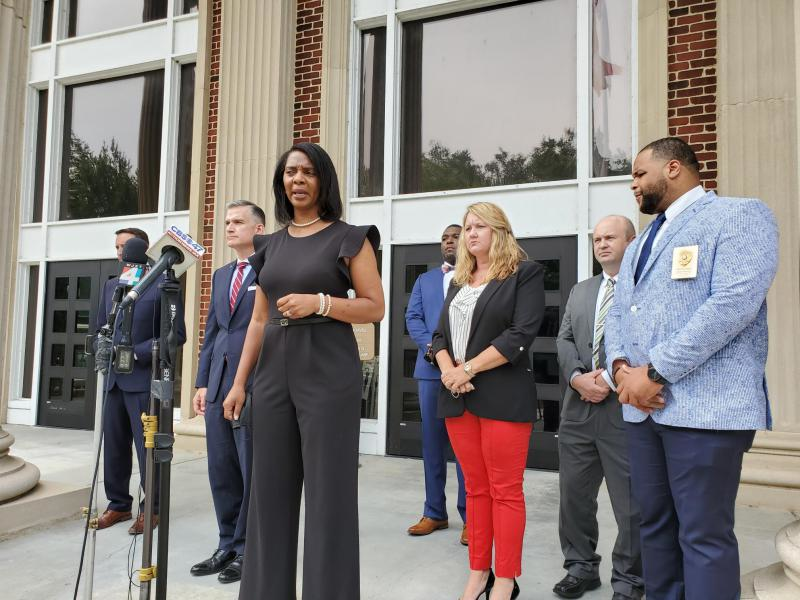 Cobb District Attorney Joyette M. Holmes announced that a Glynn County grand jury has indicted Travis McMichael, Greg McMichael and William R. Bryan on malice and felony murder charges in the Feb. 23, 2020, killing of 25-year-old Ahmaud Arbery.
The indictment returned Wednesday formally charges each of the three defendants with nine counts: malice murder; felony murder (four counts); aggravated assault (two counts); false imprisonment; and criminal attempt to commit false imprisonment.
Both malice murder and felony murder carry possible sentences of life in prison or the death penalty if the men are convicted.
Speaking from the steps of the Glynn County Courthouse, Holmes called the indictments "another positive step, another great step for finding justice for Ahmaud, for finding justice for this family and the community beyond."
Holmes said Arbery's family was "ecstatic" to hear the news.
The indictment is viewable online at www.glynncounty.org/1086/Superior-Court
PREVIOUS COVERAGE: Ahmaud Arbery Shooting
There has long been some question as to when a grand jury could meet to hear this case because of Georgia's judicial emergency order. 
The grand jury that met Wednesday was empanelled just prior to the judicial emergency, but had not met or heard any cases. They assembled at the Glynn County Courthouse in the larger jury assembly room, rather than the typical grand jury room, Holmes said, to maintain safe distancing. They also wore masks.
Following the presentation of the case, the grand jury returned the indictment in under ten minutes.
Holmes also addressed the question of hate crimes charges. Many have alleged the killing was motivated by race and called for hate crimes charges.
Holmes said the hate crime bill passed by the General Assembly this week came too late to apply to Arbery's killing.
"If this bill had been signed prior to the incident date of this case, then it might be something that we'd be able to look at for this case," she said. "But in that it was not, it will not be something that we are able to consider under state law."
Holmes said she has been in contact with the U.S. Department of Justice, however, and that agency is still weighing federal hate crimes charges. She said no decision has been made.
Secondary Content
Bottom Content