Section Branding
Header Content
UPDATE: Gov. Deal Rescinds Order On Syrian Refugees
Primary Content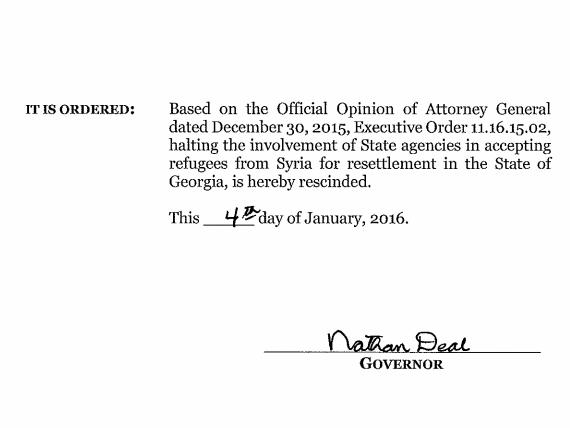 UPDATE (1/4/15 1:37 p.m.):In a one sentence statement, Gov. Deal says he's rescinding his executive order, in light of the Attorney General's opinion.

Attorney General Sam Olens says Georgia cannot deny benefits to refugees from Syria, as ordered by Gov. Nathan Deal.

Deal's November exeuctive order called on President Obama to suspend the resettlement of Syrian refugees. It also directed state agencies not to assist in the processing of Syrians already in the state and to deny them access to services, such as Medicare and food stamps.

Deal and other governors, mostly Republicans, asked to halt Syrian refugee resettlement in response to security concerns following the Paris terrorist attacks. Intelligence officials say the mastermind behind the attacks, Abdelhamid Abaaoud, had links to ISIS militants in Syria.

In an opinion released Wednesday, Olens said he shared many of the Governor's concerns. "I note first that the executive order responds to serious concerns about recent terrorist attacks linked to the ongoing conflict in Syria, concerns that legitimately extend to the current federal process for reviewing and accepting refugees from Syria into the United States and, more specifically, into the State of Georgia," Olens wrote.

But the Attorney General goes on to say that benefits provided to refugees are "100 percent federally funded" and that states do not have the authority "to unilaterally interfere in congressionally authorized federal immigration programs."

"Accordingly, it is my official opinion that both federal law and the State's agreement to act as the state refugee resettlement coordinator prevent the State from denying federally-funded benefits to Syrian refugees lawfully admitted into the United States," Olens said in the opinion.
Tags: Gov. Nathan Deal, Attorney General Sam Olens, Syiran Refugees
Bottom Content