Section Branding
Header Content
One Year Of The Atlanta Streetcar
Primary Content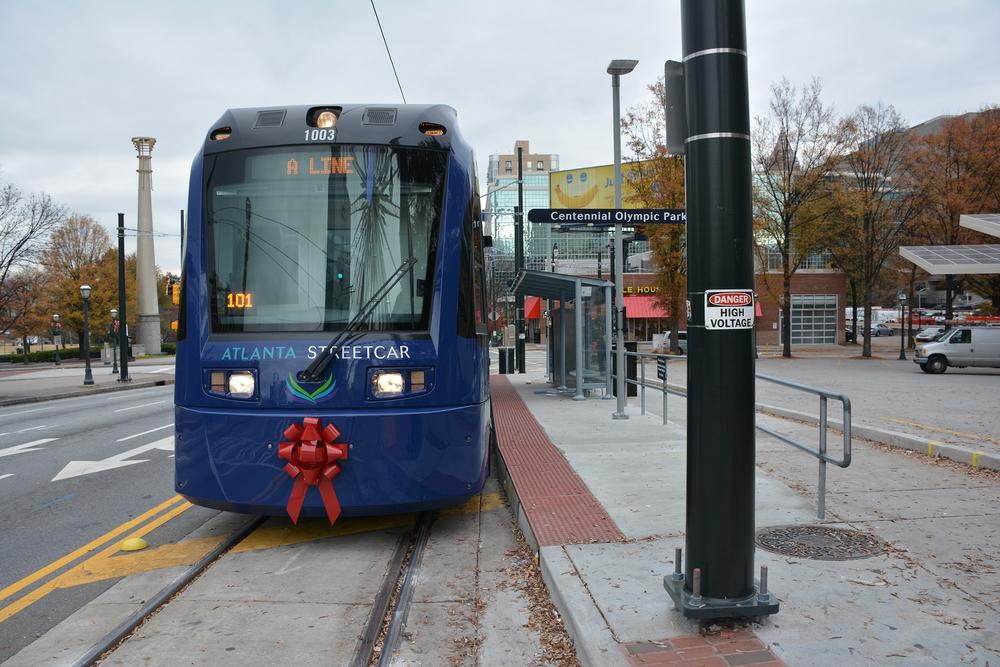 Bright blue streetcars roll up Auburn Avenue in Downtown Atlanta every 15 minutes or so, but from inside Condesa Coffee, you can't hear them over the sounds of conversation and grinding beans.

Octavian Stan is one of the co-owners of the coffee shop. He says, so far, he's pretty happy with the streetcar.

"Overall, I think it's a great addition," he says.

He says it's too early to tell if the streetcar's helped him sell more macchiatos, but not to tell that it's made developers more interested in the neighborhood.

Several buildings on Auburn Avenue currently sit unoccupied, but Octavian says he knows of a number of projects planned that will breathe new life into them.

"Once that happens, people maybe will feel more of an urge to get off the streetcar, not just take it from Centennial Park to MLK Memorial and not even look in between," he says.

---

A.J. Robinson says the streetcar is drawing people downtown.

"There's something about the permanency of the tracks," he says. "When people know that something's going to happen, people begin to think about, 'Well, I need to be there. I know it's not going away.'"

He's President of Central Atlanta Progress (CAP). They're a community development group focused on Downtown Atlanta and a partner in the streetcar with MARTA and the City of Atlanta.

He says the streetcar has brought $671 million in investment to Downtown Atlanta between when the project was first announced in 2011 and July 2015. To Robinson, that investment is a sign of the streetcar's success.

He also says he's impressed by how many people are riding it, a figure he says could hit 1 million by the end of the first year.

"If we were having this conversation last year to project, I wouldn't have projected a number that high," he says.

However, that's a just a small percentage of the people who could be riding the streetcar.

In 2013, CAP estimated that more than 22 million people lived, worked, and visited Downtown, and they say that number's higher today. Even if 1 million people ride the streetcar in the first year, that's less than 5 percent of the people who could.

Still, Robinson cautions against making quick judgements about a system that's only a year old.

"The cars last 25 to 30 years, so that's my timeframe," he says. "When we have to replace the cars, then we'll decide whether or not the streetcar was effective."

---

The people who ride the streetcar are pretty willing to go ahead and give it a grade. Helena Harris is one of them. She uses the streetcar to commute downtown.

"I would give it maybe a B or C," she says.

She says she likes that it connects to MARTA and that it seems to be good for tourists.

"But I think that it's not that extensive where it goes, and it's often not very on time," she says.

Even with those issues, Harris says she rides the system because it's free, but that's soon to change. In 2016, riders will be charged a $1 fare, and Harris doesn't know if she'll keep riding. She's says she's just not sure it's worth it.

---

Back at Condesa Coffee, co-owner Octavian Stan worries that the issues the streetcar's faced its first year will make it hard for the system to really take off.

"I think this is a problem with the City of Atlanta in general in that some of these things kind of tend to be done with half measures," he says. "They do a good thing, and they don't finish it."

There are plans to expand the system in the future to places like the BeltLine, but no date set for when that might happen.

Still, Stan says he's willing to wait for the system to grow and improve.

He's sure it will have a positive impact on his bottom line eventually, but as a streetcar trundles up Auburn Avenue outside, he says he just wishes things would move a little bit faster.

This story also appears on Medium.
Tags: Atlanta Streetcar; Atlanta; Central Atlanta Progress; AJ Robinson: Condesa Coffee;
Bottom Content