Section Branding
Header Content
Debate Flares Over High School's Rebel Mascot
Primary Content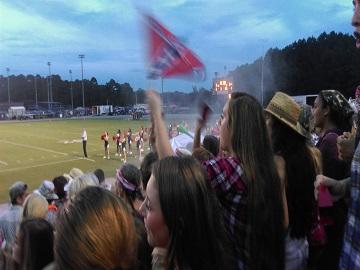 In the months since a white shooter killed nine black churchgoers in Charleston, public outcry has brought down Confederate symbols in much of the south. The rebel flag no longer flies on South Carolina's statehouse grounds, and it's been the subject of controversy across the region. As GPB's Emily Jones reports, the debate over Confederate symbols and history rages on at one high school in Coastal Georgia - where the sports teams are known as the Rebels.
There's no question that the stands at an Effingham County High School football game are packed with fans who love their team. That's especially true at one end of the stadium, where a whole pack of students is wearing plaid shirts with the sleeves torn off, denim cutoff shorts, and straw hats. One girl waves a small Confederate flag. They're dressed, they say, as rednecks. Senior Walker Summers explains the outfits are a tradition for the game against rival South Effingham.
"I guess it's kind of been said that the Effingham side, the northern side, some of us are redneck," he says. "And so we just kind of have fun with it. We dress up and have a good time, and that's all it's about."
Summers says the themed outfits are a fun way to show school spirit - and so is cheering on the Rebels. "It's not anything that is racist," he says. "It's something that we all enjoy, and that we all take part in and have fun in."
But that's not true for some students and athletes - like DJ Kirkland, who graduated last year. He says the Confederate flags especially bothered him. "I remember my freshman year, one time we pulled up in the parking lot and it was like flags everywhere, and you're just like, it makes you mad like I don't even want to play tonight," says Kirkland.
Current students say that's not a common feeling. Many in the stands wear shirts that declare "the tradition lives on."
"There's obviously a few that are like 'it's racist, it needs to change,'" says junior Rebecca Hogan, "but most people, for the most part, are against it changing because it's been the same thing. And it's a tradition so they're gonna keep it going if they can."
But opponents of the mascot say there's more to the Rebel "tradition" than how long it's been the mascot. Effingham County High School was founded in 1956. That's two years after the Supreme Court's landmark ruling against school segregation, a time when Georgia and other southern states were still resisting the order to integrate.
"So they put these Rebel symbols in the schools to discourage blacks from wanting to attend the schools," says Leroy Lloyd, the president of the Effingham County branch of the NAACP. He says the Rebel name - and the Confederate flags some students bring to games - is offensive to many students.
"Why should we be faced with symbols and emblems that are offensive to us? We're paying for that public space, so we should not have to face that," Lloyd says. "Our kids should not have to face that."
That's what a group of football players told their coach in the 1980s, when a person dressed up as a Rebel still ran the sideline waving a Confederate flag. DJ's dad Douglas Kirkland was one of players who objected. "Actually he had it removed, they no longer was able to do it, they had it removed," Kirkland says, "because we weren't going to play under those conditions."
School officials say that was far enough. There isn't a physical Rebel mascot anymore. In a statement Superintendent Randy Shearhouse says the school system "was proactive years ago" when it changed the school's official logo to an "E" instead of a Rebel caricature. Shearhouse wouldn't comment for this story beyond his official statement.
But Lloyd of the NAACP says he and other opponents of the mascot aren't satisfied. "We will take whatever means that are available to us to try to come to some equitable solution to this problem," he says. That solution, Lloyd says, would be a mascot the whole community could get behind.
Tags: rebel, Confederate flag, Effingham County High School, high school football, NAACP
Bottom Content