Section Branding
Header Content
Georgia's Kidney Transplant Information Gap
Primary Content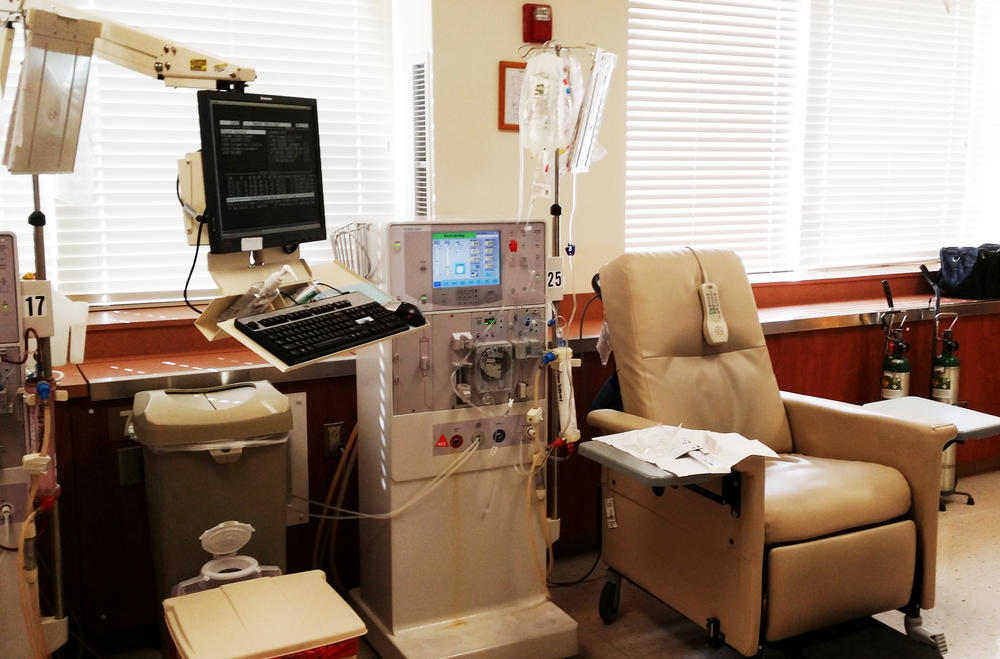 Dozens of plush chairs ring the large beige-colored room at the Kidney Dialysis Center in downtown Macon. A hemodialysis unit is next to each chair.
One nurse gently assures a patient that the long four-hour session is about over.
TV's hang from ceilings to provide distraction.Center Administrator Sarah Lee describes the room's climate.
"We keep it cold and a lot of that is infection control," said Lee.  "So they come with their hats, some with gloves, some with blankets."
Georgia has the lowest ratio of transplant recipients to transplant candidates in the nation. The concentration of poverty is one factor. Another factor is that there are too few dialysis facilities to serve those with kidney disease, even as the number of centers grows.
Harry Bacon III has waited four years for a kidney and is typical when it comes to those in dialysis, hoping for an organ.
"There is not the right match and they are not available right now," said Bacon.
But it also took Bacon a year and a half before his first visit to a transplant center. It's the amount of time before getting evaluated that caught the attention of Emory healthcare researchers. In a first-of-its-kind study, Emory University looked at how well dialysis centers do to make sure needy patients are screened for transplantation. They gathered data from over 300 Georgia dialysis centers and about 15,000 patients.
"Only one in four patients were referred for the transplant medical evaluation," said Emory researcher Rachel Patzer, who co-authored the study. "We think this is really low."
Federal guidelines call for dialysis patients to be educated on transplantation within a year of diagnosis. But Emory researchers took that a step further by looking at how long it took patients to get into those transplant facilities for an evaluation.
According to the study, some dialysis centers referred no one at all.
Patzer said there are some early explanations for the problem. The dialysis centers can have low staffing levels. Patients can have with limited finances and be unable to get to the transplant center.
But Patzer says the study suggests that dialysis centers must do more to educate patients.
Those who run these clinics say there is every effort being made to get those patients screened for a transplant. 
"Everyone who's in this clinic would love to see every patient in that clinic get a transplant," said Miles Williams, a region administrator for DaVita, the company that owns the Macon center and many more across the country.
Williams says the company spends millions of dollars educating end-stage renal patients on transplantation. Administrator Sarah Lee also point out that Georgia has only has three transplant facilities to accommodate patients
Nurse Sonia Wynne is a kidney disease specialist who heads the hemodialysis technology program at Central Georgia Technical College. As her class with first-year dialysis technicians concludes, Wynne said that patients often rebuff conversations about a transplant.
"No matter how much you talk to them about transplantation," Wynne said. "You're not going to make them do something they don't want to do."
It's fear that keeps them from doing anything toward getting a transplant. Some worry about the surgery, others are concerned about the reaction and cost associated with the anti-rejection drugs
But that fear only makes the focus on education more vital says Rebekah Moshiri patient services manager of the Georgia Kidney Foundation.
"The dialysis centers do have to be held accountable, to be responsible to really encourage them to look into this further," said Moshiri
Emory's Rachel Patzer believes dialysis centers need better standards for what they tell dialysis patients. And she believes the Georgia study should be replicated so those standards apply across the U.S.  
Tags: health, health care, kidney, kidney transplant, kidney dialysis, dialysis, Emory, Emory University, DaVita
Bottom Content