Section Branding
Header Content
Frozen Thrills To Beat The Heat
Primary Content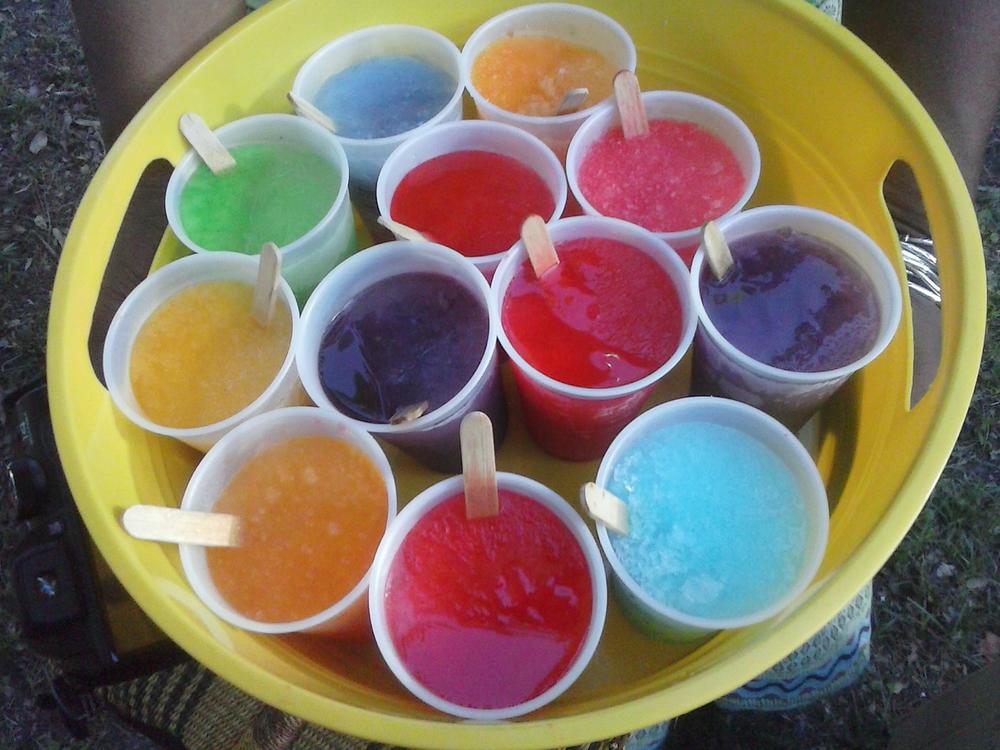 Summers on the coast aren't just blazing hot but humid as well, leaving residents trying to find ways to beat the heat. While some head for the beach, others never have to leave their neighborhood.
Wanda Woo stands outside of the King-Tisdell Cottage, a black history museum in Savannah. She's eating a thrill.
"You're able to just chew on it a little bit until you can get it out with the popsicle and then it's like this delicious tasting thrill," she said with excitement.
The sweet sticky snack is essentially, frozen juice or Kool-aid inside a plastic cup with a popscicle stick in the middle. They're common in African American neighborhoods in the South where they first gained popularity with children who could't afford the ice cream truck.
But many people say they've never heard of them. Like Evelyn Dandy, a Savannah transplant from Pennsylvania.
"They don't have them in the North and if we did we called them by some other name," Dandy informed. "When we moved to Savannah my daughter said mom I went down the street and there's a lady down there and she gave me a thrill. I said she gave you a what?"
According the crowd sourced Urban Dictionary the name "thrill" is unique to Savannah. Outside of town you may have heard them called Lilly Dillys, Cherry Berrys, Hucklebucks or Honey Drippers.
Sarah King, the original resident of the King- Tisdell Cottage may have been the first to bring thrills to Savannah.
Larry Floyd is a conductor with Old Town Trolley, who has helped renovate the cottage.
"When the lady of the home was between husband one and husband two. She supported herself by being a confectioner. So here's this little lady walking around Savannah with a basket on her hip singing out does anybody want a thrill today? I have thrills to sell."
Cassie Williams is 84 years old. She's been making and selling thrills for two decades.
Thrill by "Thrillogist" Leon Williams Photo by Gabrielle Ware/Georgia Public Broadcasting
"I'm known as the thrill lady," she said. "It was about 20 years ago my granddaughter came to live with me her husband was in the service. She had two small kids and she was trying to find a way to make some money. And that's the way it started. After she left the kids were used to coming buying thrills so I continued."
But after 20 years Miss Cassie says she's finally ready to leave the thrill business behind.
But no worries there are other options...
On a hot Sunday morning, you could hear the sound of deep freezer doors sliding open and shut in Leon Williams food truck. Williams is known in his neighborhood as the Thrillologist. He works a full time job, but every Sunday he parks his truck outside his church parking lot and cools down the congregation after service.
He's keeping his thrill recipe a secret but says he uses real fruit juice with fresh chunks of fruit inside.
Sign on Leon Williams food truck parked outside his church. Photo by Gabrielle Ware/Georgia Public Broadcasting
"We've got family reunion," he explained. "Family reunion is considered about 9 different flavors put together. We've got one called Strictly Business and it's a mango, its a rich mango flavor. On the other end we have Kiwi, we call it Dollar Bill...Over here we got Sour Apple and Jesus Did It."
Williams thrills can be identified by the plastic spoon in their center, different from the traditional popsicle stick.
Churchgoer buying a Thrill. Photo by Gabrielle Ware/Georgia Public Broadcasting
He says he hopes to one day sell his thrill juice in stores.
But for now, it's a special treat just for us.
Click The Link Below To See How You Can Find A Thrill
Savannah's King-Tisdell Cottage
Tags: thrills, summertime, heat, hot, humid, Soicey, GPB, GPB Savannah
Bottom Content