Section Branding
Header Content
Are Georgia Courts Ready For Same Sex Marriage?
Primary Content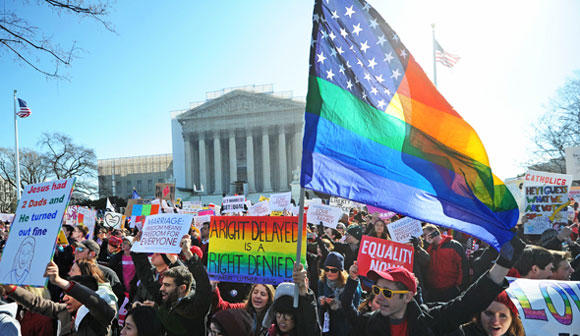 You can't blame a Georgian for wondering what will happen here at home should the US Supreme Court throw open the gates for same sex marriage this summer.

In states all around Georgia, changes to laws regarding same sex marriage have been met with either confusion, or as in Alabama, outright refusals to follow the law. But after watching the growing pains around the country, Georgia courts took the time to make a plan.

"We've been working on it for about a year," said Sarah Harris, Head Probate Judge in Bibb County.

For those of you who are single or who have been married so long you forgot, probate court is where you go to get a marriage license. Over the course of the last year Harris and the rest of the Georgia Probate Judges Council looked at every conceivable ruling from the court and have the paperwork ready for each one. Over the course of the planning, though, one outcome seemed more likely than any others.

"I feel like something's going to change," Harris said. "Whether we like it or not, that's what's going to happen."

So the probate judges researched what other states that already allow same sex marriage had done to their marriage licenses.

"We've prepared all those so that it's gender neutral. Applicant 1, applicant 2," Harris said. "It won't be bride/groom, male/female, that sort of thing."

The changes are just that simple. Probate court officers have gender neutral marriage licenses in their computers, ready to go.

But Harris says getting to that simple change wasn't easy. It took a year of frank conversations with her colleagues.

"It was never contentious," Harris said. "A healthy discussion, yes, but I would not say there were people standing up saying 'Well, I'm going to refuse to issue a marriage license if this happens.'"

Harris said judges in some smaller, more tightly knit counties were particularly concerned. They asked things like how the process would work and if they really had to issue same sex marriage licenses under the hypothetical changes to law.

Harris said ultimately professional responsibility trumped personal belief. She likened it to the days when she was a defense attorney acting as a public defender for a defendant she doubted.

"Whether I thought he was guilty or not, he had certain rights," she said.

Harris said her office, and other probate court offices around the state should be ready to issue licenses as soon as a ruling from the Supreme Court makes it legal.

"I'm assuming that if the ruling comes out at 10 in the morning, I'm going to have somebody at 10:05. And if we do, we'll handle it," she said.

A couple in a real hurry to tie the knot will leave the Bibb County Probate Court office with license in hand and head to Judge WIlliam C. Randall's Civil and Magistrate Court. Judge Randall has stayed in tune with Probate Court and said his office is prepared, too.

"If a marriage license and a couple is presented to our office, we will marry them," he said.

Randall said he and his five Civil and Magistrate judges have also talked seriously about the potential changes to same sex marriage.

"Most had personal opinions, but nobody said that they would not marry people if they came in with the proper documentation," he said.

That's not to say that the judges weren't conflicted.

"To a person they opposed same sex marriages," Randall said.

That included Randall. He says his religious beliefs don't allow him to approve of same sex marriage. But as a judge, he took a constitutional oath.

"I will perform my job but I will maintain my religious belief that marriage is between a man and a woman," he said.

Randall said at the busiest, couples are ten deep waiting for to marry in the Bibb County Courthouse. If demand piles up after the Supreme Court ruling, Randall said he's ready to help out, but first he needs to change his script.

"I don't know who's going to be the husband, who's going to be the wife. The script says 'You take John Doe to be your lawful husband,'" he said. "Well, if that's same sex, I got to figure out how we're going to change the script."

Randall said he'll most likely follow the Probate Court example and go gender neutral.

Judge Harris and Judge Randall say that from the Attorney General to the State Supreme Court, all involved want to avoid one thing: confusion.

"We're not Alabama. This is Georgia. And we tend to follow the law a lot quicker than they do in some other Southern states," Randall said.

Sarah Harris agreed.

"That's been our mantra. We do not want to be Alabama. We want to be prepared," she said.

All that's left to do now is wait for the Supreme Court to decide.




Tags: Grant Blankenship, same sex marriage, gay marriage, politics, courts, Georgia
Bottom Content