Section Branding
Header Content
Restoring The Art And Mystery Of Pasaquan
Primary Content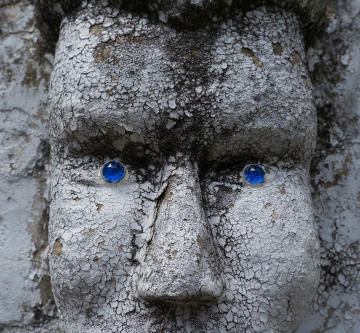 When is a house a work of art? You'll find one answer in rural southwest Georgia.
After decades in decline, preservation is underway at Pasaquan, the seven-acre homestead of artist and performer Eddie Owens Martin in Buena Vista.
On this day, about a dozen workers and volunteers are moving around the property replacing rotting wood, digging drainage ditches and building support scaffolding. Inside Martin's yellow, one story house, a few people are wrapping up sculptures, handmade furniture and paintings. Everything at Pasaquan has remained relatively untouched for nearly 30 years.
Picking up a long piece of wood leaning against a wall, Dan Smith pauses to inspect the item he's about to encase in bubble wrap. "It looks like a piece of found lumber. He started sculpting a figure. That's all I can tell you at the moment," he says, laughing.
Smith is Senior Preservation Coordinator with the Wisconsin-based Kohler Foundation. It's his job to remove artwork from inside the home to be catalogued, cleaned and restored. It seems like everything here is art, like the twigs and branches that Martin used to make jewelry.
"He mixed them up with some commercially made items like these plastic beads," Smith says, picking up a string of the bright blue beads from a box of various small shapes with string holes. "There's natural twigs and wood forms that he would have collected around the property." Even the twigs will get boxed up and loaded onto the U-Haul truck out front.
Stepping into another room, artist and retired museum curator Fred Fussell explains that it's the kitchen where Martin would entertain guests and friends like Fussell. "Possibly the most unusual kitchen in America," he says, and slides his hand along a wall painted with large, multicolored suns and bas-relief sculptures of people that appear to be levitating on bright, sky blue walls. The figures are "wearing" wildly-patterned, brightly-painted body suits - a creation of Martin.
"He had this notion that if you pressed on your body in the right places wearing one of these suits you would levitate. This was to be the solution to transportation in the future."
Standing on the floor of cracked and loose linoleum tiling, Fussell explains that Martin claimed to have a unique connection with the otherworldly. Fortune-telling was one way he made a living, and this talent proved to be especially lucrative during the Vietnam War.
"Fort Benning is only a few miles from here," says Fussell. "Kids would come down who were about to be deployed and get some advice about what their future might hold. He didn't really forecast the future and all. He gave what amounts to life advice."
On some mornings, Fussell says carloads of people including housewives, gamblers and bankers would be parked out front, waiting for Martin to get out of bed to tell their fortunes. "He called himself the poor man's psychiatrist."
Eddie Owens Martin was born in 1908 a few miles down the road in Glen Alta. He grew up in a poor family of sharecroppers. His father was violently racist and an abusive drunk, prompting Martin to run away to New York City as a young teenager. In a documentary about Martin, he described the freedom of riding trains across the country with hobos and outlaws.
In New York, Martin discovered his homosexuality and moved in with various men while living as a gambler, hustler and artist. The museums of New York offered him unlimited access to study art spanning continents and centuries. It's a pastime he said greatly influenced his own painting and sculpture.
In the mid-1930's, Martin claimed spirits visited him to name him the world's first Pasaquoyan (pronounced Pass-uh-KOY-uhn). He says they instructed him to return to Georgia to create a peaceful place for humans of the future. "Pasa," Martin said, referred to the Spanish word for "pass." Tom Patterson's 1987 biography, as told to him by Martin, refers to the word "quoyan" as an "Oriental word" that means "bringin' the past and the future together." He went on to say, "so you can derive the benefits of the past by bringin' it into the future." As a Pasaquyoan, Martin said, the spirits dubbed him "St. EOM" (as in his initials).
After 1935, Martin told friends that he continued to have regular visionary experiences during the years when he was building Pasaquan. According to Fussell, Martin said "When I lie down at night to sleep, the inside of my head is like a cinemascope screen."
After his mother's death, Martin eventually inherited part of his family's farm in Georgia. By the mid-1950's, he had moved there to begin work on the spirits' singular assignment.
"This is 30 years of an obsessive need to create. It's unlike anything we've ever seen before," says Peter Schoenmann, Senior Paint Conservator with Chicago-based Parma Conservation. Schoenmann is among dozens of experts rehabbing and repainting six major buildings and 900 linear feet of painted masonry fence, decorative walkway and totems that Martin built by hand.
"This was his own world," he says.
The world that Martin built is a dizzying, technicolor obstacle course of pyramid-shaped pagodas and shrine-like alcoves, undulating walls, curving walkways and gateways guarded by elaborately painted totems. In the words of one observer, "the overall effect is that of a scaled-down Angkor Wat or Oz or Chitchen Itza in some crazed 3D cartoon."
Martin obsessively painted every surface with bright blues, greens, red and oranges. According to Schoenmann, "pure color is what he was going for."
Although unrecognized by academic circles during his lifetime, today Martin's Pasaquan belongs to the relatively new school called visionary art.
"We define visionary as foremost an expression in the creative experience itself and that often is the result of when the life experience is too big for words, it comes out as art," says Rebecca Alban Hoffberger, Co-founder and Director of the American Visionary Art Museum in Baltimore.
Today, some art historians believe preserving the works of visionary artists is vital to the nation's artistic and cultural heritage. They include experts like Leslie Umberger, curator of Folk and Self-taught Art at the Smithsonian American Art Museum. "It's becoming much more widely recognized that in a citizen democracy we need to represent the art of a wide array of people, that all forms of art can be valid and can have meaning and can offer something into this bigger story of who we are as a country," says Umberger.
The site has been on the National Register of Historic Places since 2008.
Nearly 30 years after Martin's suicide in 1986, Pasaquan is falling apart. The cement that covers the walls and outbuildings is cracked. The pure colors are faded and flaking.
Friends of Martin who formed the Pasaquan Preservation Society have tried to maintain the property, but the costs proved to be too much.
Enter the Kohler Foundation. Established in the 1940's, today the preservation of art environments, folk architecture, and collections by self-taught artists is the focus of the Wisconsin-based organization.
Executive Director Terri Yoho expects the conservation and preservation process to wrap up by the end of the year. That's when the foundation will deed Pasaquan to Columbus State University for use as an educational tool for students and visiting scholars.
The educational power of Pasaquan wouldn't be possible without maintaining it where it was created, says Dan Smith. "It's great to see one piece but that's totally out of context."
Smith believes Martin created Pasaquan not just to be seen, but to be experienced. "That was the vision of St. EOM. I think he wanted you to come in here and feel something. I don't know what it is. Everybody does. You need to see it how he wanted you to see it."
People will see it as Martin wanted them to when it re-opens in spring 2016.
Keocia Howard contributed to the multimedia production of this story.
Tags: Pasaquan, Eddie Owens Martin, St. Eom, Buena Vista, art
Bottom Content