Section Branding
Header Content
Forgotten Women Part 2: Madame Freeman
Primary Content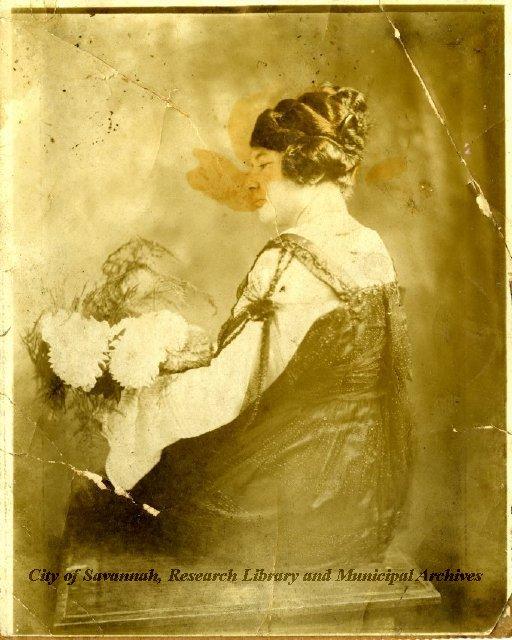 Savannah is a place that's famously full of history. ­­­ But many of the people who shaped that history, particularly women, are relatively unknown.
So GPB has created a series called "Forgotten Women" looking at some of the untold stories in the region.
Click here to find the rest of GPB Savannah's Forgotten Women series.
Madame Freeman was born Bridie Andres in 1886 in Beaufort, SC. She later she moved to Savannah and opened Madame Freeman's Beauty School.
Leon Spencer is a descendant of Madame Freeman. He holds a picture of a fair skinned African American woman holding a white bouquet of flowers with sleek curls pinned around her head. He points to a former building in downtown Savannah.
"That's the shop….This was the student entrance to the building that was on Alice and Montgomery St…this is Madame Freeman's picture in older age. "
Spencer's mother Katherine, worked alongside Freeman as an instructor. She was there from the time of school's opening around 1919, according to city records. The two were so close she called Freeman mother.
Spencer grew up at the school and says he remembers women from all over the Southeast traveling to Savannah to become a Freeman's Girl, the popular term for the beauticians that attended the school.
He recalls a conversation he had with former civil rights activist WW Law.
"To put this in perspective he said wouldn't it be interesting to see how many of these women put children through college as beauticians? It was an interesting question, and I know many."
Maya Lee Ziegler moved to Savannah from Sawdust, GA at 19. In the 70's decades after she left home, she did an interview about her experience. The following is from the transcript.
Interview:
Ziegler
I worked right there at the shop. I shampooed hair.
Twila Haygood
Why did you stay?
Ziegler
After I got here and started working…it was so much better than in the country so I just stayed.
Twila Haygood
What kind of work did most of the women who stayed around you do?
Zeigler
They did maid work.
Part of the appeal, says Vaughnette Good-Walker, a black history tour guide in Savannah, was that Madame Freeman's wasn't a traditional salon.
"It was also a school," she informed. "And their manual was very interesting because they studied biology they studied anatomy…it prepared them not just for beauty school but I think too, for life."
Savannah resident Bobby Wilson said both his mother and aunt were inspired to open their own establishments after attending Madame Freeman's. His mother's business partner also went on to open a shop in New York.
Wilson is a jovial man in his 70's. He sat at his dining room table surrounded by photo albums.
"This lady's a beautician, she's a beautician and this is the lady my mother had a shop with right over the Savannah Pharmacy."
As he flipped through the pages, the pictures spark memories of what he calls "frying hair", and soon his full body laughter resonates throughout his home.
"They have the hot combs and some of them used the stove top in the kitchen with the gas to keep those irons hot. And you can hear it singein' when it goes through the hair. That's why we called it frying hair."
Wilson attended St. Anthony's Catholic School in Savannah. He says the income his mother earned from Madame Freeman's allowed him to receive a better education that many of his peers.
Bobby Wilson and Leon Spencer went on to form a life long friendship from their time around the school. Spencer says it wasn't just a place for doing hair but a safe place to discuss social issues during the difficult times of segregation.
"A black male had been convicted of a crime and he had been put to death. And there were lots of appeals. And I remember the passion about "we have to do something" so they began to collect money in the in the beauty shop."
Freeman married twice but never had children. She went on to own a floral shop and a tea –shop, even after losing her eyesight to diabetes.
Her beauty school closed shortly after her death in 1957.
Though many decades have passed, Spencer, who now works as a counselor says he'll never forget what he learned all those years ago playing on the floor of the beauty school.
"Appreciation for the black working class. Those people who did the every day kind of work that kept our pulse beating. And I think I learned a respect for women too, I had too."
Tags: madame freeman, GPB, GPB Savannah, forgotten women, madame freeman beauty school
Bottom Content