Section Branding
Header Content
GA Historical Society Comments On CSS Georgia Photo Hoax
Primary Content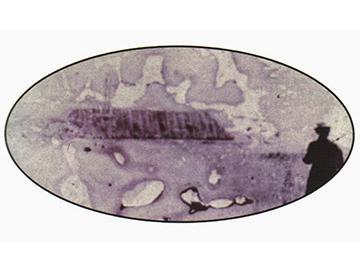 The president and CEO of the Georgia Historical Society says the organization never considered a photo taken of a photograph of a Civil War warship to be authentic.
The photograph of what appeared to be a far older photo — showing a figure in a coat and hat and the blurred image of a warship — was given to the historical society in 1986. Some historians believed it might be a photo of the CSS Georgia, a Confederate ironclad that sank 150 years ago in Georgia as Union troops captured Savannah.
But in a statement from president and CEO Dr. W. Todd Groce, he says the historical society never made such a claim.
"At no time since the image was given to the Society has the Georgia Historical Society claimed it to be an authentic reproduction of a period image," Groce said. "In fact, without provenance and with so many questions about the image we chose to include it as part of an online educational resource for teachers to teach students about how to evaluate the authenticity of primary sources in research." Here is a link to the educational resource.
The man who photographed the picture, John Potter, initially said he found it at a yard sale but couldn't afford to buy it. Now Potter tells The Associated Press the photo is a fake he made as a teenager using a 2-foot model of the ship and his brother in costume standing in a marsh.
Tags: CSS Georgia, Georgia Historical Society, john potter, georgia historical society comments on css georgia hoax
Bottom Content