Section Branding
Header Content
Proposed CAT Expansion Meets Resistance
Primary Content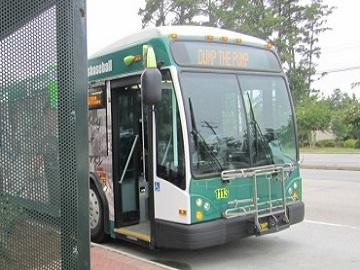 House leaders in Georgia are proposing a transportation bill that would include millions in funding for public transit. But expanding a transit system can mean a fight at the local level. Chatham County officials are pushing the state legislature to pass new rules paving the way for expanded bus routes in the western part of the county. Some area suburbs, however, are crying foul.

A map of Chatham Area Transit - or CAT - buses looks more or less like a map of Savannah. Lots of stops are concentrated downtown, with lines following the major roadways to the Southside and the Islands. Just two lines reach out west of the city.

Neither goes far enough for Wyndham Parker. He lives in Savannah and works for a warehousing company in Pooler. "I take the bus out to the end of the line, then I ride the bike from there to the job," he says. "And I'm going to freeze in the morning, because it's going to be cold and my fingers are going to be bare."

Advocates say as businesses continue to move into the area and a new outlet mall gets closer to opening, more people than ever could use buses in the western part of the county.

Suzanne Donovan is the Executive Director of Step Up Savannah, an anti-poverty group. She says public transit access is key for lower-income families.

"If you can get to a job that pays you 16 dollars an hour, and keep that job because you have consistent transportation," she says, "if you can get it and keep that job because you can get back and forth regularly, that is game changing for people.

Bus expansion wouldn't just help workers, says County Commission Chairman Al Scott. He thinks it could also benefit businesses. "All those industries would prefer their employees arrive on public transit versus them having to provide parking spaces and security for their automobiles," Scott explains.

He says if people could ride the bus to work instead of driving, it would also relieve traffic on local roadways.

But municipal leaders in western Chatham County aren't so sure. Pooler Mayor Mike Lamb says a bus line wouldn't take the place of cars - it would only add more vehicles.

And he says it's not fair to make Pooler residents pay increased taxes for buses they wouldn't use. The expansion, he says, would mostly serve business districts.

"That's where they want to take these bus services, then work on an arrangement with the businesses," Lamb says. "Don't tax the people, don't put a tax on the people without allowing them to vote on it."

The Pooler City Council agrees - and sent a resolution to state lawmakers urging them not to make changes without holding a vote.

No bill's been submitted yet, but Chairman Scott wants the legislature to better define the county's authority to expand CAT. County leaders believe they already have the power to tax the whole county to pay for CAT. Instead, they say they want to identify the routes needed and only tax along the bus line.

But Mayor Lamb is skeptical about just how that plan would play out. "You're bringing it in, you're saying you're servicing a business district," he says, "but yet you're encompassing also our residential areas."

In other words, he worries residents could be taxed even if they don't live on the bus route.

Even if state lawmakers make the proposed changes, county officials say CAT bus routes wouldn't expand overnight. The next step would be a study to gauge whether buses would work for western Chatham County.
Tags: cat, Chatham Area Transit, public transit, Pooler, savannah-chatham day, ga legislature
Bottom Content