Section Branding
Header Content
Maker Of Body Cams Focusing On New Fed Funding For Cops
Primary Content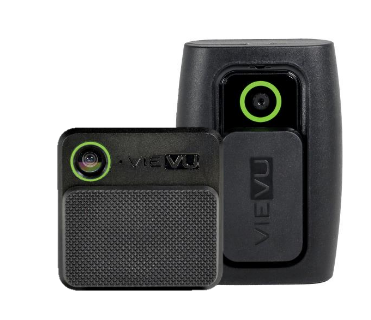 To hear Steve Ward tell it, his company VIEVU - top manufacturer of body cameras for police, was receiving a lot of inquiries from U.S. law enforcement agencies long before the Ferguson police shooting commanded the nation's attention.
"We have customers that have already gone through a trial of our products and have decided they want it," Ward told GPB during a phone interview. "But they have to wait for budgetary approvals or for some kind of grant."
That wait may be over for some departments after Monday's announcement that the Obama administration will spend $263 million on new police training and technology, including $75 million in matching funds to help police departments buy body cameras.
For Ward, who founded the Seattle-based VIEVU in 2007 after serving on that city's police force for 19 years, the news is a key moment for his company and the law enforcement profession. "I was completely flattered," Ward said. "Obviously, when you have an 'a-ha' moment as a police officer and you turn that into a company that's grown into the market leader in the industry, and you have the president talking about your industry in general, it's a great thing. We're excited to be a part of it."
Both the Obama administration and the law enforcement community are eager to avoid future Ferguson-type situations. Ward said that police officers understand how body cams can help them tell their stories and protect them from liability. "They want body cams. We've got hundreds of customers waiting for funding of some sort with their local agencies. So the president coming out and announcing an opportunity for funding will make it that much easier for them to make that decision."
VIEVU and Taser are the two big names in body camera technology for law enforcement. Ward's company has sold its products and services to nearly 4,000 U.S. law enforcement agencies, including Atlanta Metro College, Valdosta Police and Gwinnett County School Police. In addition to body-worn cameras, VIEVU also offers a cloud-based video storage system thanks to a partnership with Microsoft Azure. The privately-held company doesn't release revenue numbers, but Ward says sales "have been growing exponentially year over year" since its founding.
The LE3, which VIEVU touts as "law enforcement's next generation body camera," costs $899 per unit. The company's VERIPATROL software ensures tamper-proof management of recorded video and also secures the footage if the camera is lost or stolen.
Ward, who spent six years on Seattle's SWAT team, won't say if his phone has been ringing off the hook thanks to the Ferguson situation. He will say that incidents that damage relationships between police departments and the communities do occasionally happen, and that law enforcement officials "are very responsible and want to be transparent. They've been looking into body cams for quite some time. I think they're always trying to do the best thing."
Bottom Content