Section Branding
Header Content
Why Isn't Deal Doing Better?
Primary Content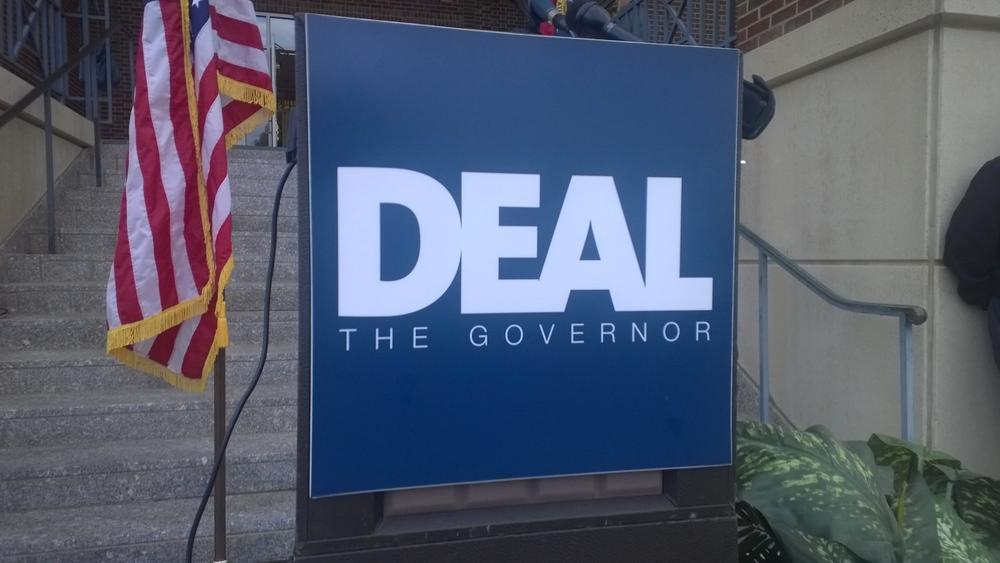 On a recent October evening in metro Atlanta, candidate Nathan Deal got high-profile help on the campaign trail from a Republican superstar: New Jersey Governor Chris Christie.

Deal supporters swarmed Christie who shook hands and posed for dozens of pictures. Afterwards when he waded into the crowd, he was greeted like a rock star.

The attendees were core Republicans and strong Deal supporters. But not all of their comments about Deal would work well on a bumper sticker.

"I think he's done alright so why make a change?" said Janice Montgomery, of Roswell, shortly before Deal and Christie took the stage.

Later, after the governors had spoken, friends Jean Railey and Karen Brinker, both of Johns Creek, said they have no doubt Deal will win. But neither could offer a good reason why most polls don't show him clinching at least 50 percent of the vote at this point.

"It's a neck and neck race," Brinker said, by way of explanation. "No one candidate is pulling away."

When asked why Deal wasn't doing better, Railey said, "That's a good question. I don't know."

Another supporter, Craig Kidd of Alpharetta, attributed Deal's mid-40s polling performance to general cynicism among voters.

"People see the failures of government at every level and they look for people to blame and unfortunately, that's just the world we live," he said.

Deal managed to win the GOP nomination, but only after beating two Republican challengers in the primary.

Most in the GOP have united behind Deal, although some will vote for Libertarian candidate Andrew Hunt. But one Georgia Republican is leading a tiny group in South Georgia supporting Jason Carter. Paul Bridges is the former mayor of the small rural town of Uvalda, near Vidalia, and he says in his area, people get a kick out of hearing Deal's claims that Georgia is the best place to do business.

"Everybody laughs at that statement," said Bridges in a phone interview. "It's just blatantly false."

And it's not just because Georgia now has the highest unemployment in the nation. Bridges was Uvalda's mayor in 2011 when Deal backed a law aimed at driving out illegal labor. Parts of the law were later ruled unconstitutional but not before hurting farmers, who say they didn't have enough workers for the harvest.

"Some of those small farm owners have not yet recovered from the loss of that year's labor," he said. "Their crops were devastated."

Bridges admits his effort is slow-going. Many Republicans he approaches vote the party line. His page on Facebook, Republicans for Carter, has attracted a few hundred 'likes.'

Nonetheless, questions remain about Deal on several fronts, including ethics, says Emory University political scientist Alan Abramowitz.

"Voters are pretty divided on their assessment of his performance as Governor partly because of (controversial) issues surrounding his governorship – the ethics issues but also his handling of the snow storm," he said in an interview. "And then there are the education cuts. That's an issue that Jason Carter is trying to exploit."

Carter, himself, is part of the reason Deal isn't doing better, Abramowitz says.

"If the Democrats had nominated a weaker challenger, I think Gov. Deal would be having an easier time," he said.

When asked at the Christie event why the race has remained so close, Gov. Deal suggested reporters aren't pressing Carter on some of his claims.

"My opponent has been able to get away with some things that unfortunately the press has never called his hand on," he said. "Some of the statistics he continues to cite have been rebutted and refuted, but nonetheless he continues to use those numbers."

Of course, Deal can still prevail even if there's a runoff. Republicans fare better at getting voters back to the polls for a second time.

Plus, some Georgians aren't sure Carter is ready to lead a state of 9 million people. Among them is Dick James. He was lunching at an Atlanta diner recently when Carter stopped in for a campaign event.

"What qualifies someone to be a Governor is someone who has executive experience, someone who has run an enterprise," James said. "The budget for Georgia is $19 billion. Someone needs to be able to run an enterprise."

Deal, Georgia's current chief executive, by contrast, has four years running a state under his belt. But it remains unclear if Georgia voters want to keep him for another four years.
Tags: election2014, elections, Jason Carter, Governor Nathan Deal, runoff, chris christie
Bottom Content