Section Branding
Header Content
The King Of Pops: From Indie Food Cart To Atlanta Icon
Primary Content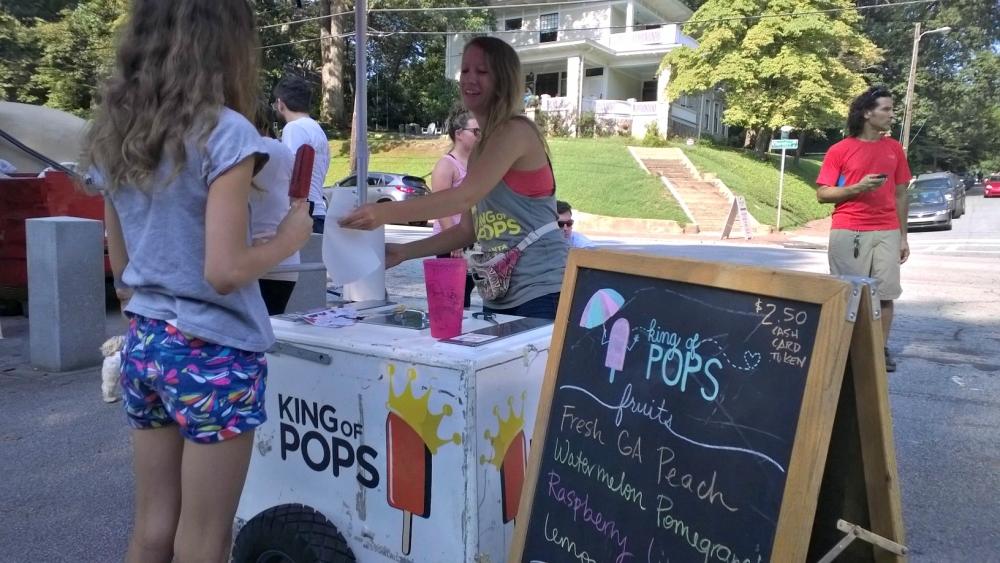 How do you create an Atlanta icon?
For the owner of one of the city's most venerable indie food businesses, it started with getting laid off. Steven Carse lost his job at an insurance company in 2009, and began working on his Plan B: an artisanal ice pop company called King of Pops.
In four years, he's gone from hawking pops from a single refrigerated cart to churning out as many as 15,000 pops on peak summer weekends.
There are two demos who flock to the King of Pops carts: little kids and hipsters.
And on a recent warm Friday afternoon, both groups were represented at the company's walkup window in Atlanta's Inman Park neighborhood.
Julie Clay and her children are regular customers. Weatherly, age 5, had just finished her popsicle—chocolate sea salt.
For customers like Clay, the location is key.
"Every time we're on the Beltline,' she says, "we get pops."
The King of Pops walkup window is just off the Beltline, Atlanta's burgeoning bike trail that's spurring development and packed with people most days.
Patrick Dougherty represents the King of Pops' other core demo. He's part of an urban hipster crowd that's reviving Atlanta's intown neighborhoods. A bartender at a hip Japanese gastropub, he knows all about food trends with cult followings.
In fact, you could say Dougherty has a small King of Pops habit that he's trying to rein in. Until a month ago, he ate two or three of the frozen treats every few days.
He says the popsicles are "fresh and innovative." But there's another reason he likes the pops, and it says something about how King of Pops' rapid success.
"There's something where you feel like you're doing something to help the community," said Dougherty. "You're feeling a little positive about things. Healthier – maybe, probably not."
The pops are, in fact, pretty healthy. Flavors include Cucumber Mint and Pomegranate Margarita. Most of the ingredients are sourced locally. And that's why you can now find them at Whole Foods' Atlanta stores.
Darrah Horgan works in marketing at the upscale supermarket chain. She says the pops are all-natural. And they're catching on in Atlanta and beyond.
"There's a whole generation of kids who ask for King of Pops. They don't ask for popsicles."
That branding is paying off. Last year, the company had sales of $2 million.
Mobility has fueled the company's growth. Carse began with a single cart. He would send out Twitter messages to tell customers where to find the cart on any given day. And that small initial investment allowed him to expand to other cities and add more carts. The King of Pops even does weddings now.
"We have had people completely replace the cake with popsicles," said Carse. "Some people have them at their receptions, some people have them at the cocktail hour before. All kinds of different things."
Mobility remains key for the King of Pops so it can be where its customers are.
One Sunday morning in June, Carse sent one of its 25 carts to the Avondale Estates Farmers Market. Across town in in Grant Park, the company had another cart, and its signature rainbow umbrella at that neighborhood's perennially-packed farmers' market.
The business has done so well Carse's brother, Nick, left his job as a lawyer to join him. And now it's poised to take another leap. The Carses bought a 68-acre farm outside of Atlanta where they plan to grow ingredients for the pops and launch a subscription-based produce service.
At the company's headquarters in Inman Park, Carse walks past a large whiteboard showing where the carts are most days. Stepping into the kitchen, there's an immediate a whiff of fruit and something sweet baking in the oven— limes, strawberries, and homemade caramel.
Walking through the office, Carse talks about the company's next steps. Remember what the hipster bartender said about the King of Pops fostering a sense of community? The company's CEO knows it, and it's weighing on him as the business grows.
"We want to remain special, and there's a point where you get too big," he said. "People are kind of proud of it. That's the sense that I want to encourage. Like, we're this, this Atlanta story."
Carse has lots of plans for the company, and thoughts about the city where his business was born. But right now, he needs to get through the King of Pops high season.
Tags: business, Atlanta, Jeanne Bonner, King of Pops
Bottom Content