Section Branding
Header Content
Michelle Nunn: Georgia's Hillary?
Primary Content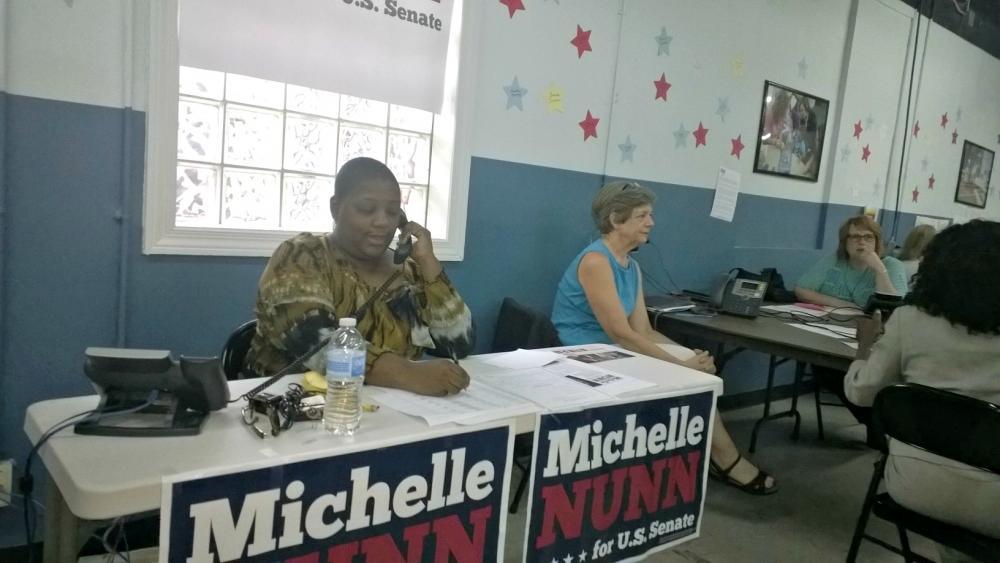 A lot of attention will be focused Tuesday on the Republican U.S. Senate runoff. Whoever wins -- Jack Kingston or David Purdue -- will face Democrat Michelle Nunn in November. Many think Nunn, a political newcomer – and the daughter of former U.S. Senator Sam Nunn – could be the Democratic Party's first victory on the road back to relevance in Georgia.
But for the women volunteers who Nunn has mobilized, something else is spurring them on. That's because if Nunn wins, she'll be the first woman Georgia has ever elected to the U.S. Senate.
Nunn won her primary, the Democratic Primary, back in May. And it was largely a formality. She defeated three lesser-known opponents.
Nonetheless, the moment was a milestone – and not just for Nunn. As she took the stage that night, her supporters pointed to the fact that Georgia currently has no female representation in Washington.
Emily Pelton from Atlanta is one of those supporters.
Send A Woman To Washington? Absolutely
Pelton believes that Michelle Nunn is the candidate many Georgians - especially women - have been waiting for. But not just because she's a woman.
"I absolutely think we need to send a woman to Washington. If you look at recent breakthroughs in political logjams, look who did it," said Pelton. "It was the women of the Senate. And Michelle is a collaborator. She's someone who knows how to bring different parties together."
That excitement about Nunn didn't end the night of her primary win.
On a Monday night in June, a group called Women For Nunn gathered at her campaign's headquarters in Atlanta. They were there as volunteers, calling voters on Nunn's behalf.
One woman among them was a military vet. She said her daughter convinced her to volunteer for the campaign.
Another woman said she was trying to show her young sons what women can achieve.
And then there was retiree Carol Baird. She answers phones four days a week for the Nunn campaign. And for her, it's past time that Georgia elect a female U.S. Senator.
'Past Time To Elect A Woman Senator From Georgia'
"When I got out of college in the early 1970s, we thought we would have a woman Governor or Senator within 10 years," Baird said, shaking her head. "That's how we thought it was going to go."
But that's not how it went. Georgia has had only a handful of women who were members of Congress. And only one female Senator. But she wasn't elected. She was appointed-- and that was way back in 1922.
Michelle Nunn has never held political office. But her supporters see that as an asset. They believe her experience as a nonprofit executive is preparation for politics. Nunn helped merge volunteer organization Hands On Atlanta with the Points of Light foundation. The foundation is now the largest volunteer organization in the world.
Arlene Meyer is a mother of three from Metro Atlanta. She volunteers for the Nunn campaign because of what she says Nunn has already accomplished.
Nunn A Newcomer -- But Not To Managing People
"She knows how to manage. She knows how to manage a large budget," said Meyer. "She knows how to manage people. Managing people are one of the hardest things to do – to get people out to get involved."
Meyer volunteers frequently for various groups, and has tried to corral others, which she says isn't easy. But inspiring others to get involved is a talent Meyer believes Nunn has.
"I would go down a school hallway and people would often run the other direction because they knew I was going to ask them to do something," she said. "And I think she is asking people to do things – people who wouldn't have necessarily gotten involved but may be interested in getting more involved because of the kind of enthusiasm she brings."
That describes Margaret Reiser of Atlanta. She's never been involved in politics before, but now she organizes Nunn's women volunteers around the state. She says women can relate to Nunn.
"I think the fact that she's a working mom, she really gets it," said Reiser. "She gets what life is like for women today."
Can Nunn Make History?
Nunn is part of a storied political family in Georgia, and that has helped her win support among vets, government workers, and even some Republicans.
And then there are volunteers like Carol Baird, a retiree. She believes that voters will back Nunn regardless of her gender. But Baird, a lifelong Georgian, admits it's no small matter that Nunn is a woman.
"I've been waiting for this for 40 years!" said Baird, laughing.
Election night is just four months away, and it remains to be seen if these women volunteers can put Michelle Nunn over the top in a state as red as Georgia. Especially, a state with scant history of sending women to Washington.
Tags: politics, U.S. Senate, michelle nunn, Democratic U.S. Senate candidate Michelle Nunn, election2014
Bottom Content