Section Branding
Header Content
Carter Courts Small Businesses, After Fundraising Spike
Primary Content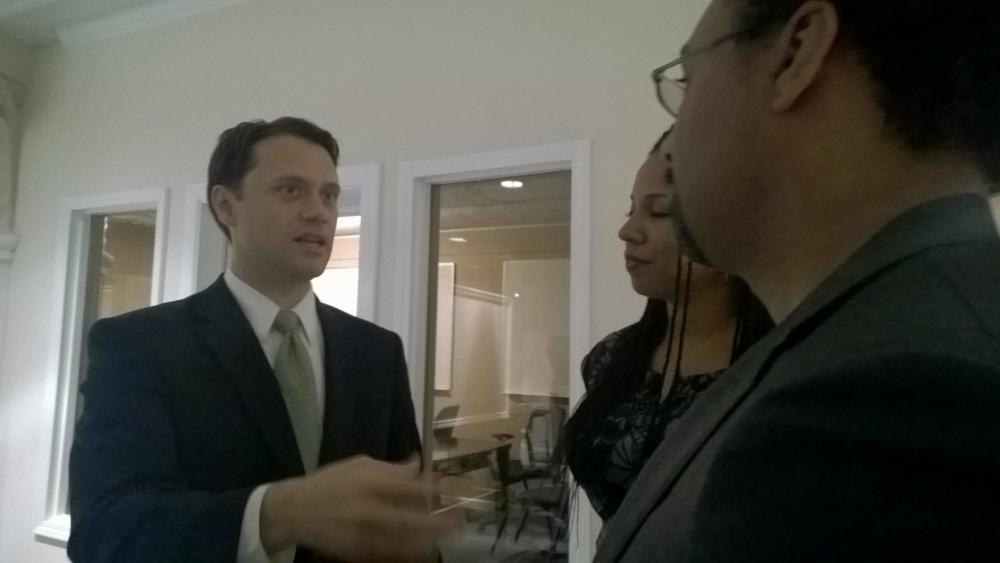 Fresh off the news this week that he out-fundraised his incumbent opponent, gubernatorial candidate Jason Carter said Friday that the state is not doing enough to cultivate small businesses, especially startups.
The state Senator who's challenging Gov. Nathan Deal made the comments while visiting Opportunity Hub, a business incubator in downtown Atlanta. He said he's eager to project a more dynamic image of Georgia to the country and the world. And he said the startup culture is alive and well all around the state of Georgia. But he said that's not always the perception beyond the state's borders.
Talking to women entrepreneurs at Opportunity Hub, Carter said he's supported allocating money to a state agency called InvestGeorgia that would provide money to startup firms.
"We in the state Senate have put money in every year but the Governor and others have blocked it," he said during a roundtable discussion. "So he has never signed a budget with money for InvestGeorgia, which just sends a message that Georgia isn't as serious about that as other states are."
Deal's spokesman, Brian Robinson, says the Governor signed InvestGeorgia into law in 2013, and is appointing its board now. He said the group will be funded in the future.
Earlier this week, Carter reported raising $2 million between April and July, nearly double the amount Gov. Nathan Deal raised during the same period. Overall, Deal has significantly outpaced his younger rival in donations, raising more than $9 million in total.
Political experts say Carter is making the race much tighter, even if he doesn't win in November.
"It's more evidence that this is going to be a competitive race," said Emory university political science professor Alan Abramowitz.
He said the fundraising totals don't change his view that Carter remains the underdog and probably won't win unless there are new revelations in the ethics scandal that has dogged Gov. Deal. The state recently announced $3 million in settlements with former ethics commission employees who say they were retaliated against for pursuing an investigation into Deal's 2010 election campaign.
But Abramowitz added, "I'm surprised Deal didn't raise more money. Three million dollars cash on hand sounds like a lot but really isn't."
Even if Carter doesn't win, though, Abramowitz and others say his eyes may be on 2018, and with good reason.
"The Governor in 2018 will oversee redistricting, and that's huge. That could mean tremendous, tremendous change," said Adam Stone, a political scientist at Georgia Perimeter College.
Republicans oversaw the last redistricting, and devised districts that favored the GOP. They said that's what the Democrats did when they were in power.
At Opportunity Hub many attendees agreed with Carter that the state isn't doing enough for startups.
Renee Sandler founded Blamtastic, a cosmetics company, with her daughters. The Sandy Springs resident said her seven-year-old company hasn't been able to even get a loan from the bank, although she said her business is on pace to have $12 million in sales.
"I can tell you there's been a lot of discussion locally in government and on the state level about increasing funding for startups or new businesses," she said after the event. "But frankly it has been a shell. There has been no substance to it. I attend entrepreneurial events in the city constantly and not only have I never seen the Governor at any of these events, but every entrepreneurial person I know is struggling to raise funds to grow their businesses. It's an issue – it's a major, major issue."
Deal has touted Georgia's ranking as the No. 1 place to do business. And the entrepreneurs at the event didn't doubt that, but they said the ranking pertains to big businesses, not startups.
Robinson, Deal's spokesman, took exception to these remarks.
"We have traveled the world and the state to sell Georgia as a place to start businesses and create jobs," he said in an email. "We do news conferences and releases on job announcements all the time. We held competitiveness initiative meetings in all regions of the state and now we're doing high demand career initiative meetings everywhere. Everything we do is about making this a great place to start, expand or relocate a business."
Tags: Nathan Deal, Jason Carter, 2014 election, InvestGeorgia
Bottom Content