Section Branding
Header Content
Kingston Ally Says Dems Will Tar Perdue Like They Did Romney
Primary Content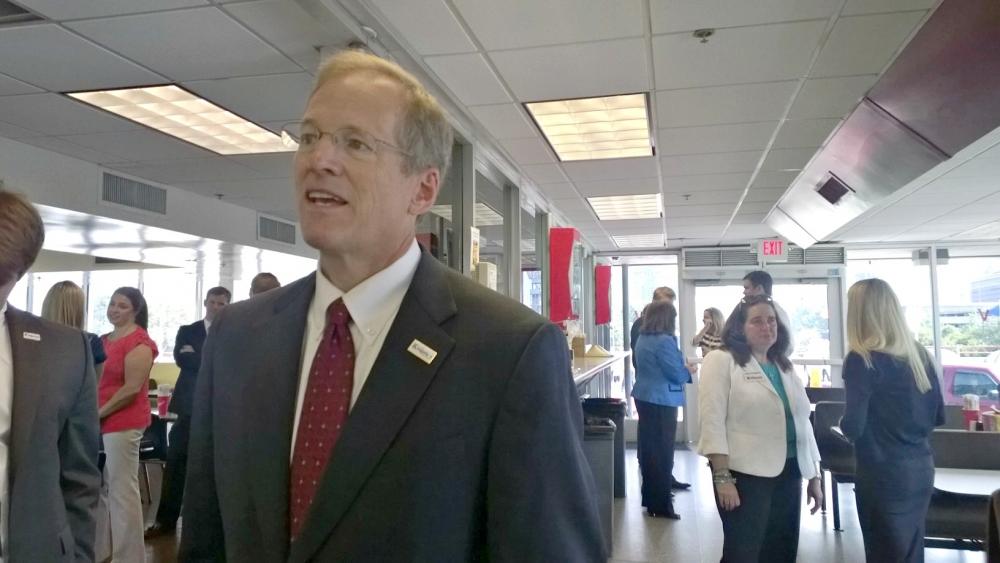 With the state GOP Primary runoff two weeks away, Congressman Jack Kingston is out on the campaign trail in full force. And on Wednesday, he said that ending Washington gridlock depends on Republicans regaining control of the U.S. Senate.
"That's why I'm leaving what would be a safe re-election in the House to enter a political street brawl to earn the opportunity to fight for the Georgia taxpayer in the U.S. Senate," he said at a campaign stop at the Varsity in Atlanta.
Kingston has served as a Georgia Congressman for 22 years. He's squaring off against businessman David Perdue in the July 22 runoff election. Whoever wins that race will face Democrat Michelle Nunn in the general election in November.
Kingston has had some help on the trail. Since coming in behind Kingston and Perdue in the state GOP primary last month, former U.S. Senate hopeful Karen Handel has thrown her support behind Kingston.
And Wednesday, she turned her attention to Kingston's opponent in the primary runoff. She said Perdue can't win against Nunn, the Democratic candidate.
"We all saw what happened to Mitt Romney," she said. "Well, the Democrats, what they did to Mitt Romney, it's going to look like child's play when they get finished with David Perdue."
Perdue is a wealthy business executive and political newcomer. His campaign rebuffed any notion that Kingston is the answer to the problems in Washington.
"David is the strongest candidate to take on Michelle Nunn in November because he has not been part of the dysfunction that created the mess in Washington," said the campaign's Derrick Dickey. "Voters understand that you can't send an out of touch 22-year congressman back to Washington and expect him to fix the problems he helped create."
Perdue had the most votes in the primary, but most prominent Republicans and GOP-leaning organizations have lined up behind Congressman Kingston, including the U.S. Chamber.
Chris Walker lives in St. Mary's, which is part of Kingston's current district. He was in Atlanta on vacation and was eating at the Varsity during the Kingston event. He doesn't buy the idea that anyone can be an outsider in Washington.
"I think once you get there, even if you run as an outsider, you become part of the problem," he said. "I think Jack Kingston will do what the constituents want because that's what he's always done."
Walker said he would be voting for Kingston in the July 22 runoff and in November. Another Republican voter said he would prefer to vote for neither Perdue or Kingston.
"If half of what they are saying about each other is even half-way true, neither is qualified," said Cecil Hand of Henry County.
Hand said he longed for the era of the statesmen. And he said the problem on Capitol Hill is the complete lack of cooperation from both parties.
"A Republican would rather die than vote for a Democratic idea, even if it was perfect, and the Democrats are the same way," he said. "So if people think things are going to change, forget it."
On the Democratic side, Nunn also made news Wednesday. She called on both Perdue and Kingston to reject ads produced by third party groups. One such group, the U.S. Chamber had officials on hand Wednesday at the Varsity. The group endorsed Kingston over Perdue.
Tags: politics, Karen Handel, Jack Kingston
Bottom Content