Section Branding
Header Content
Irish Roots Run Deep at Savannah Parade
Primary Content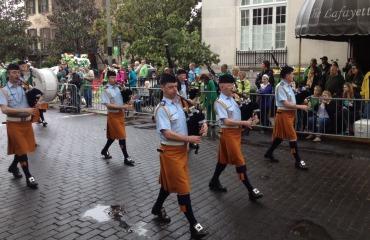 You have to get up pretty early in the morning if you want to see Savannah's parade up close. Otherwise people like Jason Tripp, and his brother-in-law Wade Lynes, will beat you to it.
Around 4:30 the morning of March 17, they huddle under an awning, sipping cans of Old Milwaukee beer, and wait for official permission from the city to dash into Savannah's Lafayette Square and stake a claim.
"Luckily we've got some gentleman next to us that we think we're gonna get along civilly with and we're gonna honor each other's spaces," Tripp jokes, gesturing toward a group of men near him.
It's the first year that Tripp and Lynes, and their young cousin Rutledge Missroon, have been given the task of pitching tents on the family's favorite spot - a stone's throw from the Cathedral of St. John the Baptist.
Tripp says it's important to keep the family's traditions alive.
"As everyone grows up and starts to move away, eventually they want to come back," he says. "But we have to have the Savannah element to anchor us and part of that is who's gonna stay up late and get the parade spot."
After 90 minutes or so, it's go time. 12-year-old Rutledge is given the job of leaping a metal barricade that surrounds the park, scrambling to tape off a section of grass large enough for two tents.
The competition wasn't always quite so intense. Tripp's father-in-law, Allen Lynes, used to be in charge of getting a spot. And he says back in the 1980s, when his kids were small, it was easier.
"Back then you could get here around 5:30, 6 o'clock in the morning and there was nobody down here, and you could pick a spot," he says.
For Savannah, this tradition goes back 190 years to the first parade. Organizers say it's one of the biggest St. Patrick's Day Parades in the country: the second-biggest if you count by the number of floats - 350 units, to be exact.
The reason, says parade chairman Kevin Halligan, is that Savannah has long been a place where struggling Irish families could make a home.
"When the Irish migrated here they could always come and find jobs. And there was an established community, " he says. "So the families came over and then they stayed."
That's the story for the family of Nora O'Leary Missroon. She's sipping a Bloody Mary in the spot that her nephew Jason Tripp staked out for her hours earlier.
"For us it was potato famine," she says. "It was a long struggle, so I think people tend to band together in that kind of a time."
And banding together is what the Missroon and O'Leary families will do after the parade. They'll head back home for lunch, a nap, dinner, and more time together, passing on the tradition for another year.
Tags: Savannah, GPB News, Sarah McCammon, GPB Savannah, #savstpats
Bottom Content