Section Branding
Header Content
Middle Ga. Weekend: Yogi Bear Comes To The Ocmulgee National Monument (Seriously)
Primary Content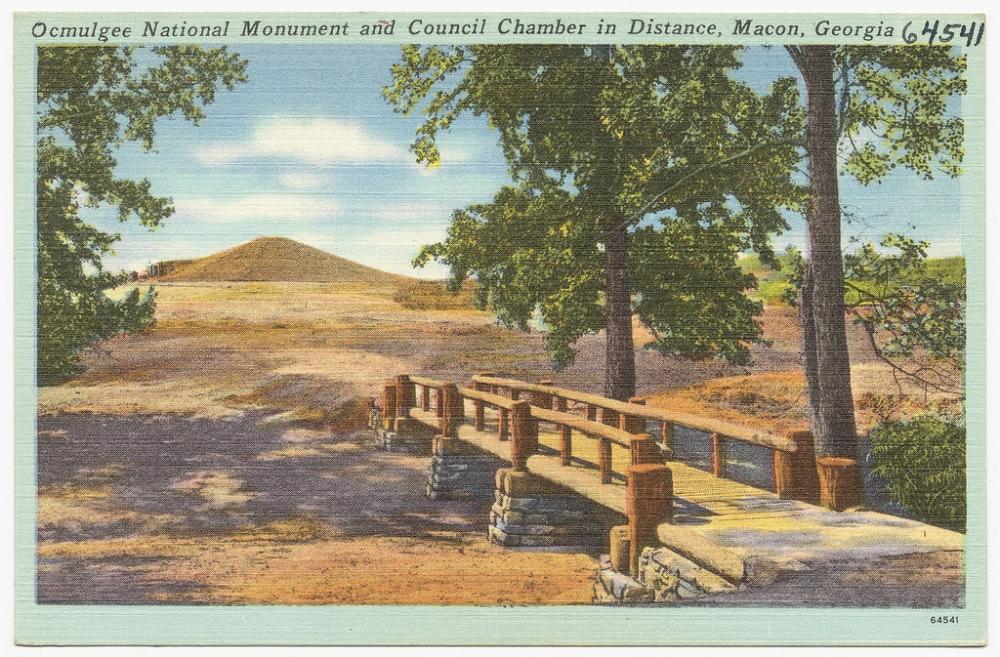 Macon DJ Roger Riddle and Y-O Latimore of Poetic Peace Arts join us to talk about fun things to do in Middle Georgia over the weekend and beyond.
Roger's picks for March 13:
Stained Glass at the Grand
Stained Glass has become the premier event in interpretive dance here in Macon. Every year we look forward to it and every year it gets better.
Pilar Wilder and the Hayiya Dance Theatre have been wowing audiences with their moves and music in their Stained Glass shows for three years now.
This year's performance is based on the poems of James Weldon Johnson's God's Trombones: Seven Negro Sermons In Verse. James Weldon Johnson is best know for writing the spiritual, "Lift Every Voice And Sing."
However, God's Trombones is a set of sermon like poems that envisions man's existence from creation to judgement day. These poems will be interpreted through contemporary, West African, and other dance styles by the Hayiya Dance Theatre dancers and special guests.
Proceeds to this event will benefit the Hayiya Dance Theatre, Inc. Scholarship Fund. This family friendly event takes place at the Grand Opera House on Sunday March 16. Tickets are $15. Event begins at 7 p.m.
Yogi Bear at the Ocmulgee National Monument
There's something to be said for seeing a movie outside under the stars. I have enjoyed it every time I've gone to see an outdoor movie.
This Friday the Ocmulgee National Monument is showing the 2010 release of "Yogi Bear." So bring your blankets, lawn chairs, and of course your picnic baskets and bring the whole family out for a night of fun at one of our most beloved parks.
I find this movie especially fitting since there has been much talk lately about working to get the Ocmulgee National Monument designated as a National Park. While this isn't Jellystone Park, I am sure Yogi and Boo-Boo would feel right at home here at the Ocmulgee National Monument.
Admission is free and there will be concessions available for purchase. The movie starts at 8 p.m.
--Roger
Y-O's picks for March 13:
League of Creative Interventionists, Macon Chapter
Currently, Hunter Franks, the founder of an organization called the League of Creative Interventionists, has been in town for a fellowship since March 10 and will depart our city of Macon on March 31.
He's an artist who works out of San Francisco, California. It's quite an honor to have such an individual with this type of initiative come to launch this movement in Macon.
Every project he embraces or organizes includes participation from the masses and creativity.
One thing about Franks that will never leave my mind is the fact that he walked from Los Angeles to New Mexico just to embrace the underrepresented neighborhoods on the way.
In addition to the League of Creative Interventionists, he's also the founder of the Neighborhood Postcard Project where people all over the world collect positive stories from sideline neighborhoods and send them to arbitrary people who live in those neighborhoods.
Lastly, he's also helped to create a project called freespace which identifies underutilized spaces and transform them into temporary lifestyle centers where communities can make a difference in a hands on kind of way.
Next Tuesday, we'll be assisting Hunter Franks with launching the Macon League of Creative Interventionists at the Macon Arts Alliance 486 First Street downtown Macon from 6 p.m. to 8 p.m.
It's a call for action to help break barriers in our town with creative initiatives like turning the bus stop to a lounge spot or posting cards on building about why we love Macon.
Cherry Blossom gospel concert
The Knight Foundation has teamed up with the Cherry Blossom Festival to present Macon's gospel talent.
There's a similar type of program that takes place in Miami called Sunday's Best where a big-named gospel artist like Shirley Caesar and Kirk Franklin are headlined along with several local gospel artists and mass choirs.
Well, we have cross-pollinated this event in Macon on a smaller level with the William Murphy Unplugged concert featuring Macon's Beulahland Mass Choir and New Hope International's Love 24. Murphy is a minister, recording artist and songwriter.
They will be performing at the 567 Center for Renewal on March 21 from 7:30 p.m. until 9:30 p.m. The event is free with a canned good.
--Y-O
Tags: Ocmulgee National Monument, Cherry Blossom Festival, Adam Ragusea, Roger Riddle, Y-O Latimore, Hayiya Dance Theatre
Bottom Content