Section Branding
Header Content
Legislative Maneuver Creates Two Sweeping Gun Bills
Primary Content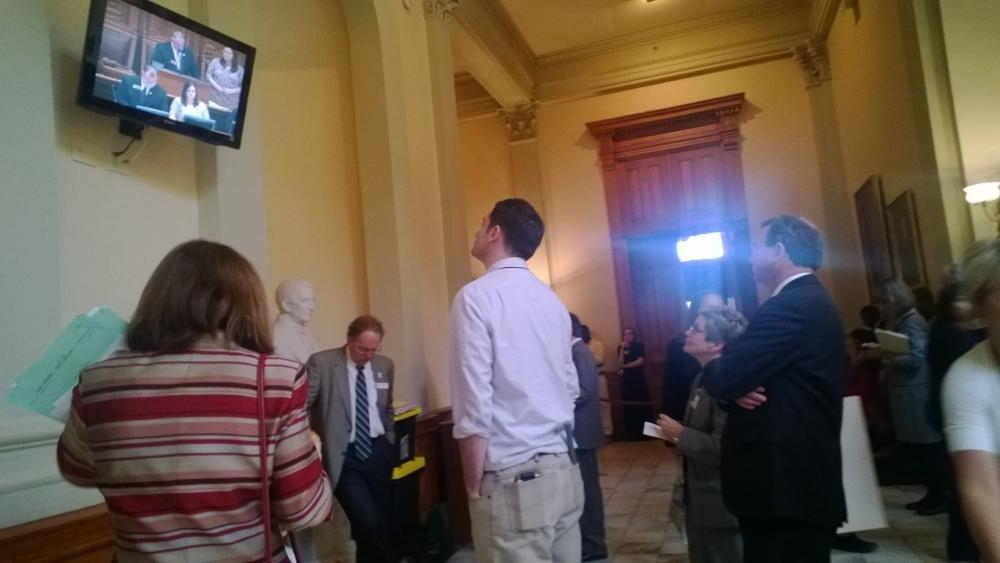 Just when your GPB News Now correspondent thought things were a bit too quiet at the State Capitol, surprise action on this session's gun bill spiced up the proceedings Tuesday.
Republican members of the House maneuvered to change a minor Senate gun bill allowing judges to carry firearms to include provisions of a much more sweeping second amendment measure.
The newly-transformed bill would allow licensed gun-owners to take firearms into bars, schools and churches with some restrictions.
After the vote, the House immediately transmitted the bill to the Senate, creating the possibility of a one-two punch for gun rights.
And for a moment, it looked as though Senate leaders might sneak the bill onto the floor for immediate debate, which would have completely bypassed the legislature's committee process and also caught anyone opposed to expanding gun rights unawares.
The Senate instead adjourned for the day. But now there are not one but two bills under consideration in the Georgia legislature that would significantly change where guns can go in the state.
Two Gun Bills For The Price Of One
Rep. Alan Powell, a Hartwell Republican and staunch gun rights supporter, explained his maneuver afterwards by saying that he'd like the Senate to vote on the bill once and for all.
"I think you could say it forces the Senate's hand if you want to," he told reporters. "Nobody knows what'll happen when the Georgia Senate convenes. I just hope they will call it up and they will have a vote on it and then the public will know what the feeling of the respective Senators is."
The public and the gun lobby, that is.
Tuesday afternoon, those for and against the original gun bill testified, although it was only a hearing. It remains unclear when a committee vote will be scheduled for that bill.
The parents of a Virginia Tech student killed at a massacre on that campus testified against the bill. Michael and Jerry Bishop said Georgia needs to keep guns out of the hands of people who should not have them, and they said the bill doesn't do enough to bar those with mental illness or a criminal background from carrying a firearm.
"Our son, Jamie Bishop, was one of two Georgians murdered at Virginia Tech on April 16, 2007 in the worst school massacre in our nation's history," he said. "Thirty-two innocent people died that morning. We believe all of those deaths could have been prevented."
He added, "We have more guns per capita than any other industrialized nation. We are awash in guns but we're demonstrably not the safest."
Ladonna Lowe of Cherokee County, however, said carrying a gun provides insurance in case something happens. And she said bar patrons and church-goers should have the power to decide the issue.
"I don't get up every day and put on my seat belt saying, 'I'm going to have a wreck'," she told committee members. "I do it in case I have a wreck. I don't have a fire extinguisher in my kitchen thinking, 'My house is going to burn down.' I do it in preparation in case. And the same thing is true with putting on my gun."
It's anyone's guess when the other bill will come up on the floor of the Senate. Some Republican lawmakers have broken with their party over gun bills. Three members of the GOP, for example, voted against the bill when it came up in the House. And some Senators openly opposed a similar bill last year that would have allowed guns on college campuses.
But with the House's maneuver on Tuesday, the Senate could vote on the altered bill without any debate, and then work out differences in a conference committee outside of public scrutiny.
'Water Wars' Bill Coming Up For Vote Wednesday
Now let's move on to what one jaded lobbyist calls "this year's stealing bill."
Each legislative session, hundreds of bills come up for consideration, and some pertain to rather arcane aspects of life.
Enter the so-called Flint River bill. It has the distinction of dealing with something arcane – riparian rights, anyone? – and also dealing with something most Georgians can relate to. And that's the water wars.
Georgia has been fighting with Florida and Alabama and Tennessee over water for quite a few years now. And this bill would help Georgia "pay its water bill" by expanding state officials' power to freeze irrigation permits in times of extreme drought.
The Flint River bill is also one of the measures that may not break along party lines when lawmakers in the House vote on it Wednesday. It has the backing of the business community, which means many Republicans are for it. But it also has opposition within the GOP and among Democrats. Rep. Regina Quick, an Athens Republican, has raised many questions about how the bill would change long-standing water law.
Neill Herring, with the Sierra Club which opposes the bill, said under current law, property owners have a certain amount of rights when it comes to creek water and ground water on or beneath the land. This bill would change those rights.
"The water on or under your property is now available for your reasonable use," he said. "This bill says, 'Forget reasonable use to this water because it's our water and we're sending it to Florida. We're going to use this water to make Florida shut up in court. We're going to dry out part of Georgia to make Florida and the part we're drying out isn't metro Atlanta'."
The bill has the backing of Gov. Nathan Deal. And supporters say it would help the state avoid litigation with federal agencies over the protection of endangered mussels in the streams.
"It undergirds what we have started with our $3 million commitment to creating more ability store water within our state," Deal said in an interview with reporters. "It gives us the ability to deal with some of the environmental issues that if we don't have adequate storage we can't deal with."
He also said it will safeguard drinking water supplies.
Busy Days Are Here Again
Are you still with us? There will be more to come in the days ahead as bills regarding abortion rights and the fate of the Medicaid expansion will take center stage. Only two legislative days remain this week, with two more on deck next week when the session wraps up.
Tags: tri-state water war, water wars, Flint River, guns, gun bill, guns in churches, church gun ban, campus carry, 2014 general assembly
Bottom Content