Section Branding
Header Content
New Morehouse President Aims For 'Stronger' College, More Successful Young Black Men
Primary Content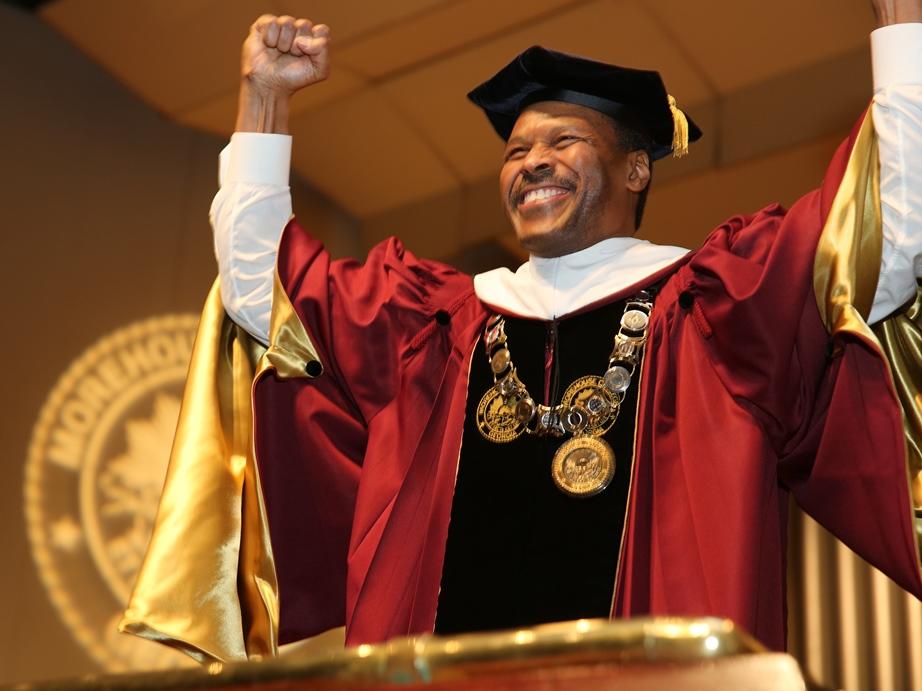 Morehouse College is joining a renewed national effort to educate and support young, African-American men.
Dr. John Silvanus Wilson said recently that won't mean rolling out a specific new program, but it will include a variety of adjustments at the historically black college that results in a rejuvenated approach to producing the "Morehouse man."
"There is a distinctiveness," Wilson said. "The 'Morehouse man' is one who is very competent and confident at the same time and is able to compete in the world we see and imagine a new world and able to work for that as well."
As the college's new president, Wilson said he must strengthen Morehouse to help more young African-Americans succeed. He said that's a continuation of the work he did in the White House as part of President Barack Obama's administration, and it dovetails with the president's recently announced "My Brother's Keeper" initiative to offer more mentoring, support networks and skills to young black men.
"Only 4 percent of African-American children coming out of high school in America are college ready in a wide range of courses," Wilson said. "You saw in the president's announcement [Feb. 27] another data point: 86 percent of African-American males are behind grade-level in reading and math by fourth grade.
"This is a scandal. It's a crisis."
Wilson said that means Morehouse must offer remedial education for many students. But he said it also means getting the attention of students long before they come to campus.
"The function of a greater Morehouse, a Morehouse that is a beacon on a hill, is to capture the imagination of second graders, third graders, fourth graders, so that they will know that if they work hard, there's a place they can go that is made especially for them," Wilson said.
And once they get to campus, Wilson said that will involve figuring out ways to restore the close-knit community of Morehouse's earlier days.
"Right now we graduate from Morehouse about 500 students every year, but for many, many years at Morehouse, the class sizes were much smaller," he said. "That smaller size yields a bigger embrace, and so do we want to shrink? No. That's not financially feasible. But there are ways in which we can make the living and learning environments here smaller and get a better 'touch' with these students."
Wilson said Morehouse—and the nation—must create a cradle-to-power pipeline for young black men to keep them off a cradle-to-prison pathway
"One in three African-American males born today will spend time in prison," he said.
"If we strengthen ourselves at our core and strengthen our visibility, then I think we will be a magnet for young men, in general, and young African-American men, in particular," Wilson said. "We want young men to see that they can make their way to power, to productive lives, to living lives as productive citizens in America and in world.
"Not enough of them perceive that right now."
The phrases Wilson used often in the interview were a "stronger" Morehouse or a "greater" Morehouse. He said, practically, that means a much larger endowment, better pay for faculty, improved facilities, and more scholarships.
"I called it in my inaugural address 'the world of our dreams.' We get to the world of our dreams by pursuing capital and character preeminence," Wilson said.
"I graduated from Morehouse and I got a really, really character-centric education here. I loved it," he said. "I went to graduate school at Harvard, and I saw all these great buildings, all this great infrastructure, this great endowment. I concluded then that Morehouse needs exactly what Harvard has, but Harvard needs exactly what Morehouse has."
Tags: Morehouse College, historically black colleges and universities, Black male students, john silvanus wilson, young black males, african american men
Bottom Content