Section Branding
Header Content
Lots of Bills, Not A Lot of Time At State Capitol
Primary Content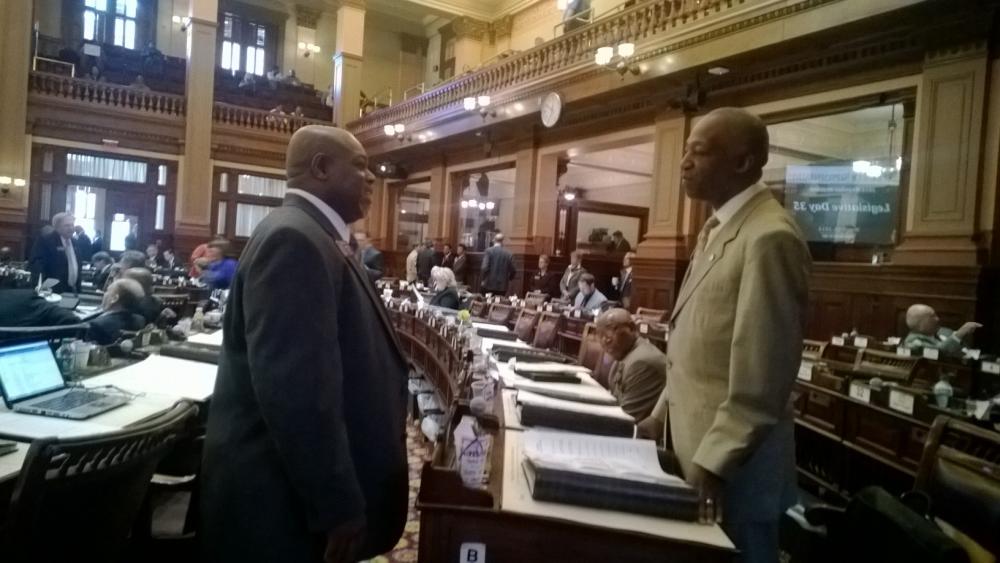 State lawmakers are in session four days this week and two days next week before they adjourn for the year.
So what's happening with the session's hot bills?
Not much.
Ever since Crossover Day last Monday, lawmakers in each chamber have been reviewing the work of their colleagues in the other chamber.
But so far, few of the session's most controversial bills have come up for a final vote. The House voted Monday on a Senate bill that will allow Savannah bars to open on Sundays on St. Patrick's Day measure. Governor Nathan Deal is expected to sign it Tuesday just in time for this weekend's festivities. And Tuesday the Senate will vote on a so-called slow poke measure that will force Sunday drivers to move out of the left-hand, higher speed lanes.
That means, while the session has been shorter and freer of controversy than previous years, lawmakers will still delay voting on the key measures until the final days and maybe even the final minutes they're under the Gold Dome.
'Lots of Bills in Limbo'
"There are a lot of bills in limbo," said Stephanie Davis, who heads Georgia Women For a Change. "It's scary."
Scary, she said, because it gives advocates little time to prepare and the public scant opportunity to weigh in on bills and act.
There are three medically-related bills involving Medicaid, marijuana and abortion but only one has garnered significant attention, and that's the marijuana bill.
Let's start with that one because there's been some movement on it.
Word came Monday that a Senate committee will hold a hearing Wednesday on the bill. Republican Representative Allen Peake of Macon is the sponsor. His bill would expand the use of cannabis oil – not actual marijuana – to children who suffer debilitating seizures and would be tightly controlled through Georgia's medical research centers. Peake said Monday that a new version of the bill also extends distribution to some nonprofits, but there would be no licensed growers in Georgia.
Medical Marijuana Bill In Spotlight
Sen. Renee Unterman who oversees the committee that will hear the bill admitted to WSB-TV last week that she wasn't moving so quickly on the legislation because the House hasn't moved on some of the measures she's sponsored. Unterman has also said she supports a study committee that would look into the issue, and like others, has concerns that the bill in current form offers parents false hope.
Peake said the process would be "managed by doctors." But he admits it shows how Georgia is changing and for some, the shift is a bit too abrupt.
"I've said to my colleagues, 'I know we're moving too fast,' but to the families whose children are suffering from this disorder, they need relief now," he said in an interview Monday.
He also said he understands the concerns Rep. Sharon Cooper raised last week from the floor that in time, side effects might emerge or the cannabis oil may cease to provide such miraculous results to those suffering.
"It's not scientific," he said. "I get that."
As for opening up a Pandora's box to people who will petition for the inclusion of other disorders, Peake said, "Sure, next year that could happen. But I'm picking this battle."
The medical marijuana bill has received so much attention this session that it's even overshadowing the gun bill and the abortion bill, much to the chagrin of some activists.
"That's going to affect very few people," said Davis, with the women's advocacy group, of the cannabis oil measure.
Activity Will Pick Up A Bit At Gold Dome
Business will pick up somewhat Tuesday at the Capitol.
A House committee will take up the Senate bill that would bar coverage of abortion through healthcare plans bought on the state exchanges set up by the Affordable Care Act.
When the bill passed the Senate last month, it did so after three hours of debate. Expect less talk Tuesday but no less passion on both sides of the issue.
The gun bill is also expected to be in committee. The measure would loosen restrictions on carrying firearms on college campuses, and in bars and government buildings.
So lawmakers will be busy. And so will activists.
The folks with the Cover Georgia coalition, for example, plan to spend the day lobbying lawmakers and rallying to expand Medicaid coverage.
Bottom Content