Section Branding
Header Content
True Believers Won't Let Religious Freedom Bill Die
Primary Content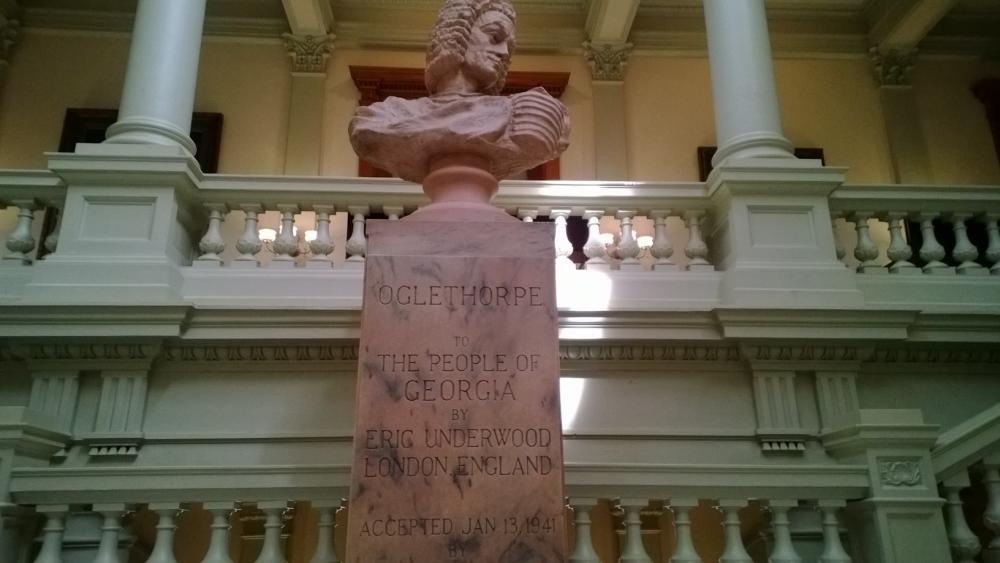 You can never truly say a bill has died until lawmakers gavel out of the legislative session and declare "Sine Die" as they do the last night of each year's legislative session.
But two so-called 'religious freedom' bills have little chance of a resurrection in the final weeks of the 2014 session. Opponents say the bills would have allowed business owners to refuse service to gay customers if proprietors claimed it would violate their religious beliefs. Supporters say the measures free Georgians from carrying out activities that would be in conflict with their private personal beliefs. And they say the measures would not authorize or condone discriminating against anyone.
One person who won't be letting the bill die is the sponsor of the Senate measure, State Sen. Josh McKoon of Columbus, who vows to continue to push the issue.
And not just in conversation. He's planning to travel around the state to gauge public opinion. And he's raised the prospect of calling for a boycott of companies that oppose the measure.
One Lawmaker Keeping Hope Alive
"I'm undeterred," he says. "We're going to spend the next eight months getting the facts out and we will be back in January with this legislation."
He has the support of a key part of the electorate: the Tea Party. And members of that group were not too happy when they learned his bill would not make it onto the calendar for Crossover Day. That's the day when any bill with a shot at becoming law must pass at least one chamber. McKoon's bill never came up for a debate in the Senate.
The other bill, a House measure, received a committee hearing but didn't make it to the floor of that chamber for a vote.
One Tea Party leader who's making her voice heard on the issue is Julianne Thompson.
"Republican leadership is caving to the far left radical agenda and to corporate lobbyists," Thompson said at a press conference last week at the state Capitol. "And that seems more important to them than the people who got them elected – the people who made them yard signs, the people who went door to door, the people who are always there for them. We are not going to sit idly by and let this happen."
Thompson is referring to lobbying efforts by Delta Air Lines and other Georgia companies that came 0ut against the bill and may now face a boycott.
Tea Party Targets 'Moneyed Special Interest' Groups
Delta took the lead in the corporate community, and issued a statement that said company officials were "deeply concerned about proposed measures in several states, including Georgia and Arizona, that would allow businesses to refuse service to lesbian, gay, bisexual and transgender individuals."
"If passed into law, these proposals would cause significant harm to many people and will result in job losses," the statement read. "They would also violate Delta's core values of mutual respect and dignity shared by our 80,000 employees worldwide and the 165 million customers we serve every year. Delta strongly opposes these measures and we join the business community in urging state officials to reject these proposals."
A Delta spokesman declined to respond to questions about a potential boycott. But McKoon attributes opposition by Delta and others as "matters of public relations."
"There are large special moneyed interests behind the opposition," he said.
Debbie Dooley, another Tea Party member, says the failure of the bill to advance reveals how things really get done at the Capitol.
"They run everything," Dooley said of corporations. "It's not your elected official that runs things under this Gold Dome. It's big business – Delta, Coke, the Chamber of Commerce."
Boycott Possible, And Campaign Against Corporate Welfare
And while the group weighs a boycott, Dooley raised an even more daunting prospect. She said next year, she and other groups in the coalition planned to start looking at "corporate welfare" in the form of tax breaks. Lawmakers routinely grant tax exemptions to particular industries, and they also often renege on sunset provisions that would limit the time companies are off the tax rolls.
The Tea Party has a strong record of crossing off some items on their to-do list at the Capitol, and nixing items on other people's to-do lists. They pushed for ethics reform last session, and lawmakers passed a lobbyist gift cap. They also opposed a transportation initiative that would have instituted a sales tax for regional road, bike and transit projects. The Tea Party was able to mobilize opposition, and the sales tax referendum only passed in three out of 12 regions of the state.
Thompson and others are still mulling over the boycott but if they go ahead with it, we're not talking about a few hundred or even a few thousand people. She said 1.5 million people are part of the coalition of groups she represents. The Georgia Baptist Convention, which is part of the group supporting the legislation, counts 1.4 million people in its membership.
Want to learn more about this legislation and the plans for a boycott? Thompson and other guests will be part of a panel discussion Monday night on GPB's On The Story.
Tags: tea party, 2014 general assembly
Bottom Content