Section Branding
Header Content
Michelle Nunn Qualifies, Sidesteps Port Funding Finger Pointing
Primary Content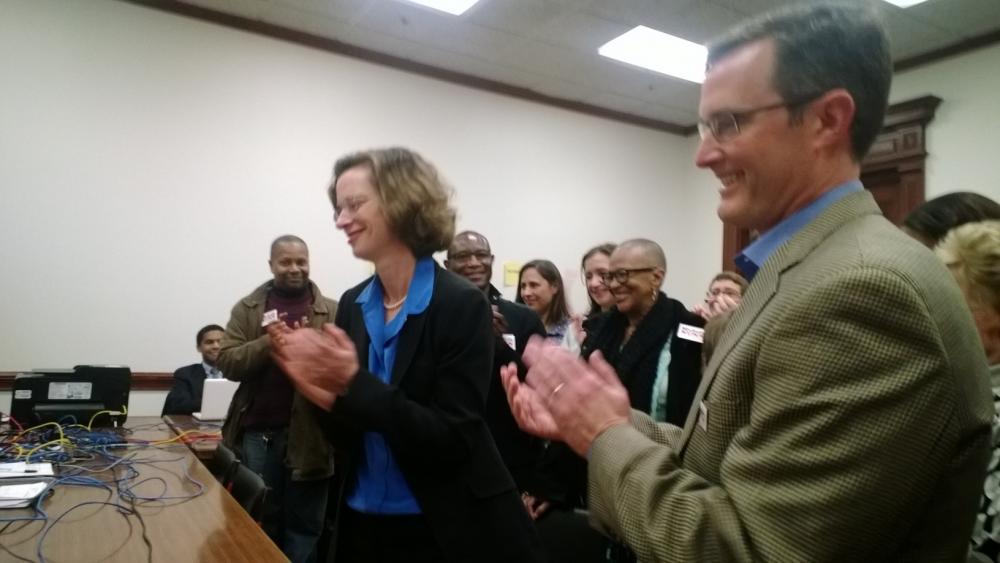 Democratic U.S. Senate candidate Michelle Nunn qualified Thursday at the state Capitol, and brought a posse of supporters with her.
Candidates in both parties have been qualifying to run all week, including fellow Democratic challenger, Jason Carter, who is running for Governor. But few other candidates brought a crowd of supporters, who chanted her name and cheered the impromptu remarks she made after filing the paperwork.
"I've been talking to the people of Georgia," she said. "I've lots of volunteers who are here today that are supportive of my candidacy and they are emblematic of the values I represent."
The political newcomer has raised a lot of money, and has attracted interest from national fundraisers in the Democratic Party. Nunn, a nonprofit executive who lives in Atlanta, has never held political office but her father was longtime Democratic U.S. Senator Sam Nunn.
Some say she's running on her father's coattails but she may in fact emerge as the opposite of a career politician.
Nunn deftly deflected questions about her qualifications, her lack of political experience and the contention that she's running on her father's name.
A New Kind Of Candidate?
Her supporters view that lack of political experience as an asset and a potential template for future candidates.
"If we don't start electing people like Michelle, Washington will never change," said Kent Alexander, a former Georgia ethics commission member and a Nunn supporter.
Alexander was among those who accompanied her to qualify. He said she's attracting a broad coalition of backers from across the state. And many supporters point to her dedication to service and talent for negotiation as key qualifications for elected office.
Midge Sweet, a former member of the Atlanta School Board, referred to Nunn's comments about moving away from electing career politicians.
"She said that we need people in politics who come from the business and civic sector and then go back to the business and civic sector, and I think that's right," Sweet said.
Another supporter at the Capitol was Ayisha Jeffries-Cisse.
"I love Michelle's attitude about cooperation and about problem-solving," she said. "I also like her track record. She has proven she can convene and bring people together to get things done."
Jeffries-Cisse said that's what she's doing on the campaign trail. At the Capitol, however, she had to field questions about the Savannah Port funding – or lack thereof. Georgia lawmakers learned Tuesday that Pres. Obama won't be requesting $400 million in matching funds in the federal budget for dredging the harbor.
Without a bigger, deeper port, larger ships leaving the recently-widened Panama Canal can't call on Savannah.
Port Funding Finger Pointing? Not For Nunn
Nunn didn't say what she thinks the holdup on the funding is.
"I can't evaluate what's at play," she told reporters. "All I know is people need to work together. People need to sit down and talk and focus on solutions."
When asked if Deal's refusal to expand Medicaid might be behind the decision, she demurred.
"I can't speculate about the political motives behind the decision," she said. "Obviously I believe we should expand Medicaid. And I believe we should do that and focus on people and not politics."
She refused to scapegoat anyone including U.S. Sen. Johnny Isakson and Gov. Nathan Deal, both of whom have championed the port expansion project. That's not surprising; some in the GOP believe Pres. Obama is stalling on the funding now so that later he can give credit to Nunn for helping to get it into the budget. The Georgia Republican Party is calling on Nunn to refuse any fundraising help from the Obama Administration.
It was the second day that port funding surfaced as a big issue at the state Capitol.
On Wednesday, everyone from Gov. Nathan Deal to House Speaker David Ralston to Jason Carter, the state Senator-cum-candidate-for-Governor, weighed in on the issue. Most of the talk was about who's to blame. That's in part because it's tough to say what Georgia should do.
Deal says Congress has already given the state the authorization to move forward with the harbor deepening project. He said the last federal omnibus appropriations bill gave Georgia two years to begin the project. But that doesn't mean the state is going to start dredging soon.
This won't be the last you hear about this issue.
Olens Challenger Qualifies
Attorney General Sam Olens gained an opponent Thursday when former legislator and former prosecutor Greg Hecht qualified to run.
Hecht, a Democratic attorney in private practice, says Olens is vulnerable because he doesn't have a criminal law background and has failed to be aggressive in prosecuting public corruption. He also said Olens, a Republican, should have recused himself in dealing with recent ethics charges against Gov. Deal. Instead, Hecht said he hasn't done anything on the case.
The prosecution of state Senator Don Balfour has been one of the most public corruption cases in the past year. And Hecht said the contrast in how Olens dealt with that case and Deal's alleged ethics violations is telling. He said the state should have appointed a third-party to investigate the accusations against Balfour. He was found not guilty on 18 counts of filing fraudulent expense reports after the state presented what jurors called a weak case against the lawmaker.
"You shouldn't take low-lying fruit to try and say 'I will prosecute one of my own' on one case and on the other refuse to investigate," he said of the two cases.
Turning back to the business of the Capitol: Friday is Day 34 of the legislative session. If you can believe it, it caps off what most likely will be the last full week lawmakers will be in session.
Tags: 2014 election, michelle nunn, 2014 general assembly
Bottom Content