Section Branding
Header Content
Georgia Scores An 'A' On Civil Rights Education; Many States 'Woefully Inadequate'
Primary Content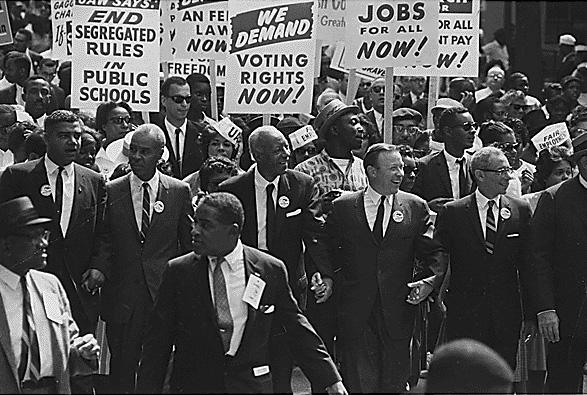 The Southern Poverty Law Center says education about the civil rights movement remains woefully inadequate in a majority of states.
But a study released Wednesday found Georgia is one of only three states to get an "A" in teaching students about the movement.
The Southern Poverty Law Center looked at what students are expected to know about the movement and how schools teach the subject to students in grades K through 12. Three years ago the SPLC conducted a similar study.
SPLC spokeswoman Maureen Costello says Georgia is providing a comprehensive education about the struggle for civil rights in America.
"Georgia mentions the civil rights movement starting in kindergarten, continues in grades 2,3,5,8 and high school," said Costello. "So what you have is a continued exposure in a kind of staircase way so that students are introduced to increasing complexity."
Costello also gives the state credit for providing substantial resources to teachers. She says Georgia helps put the movement in context for students.
"They do a really wonderful job making connections to other civil rights movements, to contemporary events. So it's not just this kind of crystalized time in the past."
Costello says southern states did the best in covering the civil rights movement. So did states with large African-American populations.
Only three states got an "A": Georgia, Louisiana and South Carolina.
Georgia got a "B" in the SPLC report three years ago. Costello says the state improved because it has increased the resources available to teachers that include lesson plans and historical documents that are among the best in the nation.
14 states received a "D". The report found that despite the national significance of the civil rights movement, many states continue to mistakenly see it as a regional matter, or a topic of interest mainly for black students.
20 states received an "F" for their coverage of the civil rights movement.
That list includes five states- Alaska, Iowa, Maine, Oregon and Wyoming- that neither cover the movement in their state standards nor provide resources to teach it.
Civil rights activist Julian Bond says students need to know more about the movement than just well-known leaders such as Martin Luther King Junior and Rosa Parks.
"This really is citizenship education. Teaching our young people how democracy works, how people like them marched and protested," said Bond. " But {they also need to know about] all of the other things that were needed to make the civil rights movement work."
Tags: Southern Poverty Law Center, Civil Rights Movement
Bottom Content