Section Branding
Header Content
Deal And Carter Spar Over Port Funding
Primary Content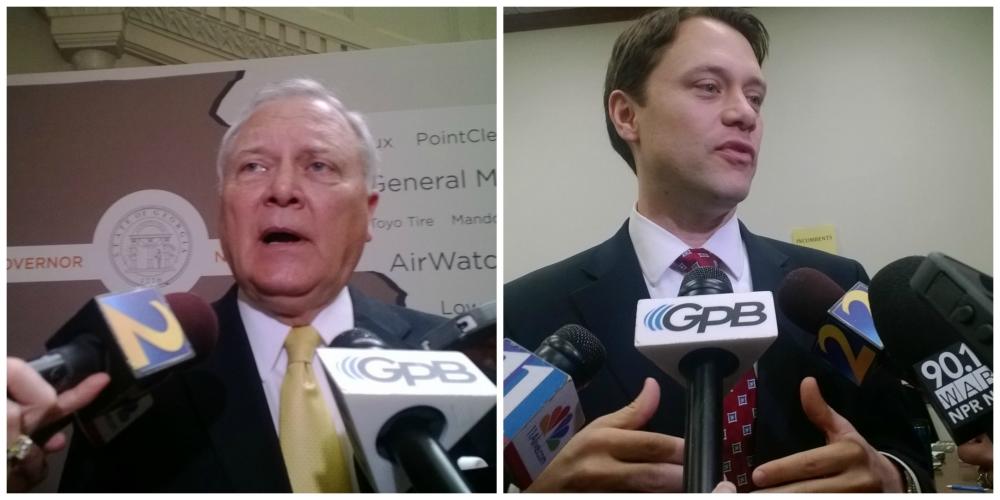 As we've noted throughout this year's legislative session, lawmakers are eager to avoid controversy, adjourn and start campaigning for re-election.
But the outside world keeps intruding at the Gold Dome. Lawmakers are struggling to answer why federal money to expand the Savannah Port that everyone has said is coming, isn't.
Georgia had been waiting for Pres. Obama to request almost $400 million in matching funds in the federal budget for dredging the harbor. On Tuesday, word came that the money isn't there.
Where's The Money?
The issue played out at the state Capitol Wednesday on two tracks. First, the political track. If you thought the gubernatorial race was slow to pick up steam, we're off to the races now. The second track: honest handwringing over what Georgia's going to do without the harbor deepening funds.
Georgia lawmakers didn't have answers Wednesday but strong words abounded. Indeed, in a rare move, House Speaker David Ralston took to the House floor to denounce Vice President Joe Biden, who said on a visit to Georgia last month the project was going forward "come hell or high water."
"We found out yesterday that 'come hell or high water' means about the same thing as 'if you like your health insurance, you can keep it'," the Blue Ridge Republican said.
Gov. Nathan Deal and Atlanta Mayor Kasim Reed have been lobbying Washington for the money. Without a bigger, deeper port, larger ships leaving the soon-to-be-widened Panama Canal won't be able to call on Savannah.
Carter Sees An Opening, And Takes It
The devastating blow comes this week as Deal and his presumed Democratic challenger Jason Carter are qualifying for the gubernatorial election.
Carter, a state Senator from Decatur, filed papers to run against Deal Wednesday morning at the state Capitol. And in a briefing with reporters, he alluded to Deal's lack of cooperation with the White House on other matters – for example, Medicaid expansion – as a potential reason Washington isn't sending the dough.
"It's an example of the Governor making everything about Washington politics," he said. "The Savannah port should be about importing jobs into our economy and into our state and Deal has decided it's about Washington politics. He's played Washington politics with so many issues across the board and continues to pass the buck and says it's other people's fault and that Washington is the problem."
Sticks And Stones Will Not Break Deal's Bones
At an event later at the Capitol, Deal responded to Carter's comment.
"Surely to goodness, someone who wants to be governor of this state wouldn't say the head of his own party is stooping to partisan politics on an issue that is so important to the economy of the entire state of Georgia," he said. "I am shocked that he would say such a thing."
Deal said the state has the authorization to move forward with the harbor deepening project because of the initial funding included in the last budget passed by Congress.
"We can do exactly what the law has allowed us to do. In the omnibus appropriations bill, it gave Georgia two years in which we were authorized to move forward," he said. "I think we simply have to ask them to abide by the law that Congress passed. The omnibus appropriations bill gave us the opportunity to move forward, and that is the law."
Moving Ahead On The Port, But It's Unclear How
But the specifics eluded him a bit, and he deferred questions to his Chief Operating Officer, Bart Gobeil, who, himself did a bit of a dosey-doe in terms of what the state can and will do.
When asked about when the state can begin actual construction, Gobeil said, "I think the Governor already answered that question."
When he was met with blank stares by the Capitol reporting pool, Gobeil said, "He said whatever the law states now, we're going to what the law is."
But that doesn't appear to mean dredging. Deal, himself, said the actual removal of earth from the channel is one of the last steps in the process.
In the meantime, Gobeil said the state is looking at equipment it could purchase in advance of dredging the channel.
Politics Makes Strange Bedfellows
The Port funding issue isn't a gateway for a guaranteed election and Carter brought some heavy hitters with him to the Capitol Wednesday when he qualified. Former Ambassador and Civil Rights leader Andrew Young accompanied him.
Young said he believes Georgians are ready for a Democrat in the Governor's office.
"There's a mood across the state that isn't yet reflected in the media and the politics. It's a mood of people who are ready to move forward in a new way. They're tired – they realize they can't go back. And we will move forward as rapidly as possible."
When asked what he thought of a state that elected nothing but Republicans four years ago, Young said, "I don't even believe that."
There was a pause, almost as if he misspoke. And then he said, "Deal was a Democrat most of his life."
And as if the day wasn't surreal enough already, Deal responded affirmatively when asked if he had voted for Carter's grandfather, Jimmy Carter, for Governor and then later for President.
"Well I probably did because I was a Democrat then," he told reporters.
Tags: Savannah port, Savannah Harbor deepening, Savannah Harbor Expansion Project, 2014 general assembly
Bottom Content