Section Branding
Header Content
It's Do Or Die Day For Bills In Georgia
Primary Content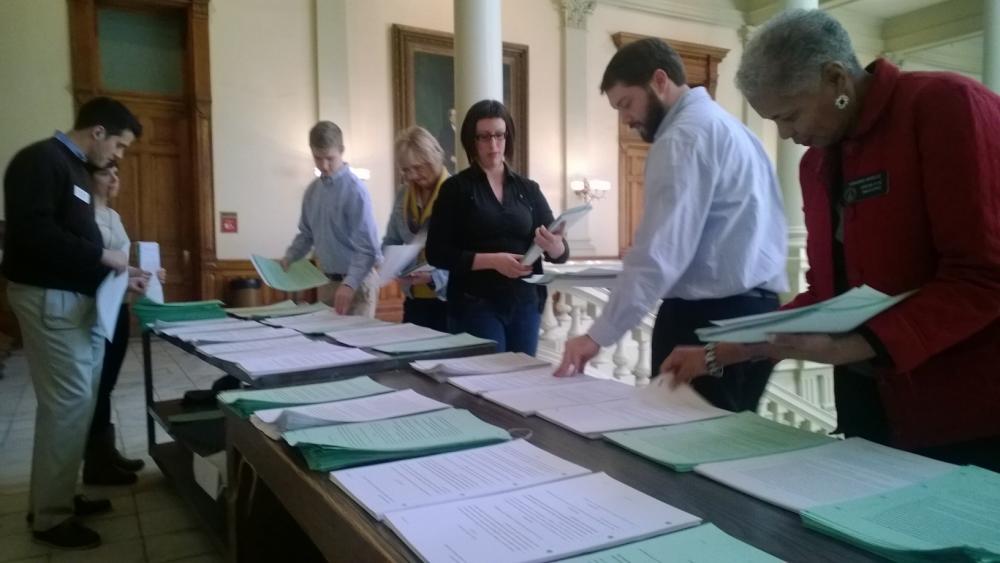 Monday, so-called Crossover Day, will be one of the longest days of the 2014 legislative session at the Gold Dome. Lawmakers will be debating bills from mid-morning until possibly as late as midnight to decide what measures have a shot at becoming law this year.
Day 30 of Georgia's 40-day legislative session is called Crossover Day because any bill that passes one chamber by this point in the session automatically crosses over to the other chamber for consideration.
The state Senate has put 30 bills on its debate calendar for Monday and the state House has chosen 17 measures to kick off debate. The Senate will most likely not add any other bills to its roster, but the House will almost certainly have what are called supplemental calendars. That means periodically throughout the day, the committee that sets the House's agenda will meet to add more bills to the list.
Some of the session's most controversial measures-–including a bill that would allow guns in churches and bars--won't show up on the floor of either chamber Monday because they've already passed over.
Monday Surprises May Await
But in the case of the Senate, at least one lightning rod of a bill will likely tie up that chamber for hours. And that's a measure that would nix coverage of abortion under any state or federal healthcare plan sold in Georgia.
"That one's likely to take us a few hours to get through," said Sen. Jeff Mullis of Chickamauga, who sets the Senate calendar as chairman of that chamber's Rules committee.
"It's going to be a knockdown, drag-out fight," said Sen. Vincent Fort, an Atlanta Democrat.
Mullis said another bill that could require a few hours of debate is a measure that would grant anonymity to winners of the Georgia Lottery under certain conditions.
Other hot-button bills will likely show up on the House floor last-minute. In fact, some Capitol observers say lawmakers in the House have set an easy agenda to get things started but, by mid-day or mid-evening, may roll out measures that have opposition.
"They deliberately made this [first] calendar vanilla because they're going to put the controversial bills on the supplemental calendars," said Neill Herring, a longtime lobbyist and Capitol observer.
There are also some other major bills so far left off the debate calendar.
One bill, proposed by Macon Republican Allen Peake, would legalize medical marijuana for treatment of a rare seizure disorder. Some lawmakers have voiced opposition because the cannabis oil in question is an untested drug that's not approved for this use by the Food and Drug Administration.
Controversy Waiting in The Wings
Peake, however, says it's possible amendments could be introduced to pacify opponents. And he says the House should put the decision about the drug in the hands of parents.
"I believe parents, along with their doctors, should have the option to make best decision for children," he said in an interview Friday. "They've gone through just about every other narcotic out there. I think at this point many would say, 'I'll take my chances with a non-FDA approved drug.' Let's let parents and medical professionals make that decision."
Another bill that could make it to the floor Monday is an overhaul to Georgia's civil forfeiture law. Under current law, law enforcement can seize property from people even if they haven't been convicted of a crime. Sheriffs across the state have voiced opposition and have been active in contacting lawmakers about the bill.
But House Judiciary Chairman Wendell Willard, the bill's sponsor, said he plans to plead his case to the House Rules committee Monday in an effort to convince them to put it on one of the supplemental calendars.
"There's a lot of support for it," he said Friday.
Lawmakers in the House also haven't said if they will debate a measure that would authorize adding a statue of the Rev. Martin Luther King Jr. to the grounds of the Capitol. The proposal has a good chance of making it to the floor and passing because it's believed to have the backing of Gov. Nathan Deal, and its sponsors are longtime Capitol hands.
What They Won't Be Debating
The measure that would allow licensed gun owners to take firearms into churches, bars and government buildings (with some exceptions) won't be discussed Monday. It's passed the House and requires no action until after Crossover Day.
There are highly-motivated factions on each side of that issue, and they will make their cases in the final 10 days of the session. That's when the bill will have a hearing in a Senate committee and will likely make it to the floor for a fiery debate.
The same is true of a Senate measure that would privatize part of the state's foster care system. The proposal comes after several children have died even though the state's Division of Family and Children Services had received complaints about the living conditions in their homes.
There are also several measures connected to convening a federal Constitutional Convention.
Senators, in the final 10 days of the session, will spend their time debating bills drafted by representatives from the House, and vice versa. They will also finish up work on the 2015 budget. Mullis, the Chickamauga Senator, says the spending plan could come up for debate as early as mid-week.
The budget is actually the only bill the state Constitution requires lawmakers to pass.
There are fewer bills this year, owing in part to lawmakers' haste to adjourn and begin fundraising for the May primary elections and the general election in November. Sen. Mullis said he's not even sure lawmakers will need all 40 days allotted for the session.
And Willard on the House side said lawmakers will dispense with ceremonial activities that crowd the calendar on other session days.
"I'm going to guestimate we go until 9 p.m.," he said. "We're going at such a high speed this year."
But just in case: pack a lunch, and dinner, and maybe even a late-evening snack.
Tags: Crossover Day, 2014 general assembly
Bottom Content