Section Branding
Header Content
Volunteers to Clean Up Savannah Homeless Camps
Primary Content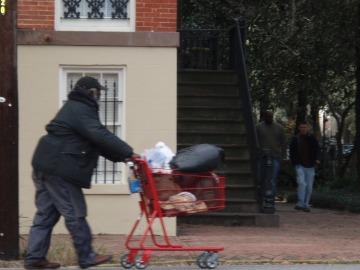 Savannah community leaders are planning a cleanup project Saturday to improve sanitary conditions at two homeless camps located beneath local overpasses.
Susan Broker, the director of Savannah's Citizen Office, says the region's warm climate draws many homeless people, and there is not enough room in local shelters.
She says several locations around the city have been homeless camps for many years, creating a buildup of trash and debris.
"It's really about the conditions in which these folks are living and the image of Savannah as you come off the Talmadge Bridge," Broker says. "There's a hygiene and human decency issue we have to address."
The city is organizing the cleanup with the help of several local churches, colleges, and non-profit organizations.
Broker says representatives of local groups that assist the homeless will be on hand to provide information about shelters and social services.
Volunteers are meeting at 9 a.m. Louisville Road just east of I-516 in Savannah.
Tags: Savannah, GPB News, Homelessness, Sarah McCammon, GPB Savannah, Susan Broker
Bottom Content