Section Branding
Header Content
Former Bibb School Superintendent Dallemand Spent $26 Million Without Approval
Primary Content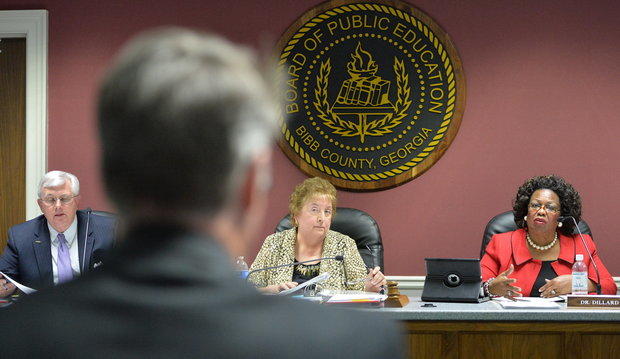 Former Bibb County School Superintendent Romain Dallemand repeatedly violated school board policy by ordering more than $26 million in technology equipment and services without required, prior approval from the board, according to a 2013 audit of the school system.
One of those purchases -- for nearly $3.8 million -- was for 15,000 virtual desktop devices. Now, more than a year after they were ordered, about 14,800 of the devices still sit unused in a Bibb County warehouse. The order was placed without competitive bids and without prior board approval, the audit said.
But that's just a sample of the scathing findings, which accountant Miller Edwards presented to board members during a Thursday committee meeting. In some cases, the system is now trying to cut its losses -- involving millions of dollars from sales tax proceeds -- by trying to resell both hardware and software that it can't or hasn't used.
Over the main months in question, Dallemand "authorized, directed and coerced staff to make transactions that were in violation" of board policies, said the audit for the fiscal year that ended June 30, 2013. The Telegraph obtained the audit through an Open Records Act request. The audit lists the cause of the violations as an "apparent reckless disregard by the former Superintendent for existing School District procurement policies established by the Board of Education."
After Edwards' presentation and board discussion, board members voted to look into options for investigating the violations and how they happened...
CONTINUE READING THIS STORY AT MACON.COM
Tags: Bibb County Schools, Romain Dallemand, Adam Ragusea, Mike Stucka, The Telegraph of Macon, Jenna Mink, Oby Brown
Bottom Content