Section Branding
Header Content
Georgia Enters 'Religious Freedom' Debate
Primary Content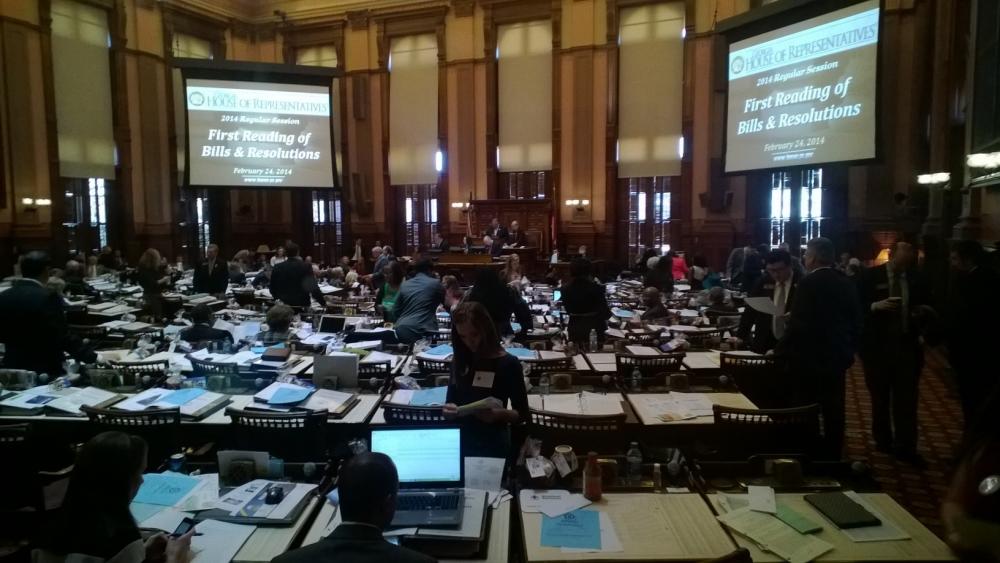 As the state legislature heads into its final weeks, there are two so-called 'religious freedom' bills causing controversy.
They come before the legislature as a similar bill in Arizona has captured the national spotlight. Lawmakers in that state passed a bill that would allow business owners to refuse service to customers if they claimed it was against their religion. But Arizona Governor Jan Brewer, under intense pressure by those who say the measure is discriminatory, has vetoed that measure.
Lobbying efforts have already begun in Georgia; Delta Air Lines, one of the state's largest employers and a corporate titan, has come out against the bills.
Legalizing Discrimination or Preventing It?
Supporters say the measures free Georgians from carrying out activities they feel violate their private personal beliefs. And they say it would not authorize or condone discriminating against anyone. Indeed, the sponsor of one of the bills, State Sen. Josh McKoon of Columbus, says his measure protects the devout from the incursion of an increasingly liberal America on the free exercise of their religions.
"Evidence abounds that the last group of people it's okay to pick on in America is people of faith," he said from the floor of the Senate Wednesday.
Opponents, however, say the bill is merely a ploy to legalize anti-gay discrimination. That's because if it passes, someone could use it as a pretext to avoid doing business with someone who's gay solely because of their sexuality.
Georgians who are against the bill have come to the Capitol in force make their voices heard. They say a waiter could refuse to serve a gay couple or a business owner could refuse to allow transgender people into his establishment.
One person speaking out Wednesday was Rev. Joshua Noblitt at St. Mark's United Methodist Church in Atlanta.
Just Need To Love Someone
As a Christian minister, he took particular exception that the bill's backers claimed they were using principles from his religion to craft the bill.
"The whole point of Christianity is loving God, self and neighbor and this bill has nothing about loving God, self or neighbor in it," he said.
McKoon, a Republican, said detractors have grossly misunderstood the bill. But he said if it comes up for debate, he plans to introduce an amendment that he thinks will pacify opponents.
He noted that nearly 20 other states have similar laws.
A Constitution Question In the House
On the House side, the religious freedom bill proposed by Rep. Sam Teasley, a Marietta Republican, has gone as far as it can.
Wendell Willard chairs the House Judiciary committee, which had the task of vetting the bill to see if it should advance to the full chamber. He gave it one hearing and left it at that, citing a lack of understanding of federal case law on the issue of religious freedom.
In an interview Wednesday, Willard said the House bill is dead for the session. "Our own Constitution already sets up what we need in terms of the role of the church and the separation from the government," he said in an interview.
Other Goings-On At the State Capitol
Lawmakers have already begun the marathon sessions of debating and voting on bills that are characteristic of this stage of the session. Monday is Crossover Day and any bill that's failed to pass one chamber by the end of the day is taken out of rotation. That's putting a bit of an oomph in lawmakers' steps (the sugar in the baklava from Wednesday's Turkish Day at the state Capitol is also to blame).
When they're not in session voting on bills, lawmakers are holding committee meetings to churn out as many bills as possible.
One bill that still needs to clear the committee process is a measure that would authorize a statue of the Rev. Martin Luther King Jr. at the Capitol. Gov. Nathan Deal resurrected the statue idea on MLK Day last month. And he said he wanted to move quickly to decide how to honor King with a tribute on Capitol grounds.
While the bill is expected to sail through committee, it remains unclear if a law is even needed. It's also unclear who's in charge of fundraising. Sen. Emanuel Jones, who sponsored a similar bill last year that passed the Senate, told GPB on Tuesday he's already raised $10,000 from Georgia Power toward the statue. This was news to Rep. Joe Wilkinson, a co-sponsor of the House measure, who estimates a statue alone would cost about $25,000, not including the pedestal and installation.
We haven't even gotten to the issue of where the statue would be located or what government agency would oversee its construction. But GPB News Now will continue to follow this bill and many others as we approach the end of the 2014 legislative session.
Tags: religion, discrimination, Josh McKoon, 2014 general assembly, religious discrimination, sam teasley
Bottom Content