Section Branding
Header Content
Finally Something Politicians Agree On: A Capitol MLK Statue
Primary Content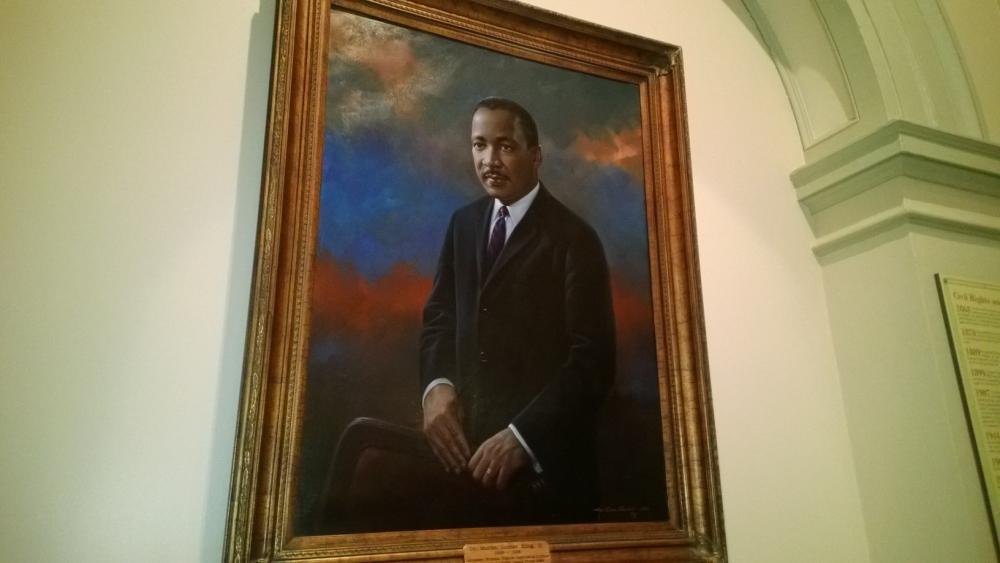 Of all the issues Georgia lawmakers are debating as the legislative session barrels toward a close, there aren't many that nearly everyone agrees on.
But one such matter is erecting a statue of the Rev. Martin Luther King Jr. Almost no one questions that it would be to Georgia's credit to have a statue of the slain Civil Rights leader on the grounds of his native state's Capitol building. Right now, there is a portrait of King hanging on the second floor, but no statue.
What's harder to find agreement on, however, is the point person to coordinate erecting the statue. Gov. Nathan Deal brought up the statue idea on MLK Day last month. He surprised some by saying he'd like to honor King with a tribute on Capitol grounds and that he wanted to expedite the issue this session.
A Statue, Sure. But Whose Statue?
A bipartisan House bill regarding the statue is moving through the legislature under the sponsorship of Rep. Calvin Smyre, a Columbus Democrat. He said his measure has to pass the House before Crossover Day in order to have a chance at final passage (those are the rules for Monday March 3, Day 30 of the session, after which bills cross over to the other chamber for possible passage).
But his counterpart in the Senate, Sen. Emanuel Jones, filed a separate bill last session that passed his chamber and he says that bill already lays everything out. Jones also heads the Martin Luther King Jr. Advisory Council, which also has a role, as yet undefined.
"The bill says we can build a tribute to Dr. King and others in the Civil Rights movement either inside or outside the Capitol," he said. "We'd already started making plans to erect a statue long before the session began. We got our first grant from Georgia Power for it."
But it's unclear which bill will have the final word on where and when the King statue will go up.
Even Deal's staff isn't clear on the issue. His spokesman, Brian Robinson, said he was still looking into it Tuesday afternoon.
Why Did It Take So Long?
The suggestion of a statue just happened to come during an election year. It's an election year in which Gov. Nathan Deal is being challenged by State Senator Jason Carter, a young, liberal Democrat who has strong ties to African Americans across the state.
And aides to Deal say he's actively courting Black voters, particularly through his criminal justice overhaul.
But of the dozen lawmakers, lobbyists and Capitol insiders asked about the timing of the announcement, only one person interviewed Wednesday by GPB News Now was suspicious. And as far as the politics go, there may be more jockeying among Democrats and Black leaders to get credit for the statue than any clashing with Gov. Deal or the Republicans.
People who could cry politics and could gnash their teeth about how long it's taken instead say Deal's done a good thing.
We'll start with the youth. Vontorius Richards is a junior at Fort Valley State University and he was touring the Capitol Tuesday with some fellow students. As for why it's taken so long or whether the suggestion of the statue is political, Richards has his eyes on the prize.
"Things take time," he said. "I'm not going to be judgmental about why it's taken so long. I'm just glad it's going to happen."
He added, "I wouldn't mind seeing the statue inside and I would like to see the 'I Have A Dream' speech [incorporated]."
'Everyone Has An Agenda' But Who Cares?
State legislator Howard Mosby, an Atlanta Democrat, echoes Richards' nonpolitical take.
"The Governor seems pretty genuine on wanting something. I think if he wants to do this, it's what he really feels," said Mosby. "This is something that if we Democrats wanted to have done, we should have done it a long time ago."
He said it would be disingenuous to question the Republicans on this, given the Democrats' record of failing to get it done.
Last, but not least, is Anthony Hines, an African-American Clayton County resident who gives shoe shines at the Capitol. What does he think about all of this?
"It doesn't matter. Everyone has got their own agenda," he said. "I can't say what the Governor is saying or thinking because I don't talk to the Governor. I'm just saying it'll be good to have a statue erected in his name, just to honor what he's done for mankind."
Questions Also Remain About Price Tag
Smyre, the Columbus lawmaker, said private funds will have to be raised to pay for the statue. To that end, Jones in the state Senate has begun the collection, mentioning the $10,000 grant from Georgia Power.
It's also unclear where the statue will go. Smyre said it cannot displace any other statue. And it's unlikely to fill the space in front of the Capitol recently vacated by the Tom Watson statue (see segregationist, vehement). That space will likely be reserved for people congregating for rallies.
Smyre will be holding a hearing Wednesday on his MLK statue bill.
In Other News: The Session Marches On
Before we go, a word about what else happened Tuesday. The House passed the amended budget for the current year, also known as the little budget. It now heads to the Governor's desk for his signature. That chamber also passed a bill restricting media and public access to some 911 calls.
On the other side of the Capitol, the Senate passed a bill requiring insurance policies to cover tests for autism in young children.
As for Wednesday, well, it's the last official working day before Crossover Day. Think it will be busy? Let's put it this way: pack a snack and wear comfortable shoes.
Bottom Content