Section Branding
Header Content
Chorus At The Capitol: Singing Under The Gold Dome
Primary Content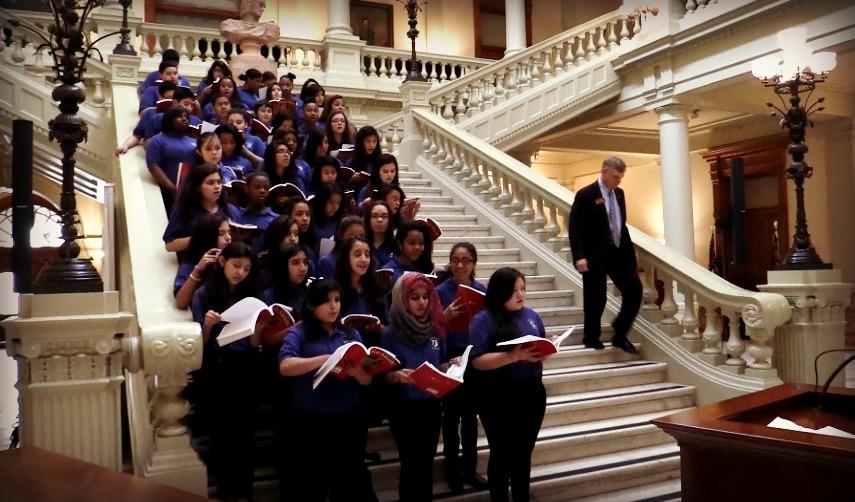 The voices of lawmakers, lobbyists, staff and visitors are easy to hear throughout the Georgia State Capitol during the legislative session.
Occasionally, however, student groups bring their musical talents to Georgia's lawmaking epicenter, and they've got a quite an open platform to perform for those strolling the Capitol.
The Louise Radloff Middle School choir assembled on the grand staircase of the Capitol's North Wing on Day 24 of the session.
"It's a different performance setting for them. I think it's great for them to realize that they don't have an audience paying attention to just them," said choral director Meg Councilman. "You know, people are coming and going and it's a different type of performance setting. They don't have people stopping and applauding them and that's okay."
Seventh grader Amaya Jaramillo said performing in front of the lawmakers made her nervous at first, but that angst quickly subsided.
"The first time I came here, I was all nervous and when we were warming up and stuff, I was shaking. Ms. Councilman, she was like 'It's okay, you know everything is gonna be alright.' I sang and everything went well," said Amaya.
Representative Pedro Marin of Duluth, Georgia said the importance of this group performance extends far beyond the musical aspects.
"This is a house of the people. We welcome everyone. Especially when we have young people and especially this talent and singing. And also the faces..you look at the faces. This is how Georgia really looks like," said Marin.
Marin added that the smiling and singing of the young performers reminds him of his days as a youth.
"When I was in college, I sang in the chorus; I was a tener. So seeing the kids singing and smiling and the maestro...it brings me back memories," Marin described.
The singing experience at the Capitol came to an end for the choir last Friday, but the smiling continued, as the group full of promise gathered for a photo.
While the voices of these students won't ring through the Gold Dome during the rest of this session, the show is sure to go on back at Louise Radloff Middle School.
Tags: georgia state capitol, Louise Radloff Middle School, Louise Radloff Middle School choir, Legislative Session 2014
Bottom Content